"They will always remain on paper or in the digits. We forgot about them" – the press release says.

The booth showcases a few dozen unimplemented projects, which had not been published up until this point, so it must broaden our idea of the works by Reserve Union, many of which – particularly the ones that got implemented – are quite well-known, not to say have become modern classics. Now, however, the visitors of Arch Moscow were shown things that hitherto have only been known to the small inner circle.




Thus, the exhibition appears to be not just an addition to the history of the company but to the post-Soviet architecture as a whole because Reserve Union is this country's oldest privately owned architectural company, created back in 1987, much earlier than all the others. We asked a few questions to the company's all-time architect Vladimir Plotkin, and asked him to show a few pictures that would be showcased at the Arch Moscow convention. All the projects are shown nameless, we just provide the year of origin.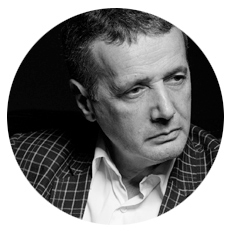 Archi.ru:
Is Reserve Union really Russia's oldest privately owned architectural company? Where is the starting point for "oldest"? And, by the way, where does your name come from?

Vladimir Plotkin:
In 1987, the architectural cooperative "Reserve" was created under the roof of GlavAPU (Сhief Architectural-and-Planning Administration), which at that time performed the functions of Moskomarkhitektura, Moscow's main architectural agency. Well, not exactly under the roof of GlavAPU – we were an independent organization from the very beginning. And the name meant that we, the young architects, were sort of like a reserve to the older generation. Somehow, the name stuck, and changing it was too much of a hassle. Everyone got used to it, me included.

And where does the TPO acronym come from? (TPO literally translates as "Creative/Production Union – translator's note)

In the late 1980's / early 1990's we had to re-register our company, this time under the auspices of the Architects Union, and, in order to obtain the right licenses, or just to go through some bureaucratic procedures quicker – I don't remember the subtleties, I was busy with other things – they included the "creative / production union" into the company's name, even though we did not "produce" anything – production is when you produce bricks, for example. This was a purely formal bureaucratic move. Possibly, we could have done without it. But it also stuck, and when we were re-registering again in the mid-1990's, we kept this prefix, and it turned out to be OOO TPO Reserve.

And then the name slipped into common use, and other TPO's began to appear. How many projects are there in your exposition? Are they really all totally unknown?

Well, almost all of them because I was mistaken about a few ones, and it turned out that they did pop up at one point or another. But on the whole, yes, there are. Our working principle was to show what we had forgotten. When in March I suddenly discovered that it was time to make an anniversary exposition, I went through our entire archive within a few days, and it's a huge number of projects. I selected a few dozen. For some early projects, I could not find decent materials – digital graphics were nonexistent back then, there were no drafts, and I could only find poor-quality photographs. I even wanted to restore these projects and draw them over again, but then I decided that this would not be quite honest. There was a rather curious proposal on restoring the Sovremennik theater- maybe I was wrong to opt out of restoring it.

The very first project, Contract #1 of the Reserve cooperative was the reconstruction of two floors and the basement of the house on the Vorovskogo Street (now Povarskaya), for the Anatoly Vasilyev drama school – still before it received its own theater on the Sretenka. I was the one who did this project but I did not keep it on track, and there was no architecture in it as such – we remade a few apartments into a little stage and dressing rooms. We do not showcase it.

As far as the later period is concerned, we have quite a lot of forgotten projects, especially from the 2010-2012, when we participated in a crazy number of competitions. Here I had to do a selection, but trying to achieve a one-year-one-project ratio would also make little sense because we really did a lot, but published 3 or 4 competitions. We selected what was the most interesting and the most characteristic of us.




At first, we wanted to distribute our projects evenly by the year, but until 1995 we did not do any serious work; I did 3 or 4 projects, but as an extracurricular activity. Here I added a few projects that I did in Mosproject, specifically, the project of reconstructing the plaza of the Kievsky Railway Station. This was my only "cheat", and I did it in order to show the evolution path. Even though there was no evolution worth speaking about.

Now I am clear on how you explore the theme of Arch Moscow – by the consistency of your creative principles.

Interesting wording! I should have included that in my annotation… I have repeatedly said that I try to avoid trendy topics. Of course, there was some kind of evolution, and we adjusted our course depending upon some trends and preferences, but we tried as much as we could not to become totally dependent upon them.



***

The company's booth was a group of "steles" three meters tall, with identical proportions of their bases – the Archi.ru editorial team at once recalled a certain group of towers currently built in Moscow. If we are to speak about evolution, then we may probably think that the entire exhibition will tell us about the process, while the booth presents the result that we have achieved by this time.




The Arch Moscow show took place in Moscow June 8-11. The PDF file with its program is available here.