Alexander Asadov

Creative manager of the studio
Alexander Asadov
information:
Born in 1951, Khabarovsk
Graduated from MARHI in 1975
1975-1987 – worked for different project companies, Moscow
1989 – found Personal creative studio under Architect Union of Russia
Since 1995, has been the head of Studio-19 of "Mosproekt-2"
Corresponding member of International Architecture Academy
Councilor of Russian Architecture Academy and Construction sciences
1997 and 2004 – award winner of "Premii Moskvy" [Moscow Awards]
2000 and 2003 – award winner of Gold Medal of Russian Architecture Academy and Construction sciences
1999, 2001 and 2003 – award winner of "Zolotoe Sechenie" [Golden Ratio]
Participation in exhibitions:
1993, Chicago – "Moskovski arhitekturny avangard" [Moscow Architecture Avant-garde]
1995, Berlin – "Stroiploschadka-Moskva" [Construction site-Moscow]
1998 – personal exhibition in Moscow Union of Architects
2000, London – "Vremya peremen" [Time for changes]
196-2007 – participation in all-union architectural shows, as well as "Zolotoe Sechenie" [Golden Ratio]", "Zodchestvo" [Art of building], "Moscow – shag v buduschee" [Moscow – a step into future]
Creative credo: A fine project can be introduced in a single line.
"Asadov's architecture is complex, tense, rebellious, not without reason ten years ago he was made "our chief deconstructivist". It was very Russian deconstructivism – soft, lyrical, romantic. Everything was being destroyed anyway, so a few broken planes over an old building were enough to make the metaphor clear. Those were the buildups and constructions that brought to Asadov great fame, and the greatest work of Moscow architecture of 1990's is the office building on Nizhny Krasnoselsky.
Asadov went further then and started designing curved, glass and iron truly futuristic objects, adding up to his informal regalias another one – "hi-tech pioneer". But few of them were constructed (bridges over Moscow Ring Road, control cabin over the Third Ring), and recently built MERCEDES centre on Vologodsky prospect is an absolute clear European hi-tech without particular deconstructions. Today Asadov is the head of the huge studio in "Mosproekt", is managing about 50 large objects, as to constructing – a few large objects in Moscow and outside… (from article "Mister DeConstructor", "Shtab-kvartira", November, 2004)
Buildings and Projects:
Buildings and Projects Shown: 10
Rank all Buildings and Projects / Alexander Asadov (59):
Archi.ru Texts: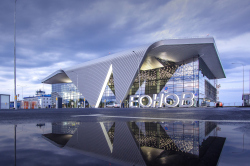 02.09.2021
The new terminal of the Leonov Airport in Kemerovo was built in record-breaking time, despite the pandemic. It became one of the important factors for the rapid development of the city, visually reflecting its dedication to the first spacewalk, both in the interiors and on the facades. Its main features are the "starry sky" effect and overall openness.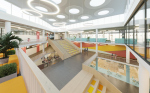 12.04.2021
The project of the educational complex within the second stage of "Spanish Quarters" was developed by ASADOV Architects. The project is all about creating a friendly and transparent environment that in itself educates and forms the personality of a child.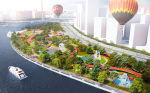 16.12.2020
In the nearest future, the Marc Chagall Embankment will be turned into Moscow's largest riverside park with green promenades, cycling and jogging trails, a spa center on water, a water garden, and sculptural pavilions designed in the spirit of the Russian avant-garde artists of the 1920, and, first of all, Chagall himself. In this issue, we are covering the second-stage project.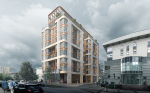 07.07.2020
The project of the boutique apartment complex in the 1st Truzhenikov Lane is the architects' attempt to squeeze a considerable volume into a tiny spot of land, at the same time making it look graceful and respectable. What came to their rescue was metal, stone, and curvilinear glass.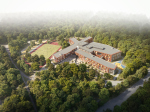 15.06.2020
On June 5, the winners of Moscow Architectural Award were announced. The winners list includes the project of a school in Troitsk for 2,100 students, with its own astronomy dome, IT testing ground, museum, and a greenhouse on the roof.