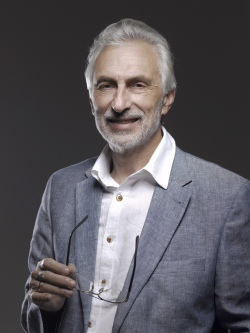 Alexander Asadov

Creative manager of the studio
Alexander Asadov
information:
Born in 1951, Khabarovsk
Graduated from MARHI in 1975
1975-1987 – worked for different project companies, Moscow
1989 – found Personal creative studio under Architect Union of Russia
Since 1995, has been the head of Studio-19 of "Mosproekt-2"
Corresponding member of International Architecture Academy
Councilor of Russian Architecture Academy and Construction sciences
1997 and 2004 – award winner of "Premii Moskvy" [Moscow Awards]
2000 and 2003 – award winner of Gold Medal of Russian Architecture Academy and Construction sciences
1999, 2001 and 2003 – award winner of "Zolotoe Sechenie" [Golden Ratio]
Participation in exhibitions:
1993, Chicago – "Moskovski arhitekturny avangard" [Moscow Architecture Avant-garde]
1995, Berlin – "Stroiploschadka-Moskva" [Construction site-Moscow]
1998 – personal exhibition in Moscow Union of Architects
2000, London – "Vremya peremen" [Time for changes]
196-2007 – participation in all-union architectural shows, as well as "Zolotoe Sechenie" [Golden Ratio]", "Zodchestvo" [Art of building], "Moscow – shag v buduschee" [Moscow – a step into future]
Creative credo: A fine project can be introduced in a single line.
"Asadov's architecture is complex, tense, rebellious, not without reason ten years ago he was made "our chief deconstructivist". It was very Russian deconstructivism – soft, lyrical, romantic. Everything was being destroyed anyway, so a few broken planes over an old building were enough to make the metaphor clear. Those were the buildups and constructions that brought to Asadov great fame, and the greatest work of Moscow architecture of 1990's is the office building on Nizhny Krasnoselsky.
Asadov went further then and started designing curved, glass and iron truly futuristic objects, adding up to his informal regalias another one – "hi-tech pioneer". But few of them were constructed (bridges over Moscow Ring Road, control cabin over the Third Ring), and recently built MERCEDES centre on Vologodsky prospect is an absolute clear European hi-tech without particular deconstructions. Today Asadov is the head of the huge studio in "Mosproekt", is managing about 50 large objects, as to constructing – a few large objects in Moscow and outside… (from article "Mister DeConstructor", "Shtab-kvartira", November, 2004)
Buildings and Projects:
Buildings and Projects Shown: 10
Rank all Buildings and Projects / Alexander Asadov (59):
Archi.ru Texts: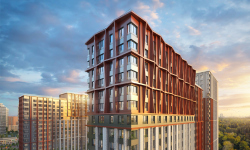 18.07.2023
Block 5, designed by ASADOV architects as part of the "Ostrov" ("Island") housing complex, is at the same time grand-scale, conspicuous thanks to its central location – and contextual. It does not "outshout" the solutions used in the neighboring buildings, but rather gives a very balanced implementation of the design code: combining brick and metal in light and dark shades and large copper surfaces, orthogonal geometry on the outside and flexible lines in the courtyard.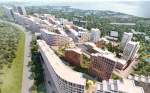 05.07.2023
The housing complex "Novaya Zarya" ("New Dawn") designed by ASADOV Architects will become one of the examples of integrated land development in Vladivostok. The residential area will be characterized by various typologies of its housing sections, and a multitude of functions – in addition to the social infrastructure, the complex will include pedestrian promenades, shopping malls, office buildings, and recreational facilities. The complex is "inscribed" in a relief with a whopping 40-meter height difference, and overlooks the Amur Bay.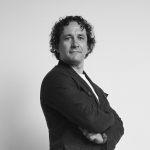 12.05.2023
One of the largest housing projects of today's Moscow – the "Ostrov" ("Island") housing complex built by Donstroy – is now being actively built in the Mnevniky Floodplain. They are planning to build about 1.5M square meters of housing on an area of almost 40 hectares. We are beginning to examine this project– first of all, we are talking to Julius Borisov, the head of the architectural company UNK, which works with most of the residential blocks in this grand-scale project, as well as with the landscaping part; the company even proposed a single design code for the entire territory.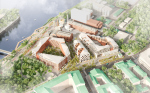 04.05.2023
In the city of Omsk, ASADOV architects took on a very challenging task: they are developing a concept of a public and residential complex, which involves reconstructing the city's first thermal power station standing right next to Omsk's first fortress. This territory has already seen a lot of projects designed for it, and the residential function of this land site has been the subject of heated debate. In this article, we are examining the project in question, aimed at developing a mid-scale city fabric suited for the historical center. We also examine the above-mentioned debate. Seriously, will this project save this place or will it bring it to ruin?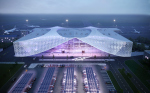 10.02.2023
Designing the passenger terminal of the Orenburg airport, ASADOV architects continue to explore the space theme that they first introduced in Saratov and Kemerovo airports. At the same time, the architects again combine the global and the local, reflecting topics inspired by the local conceptual context. In this case, the building is "covered" by an Orenburg downy shawl – an analogy that is recognizable enough, yet not literal; some will see the reference and some won't.