Dmitry Likin
information:
Buildings and Projects:
Buildings and Projects Shown: 1
Archi.ru Texts:
20.03.2020
In this article, we are speaking to the leaders of a few Moscow architectural companies about their plans for remote work caused by the #COVID19 pandemic.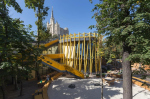 06.03.2020
The list of new typologies of public spaces and public projects has been expanded yet again — thanks to Wowhaus. This time around, this company came up with a groundbreaking by Russian standards approach to creating a place where people and animals can communicate.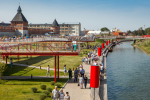 09.10.2018
Tula, the city of rugged gunsmiths, got a new embankment – a relaxed space of a postindustrial type. It promptly reacts to all the difficulties presented by the context, treating them nicely and easily, more like a game than a tough challenge. The city center came alive with colors, interesting space solutions, and a multitude of possible behavioral scenarios. There are also lots of unusual and exciting kinds of entertainment for kids as well.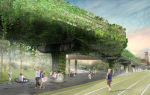 23.07.2018
What is the Moscow Monorail metro line – a means of transportation or just an amusement ride? Keeping it in working order is detrimental to the city budget, and generally it is like a suitcase without a handle. The Wowhaus interns worked on the project of turning the Monorail into a "Monogarden", a giant (5 square kilometers) urban tourist attraction that picks up on both local and city scenarios in terms of function and imagery as well.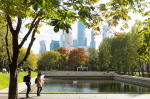 03.05.2018
Wowhaus turned a park in the center of Moscow into a great space for recreation and outdoor activities where everyone will find a place for himself by following red guiding marks.