Anton Yar-Scriabin
information:
Buildings and Projects:
Buildings and Projects Shown: 5
Archi.ru Texts: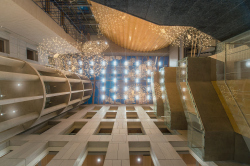 05.06.2019
The second stage of Boris Eifman Dance Academy is constructed around a theater building, its space "spinning" around the architectural scenery of the "little town" of the atrium. The result looks like a Russian Matryoshka doll: a theater within a city, and then a little town within a theater, all of this forming a dance school – a very effective way of organizing the space.

18.03.2019
A "string" park designed for the first alluvial waterfront of the Vasilyevsky Island is full of modern functions, at the same time demonstrating a regular structure and a reference to the classic gardens of Saint Petersburg. The project won in the competition and is due to be implemented.