Sergey Pereslegin
information:
Sergey Pereslegin graduated from Moscow Institute of Architecture; he studied under the guidance of the professors Kudryashov and Michael Eichner.
After graduation, he did a course in the Technische Universität München under the supervision of Peter Ebner.
Graduated from the post-graduate courses in the Research and Development Institute of Architecture and Urban Planning of Russian Academy of Architecture and Construction Sciences.
Sergey worked in the Austrian/German architectural company "E+E architecture+urban design" and in the Swiss company "Arch4".

Since 2013, Sergey has been the partner of Kleinewelt Architekten. Sergey Pereslegin is the author of many built and in-construction projects, including the Winery House in Gai-Kodzor (Armenia), the Movie Theater in the Gorky Park, reconstruction of the former "communal kitchen" on the Novokuznetskaya Street in Moscow, Mercedes and Audi dealerships on the ZIL peninsula in Moscow, "Park of the Future" at Moscow's VDNKh, and others.

Sergey Pereslegin holds classes at Moscow Institute of Architecture at the Department of Residential and Public Architecture.
Archi.ru Texts: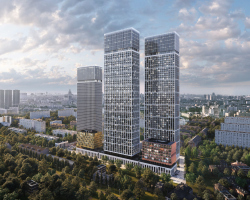 06.09.2021
The high-rise housing complex MOD, whose construction has begun in Moscow's district of Maryina Roshcha next to the site, on which the new Russian Railways headquarters will be built, is responding to the "central" context of the future city surroundings, and at the same time is positioned by the architects as a "manifesto of Modernist minimalist principles in architecture".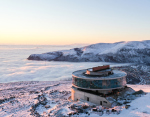 08.06.2021
A restaurant in the Khibiny skiing complex: 820 meters above the sea level, sweeping views, a levitation effect, and ingenious engineering solutions.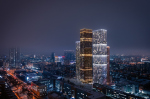 08.02.2021
The housing complex Symphony 34 will be built in Moscow's Savelovsky district; it will consist of four towers from 36 to 54 stories high. Each of the towers has an image of its own, but they all are gathered into a single architectural ensemble – a fragment of a new high-rise urban space lying outside the Third Transport Ring.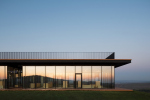 01.02.2018
The austere, full of light and shade, air and greenery, and, of course, impressions, the winery building in the city of Haykadzor in the Krasnodar Territory is one of the main architectural events of last year.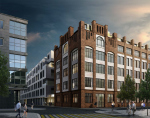 11.12.2017
The winner of the competition for the best renovation project for the complex of buildings of the "First Exemplary Printing Works" became Kleinewelt Architekten with a project that can arguably be considered a breakthrough to a whole new level of material and emotional comfort.