Creative Union 'Reserve'
information:
address:
Moscow Blagoveschensky lane 3 bld 1
tel (495) 7556960
e-mail: info@reserve.ru
About Firm:
Buildings and Projects:
Buildings and Projects Shown: 11
Rank all Buildings and Projects / Creative Union 'Reserve' (81):
Archi.ru Texts: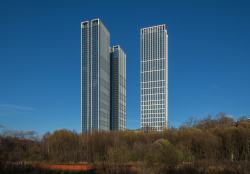 08.12.2020
Three towers on a podium over the Ramenka River are the new dominant elements on the edge of a Soviet "microdistrict". Their scale is quite modern: the height is 176 m – almost a skyscraper; the facades are made of glass and steel. Their graceful proportions are emphasized by a strict white grid, and the volumetric composition picks up the diagonal "grid of coordinates" that was once outlined in the southwest of Moscow by the architects of the 1970's and 1980's.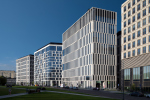 07.10.2020
Jointly designed by Sergey Tchoban and Vladimir Plotkin, the VTB Arena Park complex can arguably be considered the perfect experiment on solving the centuries-old controversy between traditional architecture and modernism. The framework of the design code, combined with the creative character of the plastique-based dialogue between the buildings, formed an all-but-perfect fragment of the city fabric.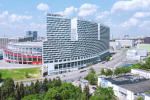 20.07.2020
The housing complex "Litsa" ("Faces") on Moscow's Khodynka Field is one of the new grand-scale buildings that complement the construction around it. This particular building skillfully tackles the scale, subjugating it to the silhouette and the pattern; it also makes the most of the combination of a challenging land site and formidable square footage requirements, packing a whole number of features within one volume, so the house becomes an analogue of a city. And, to cap it all, it looks like a family that securely protects the children playing in the yard from... well, from everything, really.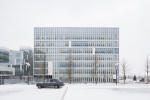 02.06.2020
In this article, we are examining a complex of buildings and interiors of the first stage of the project that has recently become extremely popular – the Kommunarka clinic.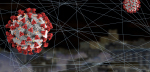 20.03.2020
In this article, we are speaking to the leaders of a few Moscow architectural companies about their plans for remote work caused by the #COVID19 pandemic.
awards:
Diploma for the best building - multifunctional complex "Quadro"; Arch Moscow 2003