Pavel Andreev
information:
Member of The USSR Union of Architects ¹ 1949 14.02.85 License ¹ 51 / 23.05.90
Corresponding member of The International Academy of Architecture, IAAM (Moscow department)
State Qualification Certificate FLC-C (Federal Licensing Center) ¹ 000128
14 July, 1954 Born in Moscow
1971-1977 Moscow University of Architecture, Urban Planning Department,
Professor U.P. Platonov's group
1976 Research and Design Institute of Moscow General Layout
probation period and externship
the scientific tutors: A.E. Gutnov, Doctor of Architecture, and V.P. Udencov, architect
1976-1977 Thesis work on the Reconstruction of the Historical Part of the City (Moscow, Gogolevsky blvd, ); the scientific tutor: N.N. Ullas, professor, architect
1976-1977 University of Ljubljana (Jugoslavia), Department of Architecture
probation period, the project and paper on 'Reconstruction of the Existing Urban Environment '
1977-1980 Mosproject-2, studio ¹1
architect
the head: M.V. Posohin, architect, full member of the USSR Arts Academy
1980-1985 the Central Research and Design University of retail and domestic buildings and tourist complex, studio ¹6
senior architect
the head: F.A. Novikov
1985-1988 the Central Research and Design Institute of retail and domestic buildings and tourist complex, studio ¹1
chief project architect
the head: V.M. Leonov, architect
1988-1990 Ricardo Bofill, architecture studio (Spain, Barcelona)
architect, senior architect, associate architect
1990-1992 Soviet-Polish Company MOSBUDPROJECT
the head of architecture studio ¹ 10
1992-1994 Union of Moscow Architects, presidium member
1992-1994 Co.Ltd 'Architecture Studio 'Group ABV''
the company's promoter jointly with architects A. Voroncov and N. Birukov
1994-1996 Joint-stock company 'Shopping Center GUM'
chief architect
1996 state unitary enterprise Mosproject-2
the head of architecture studio ¹ 14
Buildings and Projects:
Buildings and Projects Shown: 10
Rank all Buildings and Projects / Pavel Andreev (15):
Archi.ru Texts: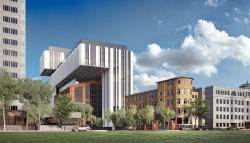 01.11.2018
A concept project that provides for preserving the non-protected cold-storage warehouse on the Dubininskaya Street, located in the very center of the rapidly growing Paveletskaya industrial zone.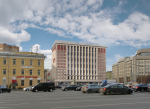 10.10.2018
The project of reconstructing the building of the automatic telephone station at the Zubovskaya Square, which includes preserving some of its original façades.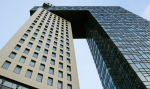 22.01.2018
The Golden Gate business center became a noticeable complement to the district of Rogozhskaya Zastava – the architects creatively revised the increase in the construction scale of this area. The mind-blowing cantilevered overpass situated at the level of the twenty-second floor is arguably the first experiment of such kind in Moscow.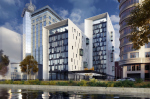 06.04.2017
The contest project that the "Gran" firm prepared for the Malaya Trubetskaya Street in Moscow is based on the author's vision of what a club house may look like amidst dense and high-profile surroundings. The two units are designed as volumetric frames of apartments overlooking the park.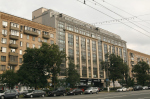 07.03.2012
Moscow's "Pavel Andreev Architectural Studio" has finished the reconstruction of "Promstroiproekt Institute" building on Komsomolsky Avenue.