Ilia Mashkov
information:
Ilia Mashkov


Ilia Mashkov is one of the two founders of Mezonproekt.

Ilia was born in Moscow in 1973.
In 1996, he graduated from Moscow Engineering and Physics Institute.
In 2012, Ilia Mashkov defended a master's degree in territorial development management; he is the alumnus of the course of Vyacheslav Glazychev in the Russian Presidential Academy of National Economy and Public Administration.
Ilia is a member of the Union of Moscow Architects
In 1999, in partnership with Alexandra Kuzmina, Ilia Mashkov founded the architectural company "Mezonproekt". He is a coauthor of more than 70 projects. Ilia's specialty is integrated project tasks. He also often works in the capacity of a leader of international architectural teams.
Since 2015, Ilia has been reading a course on territorial development; he consults project and developer companies


Participation in exhibitions and competitions:
– Federal competition "Home of the XXI Century", 2009
– Miami Waterfront (USA), 2009
– Atlantic City Boardwalk Holocaust Memorial (USA), 2010
– e-Volo skyscraper competition, 2010
– Concept for developing the Moscow agglomeration, 2012
– Singapore Architecture Festival 2013
– Golden Section 2015
– Arch Moscow 2015

International expertise:
– Perkins Eastman (USA): master plans, land development, competition proposal for "Big Moscow";
– ChapmanTaylor (UK), Buro Happold (UK): project of developing the territory of the former research institute NIIDAR, Moscow;
– Forrec (Canada), Waterman (UK), Benoy (UK): project of the Moscow Oceanarium on the Poklonnaya Mountain;
– Broadway Malyan (UK): a housing project on the Prechistenskaya Waterfront;
– Interstudio (IT): project of a hotel on the Malaya Pirogovskaya Street;
– HPP (Germany): project of an office center on the Khromova Street;
– Aedas (UK): project of integrated restoration of the square of the Savelovsky Railway Terminal;
– Ennead Architects (USA): a competition for the new building of the Polytechnic Museum;
– ARKLINKS CONSULTING (China): modelling of development territory
Archi.ru Texts: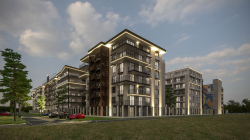 26.03.2019
The apartment hotel "Europe" is an example of a housing project designed in a reserved Scandinavian style with an inclusion of nostalgic monumental techniques of the sixties and southern terraces.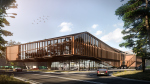 19.02.2019
The project of a shopping mall with a food court and a market to be built in the district of Barvikha, developed by the architectural firm "Mezonproject", combines a soft ecological image and modernist molding of the architectural volume. The "rays" on the façade accentuate the contours of the building and show the directions of the roads as well.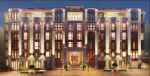 16.03.2016
Unlike most houses belonging to the so-called elite market sector and designed in pseudo-classical style, "Residence in Vsevolozhsky" has been planned in the spirit of art deco.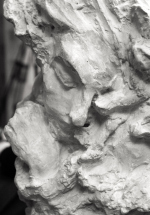 08.12.2015
Curators of the exhibition "Touch+See+Hear=Feel", the architects of Mezonproject bureau, have proposed a new, advanced method of communication with the sculptures of Anna Golubkina.