Ilia Mashkov
information:
Ilia Mashkov


Ilia Mashkov is one of the two founders of Mezonproekt.

Ilia was born in Moscow in 1973.
In 1996, he graduated from Moscow Engineering and Physics Institute.
In 2012, Ilia Mashkov defended a master's degree in territorial development management; he is the alumnus of the course of Vyacheslav Glazychev in the Russian Presidential Academy of National Economy and Public Administration.
Ilia is a member of the Union of Moscow Architects
In 1999, in partnership with Alexandra Kuzmina, Ilia Mashkov founded the architectural company "Mezonproekt". He is a coauthor of more than 70 projects. Ilia's specialty is integrated project tasks. He also often works in the capacity of a leader of international architectural teams.
Since 2015, Ilia has been reading a course on territorial development; he consults project and developer companies


Participation in exhibitions and competitions:
– Federal competition "Home of the XXI Century", 2009
– Miami Waterfront (USA), 2009
– Atlantic City Boardwalk Holocaust Memorial (USA), 2010
– e-Volo skyscraper competition, 2010
– Concept for developing the Moscow agglomeration, 2012
– Singapore Architecture Festival 2013
– Golden Section 2015
– Arch Moscow 2015

International expertise:
– Perkins Eastman (USA): master plans, land development, competition proposal for "Big Moscow";
– ChapmanTaylor (UK), Buro Happold (UK): project of developing the territory of the former research institute NIIDAR, Moscow;
– Forrec (Canada), Waterman (UK), Benoy (UK): project of the Moscow Oceanarium on the Poklonnaya Mountain;
– Broadway Malyan (UK): a housing project on the Prechistenskaya Waterfront;
– Interstudio (IT): project of a hotel on the Malaya Pirogovskaya Street;
– HPP (Germany): project of an office center on the Khromova Street;
– Aedas (UK): project of integrated restoration of the square of the Savelovsky Railway Terminal;
– Ennead Architects (USA): a competition for the new building of the Polytechnic Museum;
– ARKLINKS CONSULTING (China): modelling of development territory
Archi.ru Texts: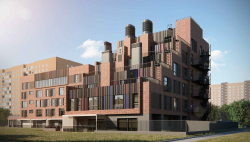 25.12.2020
An apartment hotel that looks like a ship with wide decks has been designed for a land plot on a lake shore in Moscow's South Tushino. This "steamer" house, overlooking the lake and the river port, does indeed look as if it were ready to sail away.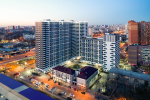 07.12.2020
In the stead of former warehouses near "Lyubertsy-1" station, a new housing complex has been built, which peacefully coexists with the railroad, with the flyover bridge, and with the diverse surrounding scenery, not only dominating over the latter, but improving it.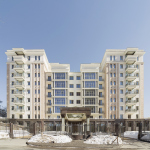 21.10.2020
The high-end residential complex "Aristocrat" situated next to a pine park at the start of the Rublev Highway presents a new stage of development of Moscow's decorative historicist architecture: expensively decorated, yet largely based on light-colored tones, and masterfully using the romantic veneer of majolica inserts.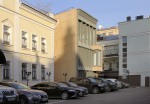 02.12.2019
Mezonproekt has built a new studio for the renowned sculptor Zurab Tsereteli inside the yard of the house on the Pyatnitskaya Street, across from the Church of Clement, Pope of Rome. Soft eco-modernism met some Art Deco features.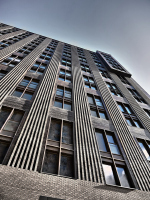 24.06.2019
Designed by Alexandra Kuzmina, Ilia Mashkov, and Andrey Kolpikov, this house within ZILART residential complex seems to solve the eternal struggle of vertical versus horizontal, bringing the controversy to a minimum. The house is reminiscent of this factory's golden age of the 1930's.