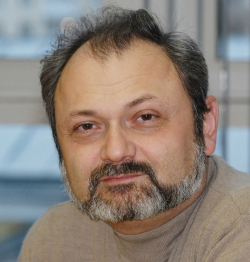 Igor Shvartsman

C.E.O of "Sergey Kisselev and Partners"
Igor Shvartsman
information:
Igor Shvartsman was born in Moscow in 1962.
1980 – 1985 – studied in the Moscow State University of Civil Engineering named after Valerian Kuybyshev
1985 – 1989 – worked in the State Research and Planning Institute of the Academy of Sciences of the USSR as engineer/designer on the graduate appointment program.
1987 – concurrently to working in State Research and Planning Institute, Igor worked part time in "Contour" Company, since 1989 – full time.
1991 – cofounder, partner, director, and chief designer of the architectural firm "Sergey Kisselev and Partners"

Laureate of the review competition of Moscow architecture 1995 – 2001
Laureate of the "Golden Section" review competition 1997 – 2007
Laureate of the Moscow Government Competition for the best restoration, reconstruction, and recreation of monuments of architecture 1999 – 2001
Laureate of the architectural festival "Zodchestvo-2007"
Laureate of the second National Award in the field of architecture and development 2007
Laureate of the architectural festival "Zodchestvo-2010"
Laureate of Vladimir Tatlin Prize 2010

Buildings and Projects:
Buildings and Projects Shown: 10
Rank all Buildings and Projects / Igor Shvartsman (29):
Archi.ru Texts: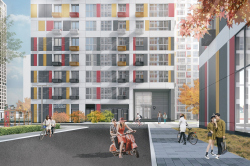 02.11.2020
Six towers, which make up a large housing complex standing on the bank of the Moskva River at the very start of the Novorizhskoe Highway, provide the answers to a whole number of marketing requirements and meets a whole number of restrictions, offering a simple rhythm and a laconic formula for the houses that the developer preferred to see as "flashy".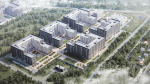 28.07.2020
The project that we are about to cover is seemingly impossible amidst human anthills, chaotically interspersed with old semi-neglected dachas. Meanwhile, the housing complex built on the Comcity business part does offer a comfortable environment of decent city: not excessively high-rise and moderately private as a version of the perfect modern urbanist solution.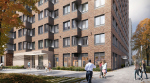 11.04.2019
Designed by Aleksey Medvedev, the apartment complex on the Franko Street takes on the role of an urban planning highlight without going beyond the limits of a reserved minimalist form. One of its peculiar features is a staircase with a zigzagged ramp, still a rare sight in Moscow.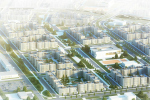 07.05.2018
Prepared by Sergey Kiselev and Partners, the concept of developing a 150-hectare chunk of land at the outskirts of Orenburg has at least two major string points: the presence of a fair number of what usually is considered to be the components of a comfortable city and the absence of any overly "marketing" techniques – in other words, the project is realistic to the bone.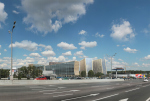 21.02.2018
The project of an office-and-hotel complex located on the first kilometer of the Rublevo-Uspenskoe Highway develops their old ideas and responds to the architecture of the buildings that "Sergey Kisselev and Partners" had built earlier in this area.