Sergey Nikeshkin
information:
Archi.ru Texts: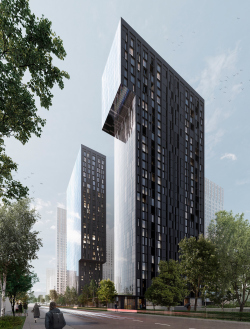 04.08.2022
In this article, we are examining one of the projects submitted for a closed-door competition for a housing complex to be built in the north of Moscow. The KPLN architects proposed a simple volumetric pair of 100 meter high towers, united by a common sculptural design based on laconic contrast, yet dramatic at the same time. Another interesting thing is an oval yard that is "carved out" in the stylobate roof.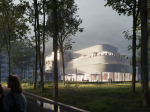 27.07.2022
In the new extra building of the Klyazma resort center, whose project was developed by KPLN, the aesthetics of Soviet modernist architecture is combined with modern ideas of how leisure activities should be organized.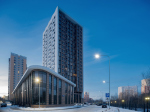 13.01.2022
Built in the town of Pushkino in the Moscow area, the "Turgeneva 13" housing complex, while fitting in with the surrounding context, differs from it with the rhythmic austerity of its dual composition, a slight wave of the façade, and the color design, in which one can see two images, winter and summer, both "growing" from the specifics of the place.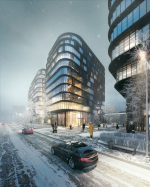 30.04.2021
The story of designing a business center in the Zhukov ("Beetle") Drive: a number of attempts to preserve a hundred-year-old cold storage facility, at the same time introducing modern buildings interpreting the industrial theme. The project remained on paper, but the story behind it seems to be worth our attention.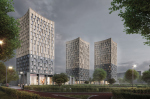 27.11.2020
The authors of the housing complex "In the Heart of Pushkino" were faced with a difficult task: to preserve the already existing urban forest, at the same time building on it a compound of rather high density. This is how three towers at the edge of the forest appeared with highly developed public spaces in their podiums and graceful "tucks" in the crowning part of the 18-story volumes.