Roman Leonidov
information:
Born in 1969. 1986-1992 Harkovsky Engineering and Construction Institute, department of architecture. 1993-1997 private professional practice. 1999 established and headed "Architectural Bureau Shabolovka". 2007 "Architectural Bureau Shabolovka" reorganized into "Architectural Bureau of Roman Leonidov". "Zolotoe Sechenie-2005" award winner in "Best small object project" category. First award winner in "Project-idea of a country house" contest, within "ABC of country house.May.House" festival in 2003. "Interior décor" contest award winner held within the festival of architecture and design "Under a roof" in 2003 ("Perets" restaurant interior received a diploma from the Union of Russian Designers )
Buildings and Projects:
Buildings and Projects Shown: 10
Rank all Buildings and Projects / Roman Leonidov (12):
Archi.ru Texts: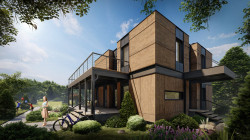 14.02.2022
Roman Leonidov, the well-known architect of luxury countryside residences, about which Archi.ru repeatedly wrote, launched a new online project called "Build YOUR House" on his YouTube channel.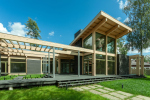 01.02.2021
The central element of the manor house in the village of Antonovka, designed by Roman Leonidov, is the inner yard with pergolas, meant to remind its owner about his vacations in exotic countries. The exposed wooden structures emphasize the soaring diagonals of single-pitched roofs.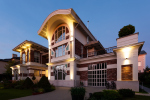 20.08.2020
Based on the taste of their friendly clients, the architects Olga Budennaya and Roman Leonidov designed and built a house in the Moscow metropolitan area playing Art Nouveau. At the same time, they enriched the typology of a private house with modern functions of a garage loft and a children's art studio.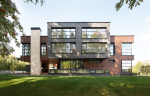 19.05.2020
In the "Parallel House" residence that he designed in the Moscow metropolitan area, the architect Roman Leonidov created a dramatic sculptural composition from totally basic shapes – parallelepipeds, whose collision turned into an exciting show.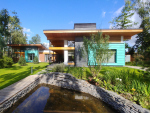 18.02.2020
In the Moscow area, the architect Roman Leonidov designed the "Cool House" residence, very much in the spirit of Frank Lloyd Wright, spreading it parallel to the ground, and accentuating the horizontal lines in it. The color composition is based on juxtaposition of warm wood of a honey hue and cold copper blue.