Roman Leonidov
information:
Born in 1969. 1986-1992 Harkovsky Engineering and Construction Institute, department of architecture. 1993-1997 private professional practice. 1999 established and headed "Architectural Bureau Shabolovka". 2007 "Architectural Bureau Shabolovka" reorganized into "Architectural Bureau of Roman Leonidov". "Zolotoe Sechenie-2005" award winner in "Best small object project" category. First award winner in "Project-idea of a country house" contest, within "ABC of country house.May.House" festival in 2003. "Interior décor" contest award winner held within the festival of architecture and design "Under a roof" in 2003 ("Perets" restaurant interior received a diploma from the Union of Russian Designers )
Buildings and Projects:
Buildings and Projects Shown: 10
Rank all Buildings and Projects / Roman Leonidov (12):
Archi.ru Texts: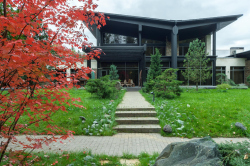 17.01.2018
Designed by Roman Leonidov in the Moscow area, the Wing-house demonstrates a new type of Russian manor house built in the style of organic architecture. The Wing-house observes three rules: the client's comfort, harmony with nature, and perfect plastique. We met with Roman Leonidov and spoke to him about manifesto buildings and the architects' subconscious.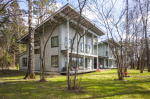 21.08.2017
Roman Leonidov architectural bureau has designed a villa community of Daryino-Uspenskoe, whose architectural solutions all but destroy popular stereotypes about life on the Rublevskoe Highway.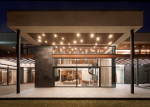 13.10.2016
In Moscow Area, Roman Leonidov designed a private residence called Hampton House, the insides of which echo its outer shell and continue it, thus making the architecture of the house not only laconic but also integral - in full accordance with the principles set by the gurus of modernism.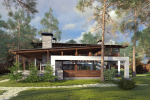 07.04.2016
A guest house designed by Roman Leonidov bureau echoes its prototype - the main house - but it also creatively revises a few interesting and recognizable techniques.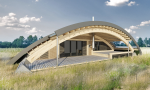 26.02.2016
A project that the architect designed initially for himself combines a contemporary "green technology" roof and a nostalgic flavor of our childhood memories.