Nikita Yavein
information:
Nikita Yavein was born in Leningrad (St. Petersburg) in 1954 to the family of a prominent architect and theoretic of architecture, Igor Yavein. In 1977 N. Yavein graduates from Leningrad Engineering and Construction Institute (today it is Saint-Petersburg State University of Architecture and Civil Engineering), Department of Architecture. 1977-1989 Yavein works for various project companies of St. Petersburg as architect, then works as chief architect and the head of architectural group. In 1990, together with a number of associates he founds personal architectural studio which a few years later gets the name "Studio 44"
In 1994 there begins a new stage in the architect's career – he accepts the proposal for the committee chairman of state control, use and protection of monuments post. Years of this work were devoted to development and putting into effect the programs of saving and development of historic centre of St. Petersburg, restoration of the city's architectural heritage.
In 2003 N. Yavein leaves the post and focuses entirely on his architectural practice. Yet, he remains to be a notable social figure: he gives course of lectures in St. Petersburg Academy of Fine Arts; he is a board member of Union of Architects, Russian Federation, and its department in St. Petersburg. He takes part in work of a few scientific and social companies on issues of urban planning and saving of the city's cultural heritage. In 2001 N. Yavein was given the title of Honored Architecture of Russian Federation.
Buildings and Projects:
Buildings and Projects Shown: 10
Rank all Buildings and Projects / Nikita Yavein (61):
Archi.ru Texts: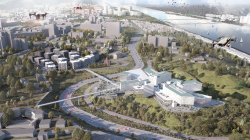 09.08.2023
In the project by Studio 44, the "distributed" IT campus of Nizhny Novgorod is based on well-balanced contracts. Sometimes it is hovering, sometimes undulating, sometimes towering over a rock. For every task, the architects found appropriate form and logic: the hotels are based on a square module, the academic buildings are based on a "flying" one, and so on. Modernist prototypes, specifically, Convent Sainte-Marie de La Tourette, stand next to references to the antique Forum and the tower of a medieval university – as well as next to contextual allusions that help inscribe the buildings of the future campus into the landscape of the city hills with their dominants, high slopes, breathtaking river views, the historical city center, and the Nizhny Novgorod University.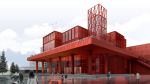 13.06.2023
The contest proposal that Studio 44 made for the Krasnoyarsk Opera and Ballet Theater is bright in all senses, and in many ways even provocative – just like a modern theater performance should be. Being in context with modern culture, it even shocks you in some respects. At first, you are amazed at the red color that is present all around, and then you gradually make sense of the picturesque congregation of volumes that share a multitude of functions. And it's only later that you realize that this conglomerate conceals a modernist building, most of which the architects save intact.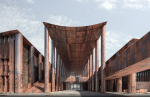 23.12.2022
The building of the Vyksa Metallurgy Museum, designed by Nikita Yavein and Sergey Padalko, provides for the natural aging of metal – it is planned that the iron will gradually rust – at the same time utilizing the advanced type of construction, based on metal's ability to stretch. The building will be constructed from pipes and rolled steel supplied by OMK company, as well as from recycled bricks.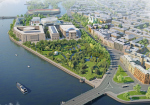 18.01.2022
The news about cancellation of the Tuchkov Buyan park has been stirring the minds of people of St. Petersburg for a week already. In the absence of any verified specific information, we discussed the situation with the architects of the park and the Court Quarter: Nikita Yavein and Evgeny Gerasimov.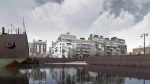 30.09.2021
The project of the housing complex "Krasin", designed for the historical center of St. Petersburg, and situated in a very obliging place – next to the Mining University designed by Voronikhin, yet bordering on an industrial area – became the result of a thorough analysis of the specifics of historical construction on the Vasilyevsky Island, and a subsequent synthesis with avoidance of direct stylization, yet forming a recognizable silhouette, resonant with the "old town".