Yuliy Borisov
information:
Buildings and Projects:
Buildings and Projects Shown: 4
Archi.ru Texts: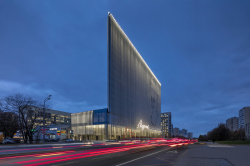 23.01.2020
On the Vernadskogo Avenue, next to the metro station, appeared a high-rise landmark that transformed the entire area: designed by UNK Project, the "Academic" business center uncovered, in the form of its architecture, the meanings of the local place names.
13.09.2019
A highway bridge as a place for recreation and contemplation; a network of pedestrian arteries and capillaries full of greenery, also meant for locomotion and communication, and a network of "smart devices" meant to help people – all of this is combined in the project called "Linked City".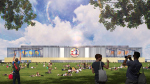 30.07.2019
Yuliy Borisov found a nontrivial image that turned a rank-and-file "crate" project of the Palace of Martial Arts in Luzhniki into an iconic building, glittering and modern, yet endowed with contextual allusions and capable of active interaction with people and the surrounding territory.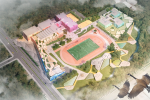 19.03.2019
How does a school that has no room for boredom look like? This question was answered by UNK project in their project (no pun intended) of the educational complex to be built in Yuzhno-Sakhalinsk, which got a name of "Neskuchnaya Shkola" ("Boredom-free School").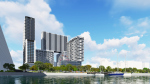 05.03.2018
Can one express in architecture the connection between Bauhaus School and its professor Vasily Kandinsky? Working on a housing project with maximum values of density, depth, and height, UNK Project made such an attempt, arranging in a freehand manner several 12-story slabs in three dimensions of a waterfront area.