Yuliy Borisov
information:
Buildings and Projects:
Buildings and Projects Shown: 4
Archi.ru Texts: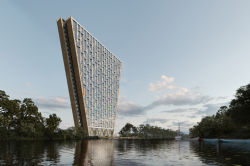 11.07.2022
The eccentric shape of this thin slab that expands upwards is not a formal gesture but the UNK architects' response to the site's requirements and the technical and economic performance specifications. The solutions are modernist, cost-effective, and functional. The building is terraced, the side ends are accentuated with a "slab" shift, and the wide facades are composed of triangular bay windows.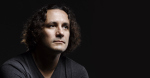 02.02.2022
UNK has announced a new stage of its reorganization. Now it is an ecosystem consisting of 9 companies interacting with one another "seamlessly and horizontally". We asked Yuliy Borisov to elaborate on the essence of the reform.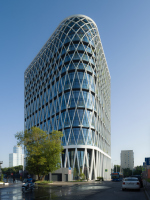 08.11.2021
The new business center built in Moscow's district of Presnya in the 1st Zemelny Lane is all about technology and sustainability. Its streamlined shapes and white facade grid are combined with a new version of vertical greenery: the green of wild grapes, placed at a distance from the facade, instead of arguing with the "pergola" grid, sets it off by contrast.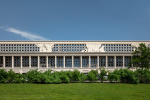 02.06.2021
The Palace of Water Sports in Luzhniki is one of the high-profile and nontrivial reconstructions of recent years, and a project that won one of the first competitions, initiated by Sergey Kuznetsov as the main architect of Moscow. The complex opened 2 years ago; this article about it comes out at the start of the bathing season.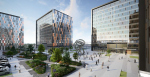 23.03.2021
The project of Ostankino Business Park was developed for the land site lying between two metro stations (one operating and the other in construction), and because of that its public space is designed to equally cater for the city people and the office workers. The complex stands every chance of becoming the catalyst for development of the Butyrsky area.