Yuliy Borisov
information:
Buildings and Projects:
Buildings and Projects Shown: 4
Archi.ru Texts: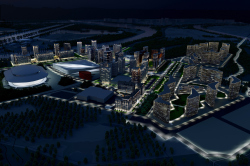 17.07.2023
For the first time around, we are examining a lighting project designed for a housing complex; but then again, the authors of the nighttime lighting of the Ostrov housing complex, UNK lighting, proudly admit that this project is not just the largest in their portfolio, but also the largest in this country. They describe their approach as a European one, its chief principles being smoothness of transitions, comfort to the eye, and the concentration of most of the light at the "bottom" level – meaning, it "works" first of all for pedestrians.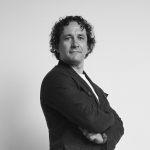 12.05.2023
One of the largest housing projects of today's Moscow – the "Ostrov" ("Island") housing complex built by Donstroy – is now being actively built in the Mnevniky Floodplain. They are planning to build about 1.5M square meters of housing on an area of almost 40 hectares. We are beginning to examine this project– first of all, we are talking to Julius Borisov, the head of the architectural company UNK, which works with most of the residential blocks in this grand-scale project, as well as with the landscaping part; the company even proposed a single design code for the entire territory.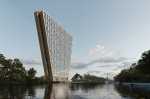 11.07.2022
The eccentric shape of this thin slab that expands upwards is not a formal gesture but the UNK architects' response to the site's requirements and the technical and economic performance specifications. The solutions are modernist, cost-effective, and functional. The building is terraced, the side ends are accentuated with a "slab" shift, and the wide facades are composed of triangular bay windows.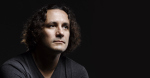 02.02.2022
UNK has announced a new stage of its reorganization. Now it is an ecosystem consisting of 9 companies interacting with one another "seamlessly and horizontally". We asked Yuliy Borisov to elaborate on the essence of the reform.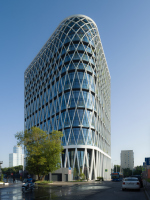 08.11.2021
The new business center built in Moscow's district of Presnya in the 1st Zemelny Lane is all about technology and sustainability. Its streamlined shapes and white facade grid are combined with a new version of vertical greenery: the green of wild grapes, placed at a distance from the facade, instead of arguing with the "pergola" grid, sets it off by contrast.