Sergey Trukhanov
information:
Buildings and Projects:
Buildings and Projects Shown: 5
Archi.ru Texts: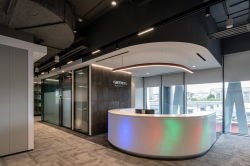 02.11.2022
The new interior of the Action Development headquarters can be regarded as an attempt to design the perfect "home" for the company – not just comfortable but broadcasting the values of modern development. It responds to the context, yet it is built on contrast, it is fresh but cozy, it is dynamic, yet it invites you to relax – everything of this coexists here quite harmoniously, probably because the architects found an appropriate place for each of the themes.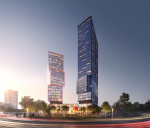 28.04.2022
The concept of a housing complex in Samara from T+T Architects: a new landmark in the cityscape, view of the Zhiguli Mountains, and VR technologies.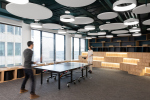 01.03.2021
T+T Architects have designed an office for a French IT company, where the employees in any point of the premises can discuss with their colleagues new ideas or even write them on the wall.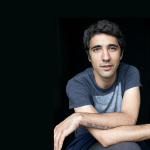 19.10.2020
How will our workspaces change? Can you prepare your companies for similar situations in the future? What factors are generally important for modern offices? What are the subtleties of working with international companies, and what kind of architectural typology are we yet to discover?
17.03.2020
Evolution Design and T+T Architects reported about the completion of the interior design project of Sberbank headquarters on the Kutuzovsky Avenue. In the center of the atrium, hovers the "Diamant" meeting room; everything looks like a chest full of treasures, including the ones of a hi-tech kind.