Aleksey Ginzburg
information:
Professor of International Academy of Architecture
Professor of Moscow Architectural Institute - MARKHI
Vice-president of the Union of Moscow Architects
Member of the board of directors of the Union of Architects of Russia

Aleksey Ginzburg was born in Moscow October 29, 1969.
1993 – graduated from Moscow Architectural Institute
1993-1995 – an architect in Studio ¹18 of Mosproject-2
1995 – together with Vitaly Ginzburg, Aleksey founded "Architectural Studio of Vitaly Ginzburg" in Moscow
Since 1997 – the leader of the architectural firm "Ginzburg Architects"

Awards:

2015 – laureate of the "Golden Section" award for the project of a mixed-use center situated at 77-79, Zemlyanoi Val, Moscow, Russia
2015 – "Quality Architecture" award for design and construction of a private residence in the settlement of Krasnovidovo, Moscow Region, Russia
2011 – golden diploma of the international festival "Zodchestvo-2011" for the reconstruction project of a residential building with an underground parking garage, located at 14, Bld. 3, Trekhgorny Val, Moscow, Russia.
2011 – diploma of the Union of Architects of Russia for the complex "Maly Akhun" with 1 325 hotel rooms in the east part of the Imereti Lowlands, Sochi, Russia
2011 – the Vasily Bazhenov medal for "High Architectural Mastery"
2009 – special prize of the American Institute of Architects, a silver medal, and a laureate diploma for the multifunctional recreational complex in Dubai at the INTERARCH World Triennial of Architecture, Sofia, Bulgaria
2007 – silver diploma of the competition of the architectural projects 2005-2007 organized within the framework of the "Zodchestvo" Festival in the "Projects" nomination for the multifunctional recreational complex at the Primorskaya Waterfront of the "Solnechny" Beach and the Frunze Park in Sochi.

Archi.ru Texts: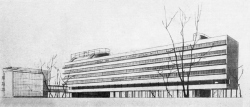 18.10.2018
The restoration of the Narkomfin Building is in full swing – in May, they began selling the apartments. So, how much do we really know about the famous monument of constructivist architecture? We had a chat with Aleksey Ginsburg, counted the misconceptions and tried to dispel them, at the same time delving into the details of the restoration process and making a diligent study of the house.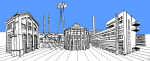 19.04.2018
In this issue, we talk to ten architects about how relevant/irrelevant the ideas of reconstruction and redevelopment are.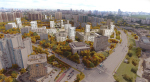 13.03.2018
In this issue, we are publishing the contest project of renovating city blocks 32, 33, 34, and 35 on the Vernadskogo Avenue by a consortium of OAO "Mosproject" and OOO "Ginsburg Architects".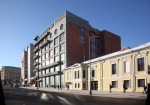 20.11.2017
Staying within the client's specifications, yet being meticulous about the details, Aleksey Ginsburg was able to give their original images back to the Dolgorukovykh-Bobrinskikh manor house on the Malaya Dmitrovka and the Sytin House on the Tverskaya Street. In this article, we are sharing what has been done, and how.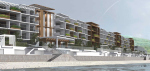 03.11.2017
In the city of Gelendzhik, "Ginsburg Architects" have designed a house over 250 meters long, making it at the same time visually discrete and putting an interesting spin on a few volumetric "resort" narratives connected with contemplation, sunbathing, and going for walks.