Buildings and Projects:
Buildings and Projects Shown: 10
Rank all Buildings and Projects / Vera Butko (12):
Archi.ru Texts: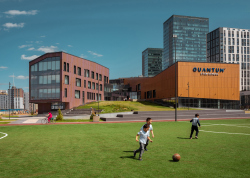 14.02.2023
On the eve of the presentation of the new book by ATRIUM, dedicated to the design of schools and other educational facilities, based on the architects' considerable experience, as well as expert judgments, we are examining the Quantum STEM school building, constructed according to their project in Astana. Furthermore, this building is planned to be the first one to start a new chain. The architects designed it in full accordance with modern standards but sometimes they did break away from them – only to confirm the general development rules. For example, there are two amphitheaters in the atrium, and there is an artificial hill in the yard that is meant to make the flat terrain of the Kazakhstan steppe more eventful.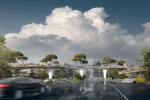 24.06.2022
The project of a pedestrian bridge, proposed by the architectural company ATRIUM, headed by Vera Butko and Anton Nadtochiy, for the city of Almaty, Kazakhstan, became the winner of the A+A Awards organized by the Architizer portal in the "Unbuilt Transportation" nomination. The bridge is indeed a stunner: a "hanging garden" in concrete tubs of columns, suspended over a city highway, is fitted with ringlets of wooden ramps, which in the bridge's key point form an element of national ornament.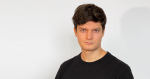 06.06.2022
Recently, AB ATRIUM announced its all-but-complete research project dedicated to formats of designing modern educational spaces. In this article, we are speaking to the leader of the project Sergey Nadtochiy about the goals and specifics of the future book, which is going to have about 300 pages in it.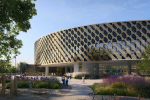 16.08.2021
The school building in the city of Nur-Sultan, designed by Vera Budko and Anton Nadtochiy from beginning to end – from concept to working documentation – became the embodiment of the architects' method for creating a modern educational environment, which the ATRIUM architects have been developing for years. Its fundamentals include creating an inspiring environment that motivates you to create. This is why the new school received a shape of an ornamental golden spiral that symbolizes ascension to knowledge; on the inside, the building is a compound and multifunctional "city within a city" with multilevel atriums, amphitheaters, and varying routes.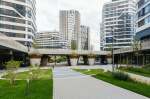 08.04.2020
The five houses of the "Svoboda" block belonging to the "Simvol" residential complex present a vivid example of all-rounded work performed by the architects on an integral fragment of the city, which became the embodiment of the approach to architecture that hitherto was not to be seen anywhere in Moscow: everything is subjected to the flow of lines – something like a stream, enhanced by the powerful pattern of the facades akin to "super-graphics".