Gregorios Gavalidis
information:
Archi.ru Texts: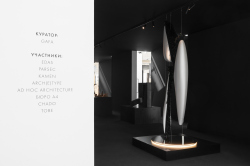 19.06.2023
The special project "Tezisy" ("Abstracts"), showcased at Arch Moscow exhibition in Moscow's Gostiny Dvor, brought together eight young "rock stars of architecture", the headliner being Vladislav Kirpichev, founder of the EDAS school. In this article, we share our impressions of the installations and the perspectives of the new generation of architects.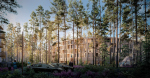 04.10.2022
The apartment complex in Roshchino, designed by GAFA architects, looks very much like a glamping: the residents enjoy the untouched nature of the Karelian isthmus, while having urban amenities and opportunities for social life.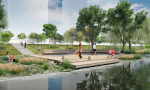 22.07.2021
The project of landscaping the territory of the residential complex NOW in Moscow's Nagatinskaya Valley goes beyond the limits of its task and looks more like a modern park: with viewing platforms, an embankment, spaces different in their moods, and thought-out scenarios for visitors aged between 0 and 80.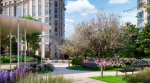 11.05.2021
Organizing the yard of a premium-class housing complex, GAFA architects took care not just about the image that matches the project's high status, but also about simple human joys, masterfully overcoming the construction regulations.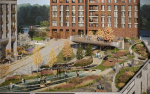 08.04.2021
Designing this large-scale housing complex, GAFA architects accentuated two types of public spaces: bustling streets with shops and cafes – and a totally natural yard, visually separated as much as possible from the city. Making the most out of the contrast, both work together to make the life of the residents of EVER housing complex eventful and diverse.