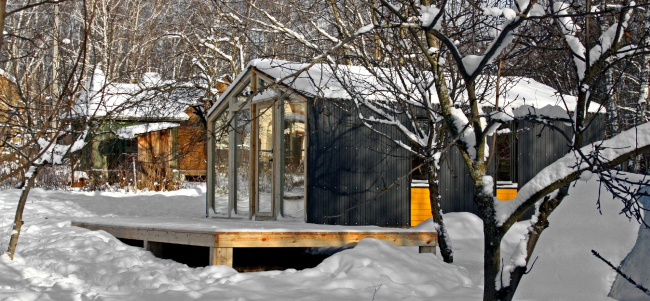 DoubleHouse. Photo courtesy by Ivan Ovchinnikov.



- At ArchiWOOD you went ahead and read out a sparking manifesto that was dedicated to DoubleHouse, one that probably even helped it to win in the popular vote. Could you please quote the main line of that manifesto?

- This was a manifesto of the "unpublished" category. I specifically prepared it for the vote in case somebody of my competition got the better of me - but never did have recourse to it. The main line probably was: "I am not asking you to vote for the author or for the project itself - I am asking you to vote for the very approach to the architecture and to countryside construction". And, to me, what is so special about this approach is its duplicability, accessibility, and its mass character. This is why I took an active part in the struggle for the popular vote, even though I never did this before.

- Do you yourself believe in your manifesto?

- Strange question! Why should I do this otherwise? Because DoubleHouse is not my first modular project and not my first project of compact housing. ArchPriyut ("ArchAsylum" - translator's note) - was quick-mount and feasible. Last year I organized "MicroHouse" Festival that also went a long a way to give birth to a lot of new ideas and the real experience in construction of quick-mount movable projects. A lot of our houses were built at ArchFarm, and then transported to Museon.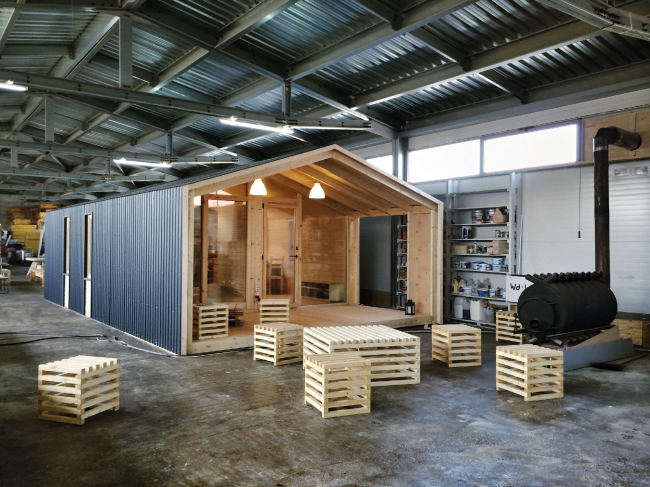 DoubleHouse. Photo courtesy by Ivan Ovchinnikov.



- As for DoubleHouse - does it sell at all?

- I will be totally honest with you - our main challenge now is how to produce it, not how to sell it. A lot of our customers would like to buy it as early as this summer but presently our production facilities and their workload enabled us only to make one sales-demo project that actually sold at once - in fact, in ten days after its construction began.

- Generally speaking, DoubleHouse is a beautiful idea: a ready house with all the communications and even furniture. We know, however, that in Europe such "traveling" houses are quite common, and they have a lot of modifications to them. Can you put your DoubleHouse into the European context? Is there anything that makes it different or does it recreate some western prototype? What did you proceed from?

- Of course, it would be wrong to say that our DoubleHouse is unique and that it was born without the influence of any European analogues. I have always been interested in the phenomenon of compact housing, I have collected a large library on the subject, and, of course, at the moment of the birth of DoubleHouse, all I had to do was put my knowledge together to come up with a new image. As for the birth moment of this idea, it stands out in my memory quite vividly: this was at ArchMoscow 2013, where the FutteralHaus by Maxim Kurenny was first shown. I was really impressed with this idea but then, based on my experience and understanding some of the limitations of the modular "pull-out" project of FutteralHaus, I immediately came up with a different building structure that was not to be pulled out but that was to be put together out of two halves. Maxim, probably, won't even remember our dialogue: I said that I came up with an idea how his project could be improved. And he was like "And how?" To which I playfully answered: "I will first do it, then show it to you, and then we will compete!" Today we are friends with Maxim, we work together, and promote this thing in Russia.

By the way, I am not making an accent on the mobility and the opportunity of moving from place to place. The quality of being modular provides an opportunity to assemble the house at the production facilities, raising its quality and lowering its cost, while its mobility is not that important, really: over this half a year nobody actually asked me about the possibility of a multiple move-over. DoubleHouse is the project that can be quickly assembled on your land site but it is not a trailer on wheels, after all.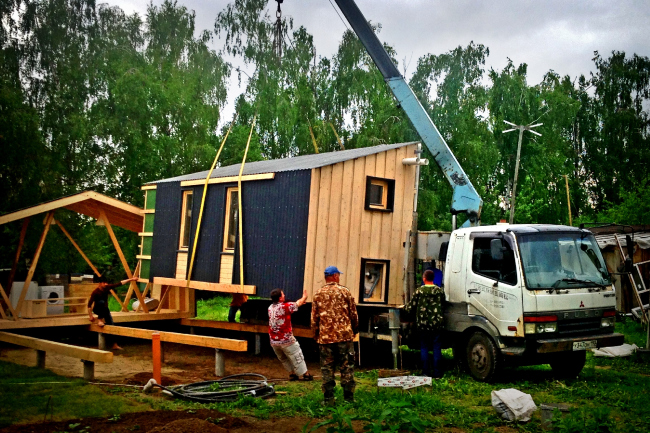 DoubleHouse in the process of assembly. Photo courtesy by Ivan Ovchinnikov.



- And if we are to compare it to the typical panelized house that have been popular at the Russian dachas since the 1980's, or to the cheap offers of today's Russian market? Is it true that DoubleHouse is more expensive? Did you study the market before you actually started, and what conclusions did you draw from that study?

- Well, it's all pretty basic, really: the typical panelized houses require a lot of follow-up work - finishing, communications, furniture... Nobody ever gives a thought to the ultimate cost of the building, buying the sheer box, and the main resources are spent later on - countless trips to buy the finishing materials, figuring out where to house the workers, finding the electrician, the plumber, and such like. With DoubleHouse it's different - you buy it and you start living it. Just like with a car - you buy it and you drive it. Because you don't buy a car with no seats inside.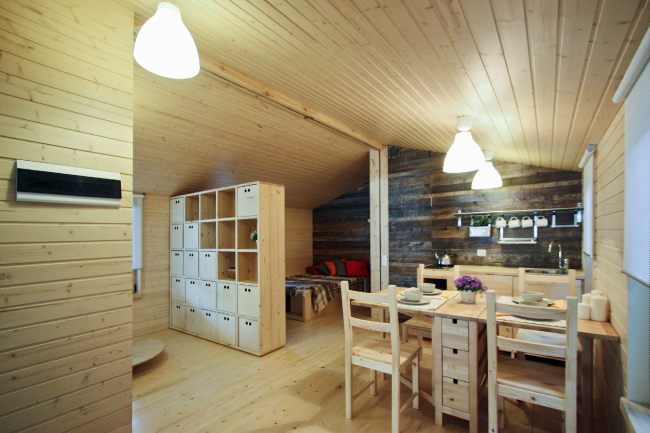 DoubleHouse. Interior. Photo courtesy by Ivan Ovchinnikov.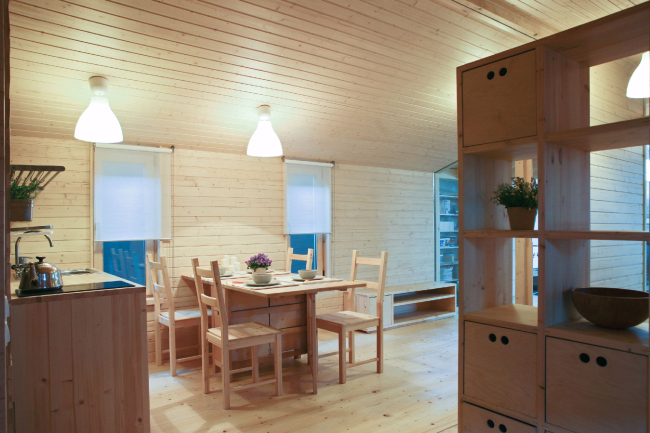 DoubleHouse. Photo courtesy by Ivan Ovchinnikov.



- You mentioned Maxim Kurenny's Futteralhaus; this year, at ArchMoscow was showcased its new modification - FH_25. How many more Russian analogues do you know?

- I do not know a single architect who would not at least once in his career propose to make a house "like in IKEA". There are many similar "paper" projects done by our Russian colleagues, a few projects are already searchable on the Internet and are offered for implementation but the end product was achieved only by me and Maxim.

- You and your family, you live in a DoubleHouse. How long ago did you move there? Have you been able to run into any issues over such a test period?

I've been living in my DoubleHouse on a permanent basis since December 2013. The main issues came up during the January frost when the water that ran along the outside walls froze. Now the project was has been fully redone, we hid all the layout and distribution behind the inside partition, so the water has no chance of freezing. Also, in my house I did not do the covered terrace and I now regret it - with a terrace, the house looks better, there is a place to sit outside when it rains, and you also need an awning above the entrance. Right now, I am testing my house in the "summer heat" mode - so far I am satisfied.

- The all-purpose park pavilion "UPP" is also designed to be transported around. Are such off-the-shelf mobile solutions a specialty of BIO-architects?

- This is also a way of life that I try to carry over to architecture, and the feasibility that gives me a competitive edge.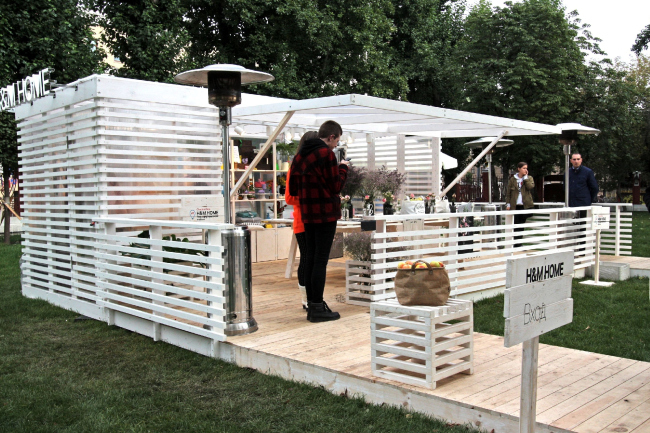 All-purpose UPP module. Photo courtesy by Ivan Ovchinnikov.



- When was BIO-architects founded and how does it work? Do you have partners or such like?

- The bureau came into being at the time when all my social projects got shut down. I had long since been into architectural design and since 2011 I developed my own production facilities, but, while I only used to invest part of my time between the festivals and other programs, now I formalized my activities as an architectural bureau. For solving my architectural tasks I often turn to some other outsource architects: last year, for example, we did together a few joint projects with Leo Anisomov. The production questions are solved by a close-knit team that works on a permanent basis. I've got guys that help me deal with the organization issues - for example, the great girl Katie Geraskina helps develop the furniture branch, and largely because of her efforts we have recently united with other young design companies to form the Club of Industrial Designers.

- Your furniture is very rectangular and laconic to the point of brutalism. The Three Bears (classic Russian folk fairy-tale - translator's note) would probably appreciate it... Is this a principle with you? You will insist on making rectangular stuff or maybe something else is also possible?

- And you are putting too fine a point on it. I do have a furniture series that is made of massive construction timber - these babies will last for centuries. But I do the light stuff as well. For example, we have now pioneered making Russia's first furniture of LVL-timber, and it has no right angles or massive parts - just because this material "plays" in a totally different way particularly in the curvilinear shapes, and its transparency enables us to make light structures.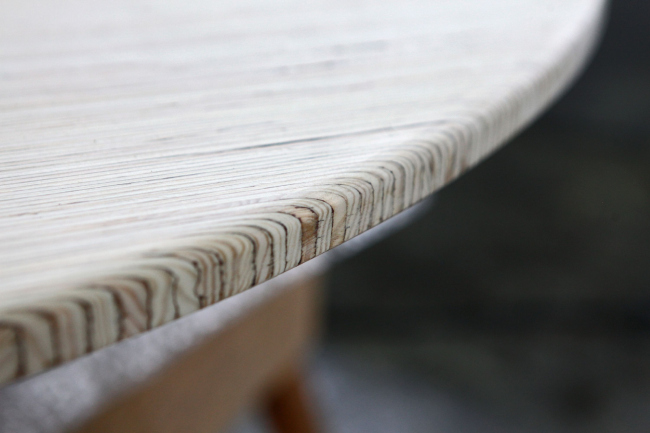 Furniture. Photo courtesy by Ivan Ovchinnikov.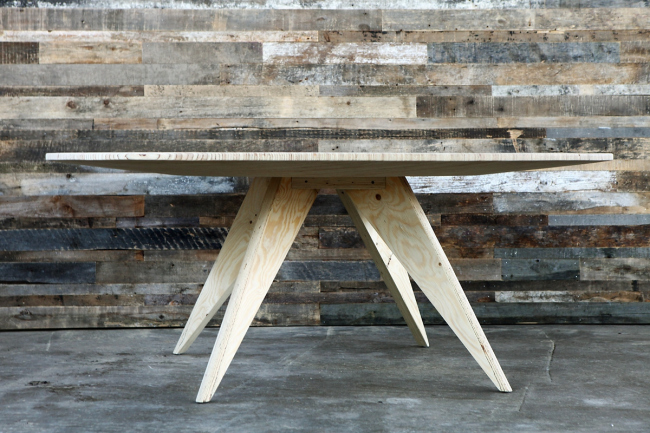 Furniture. Photo courtesy by Ivan Ovchinnikov.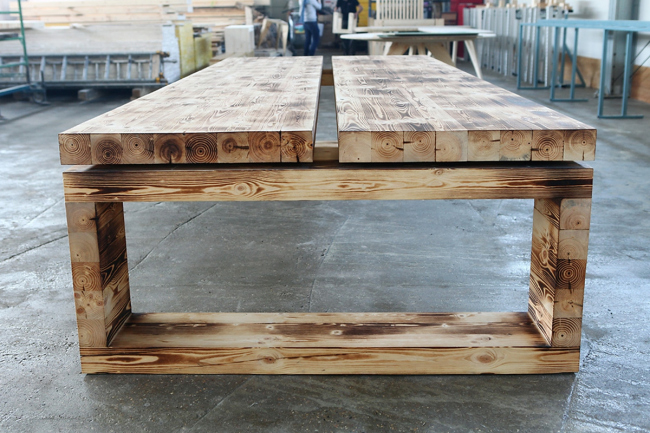 Furniture. Photo courtesy by Ivan Ovchinnikov.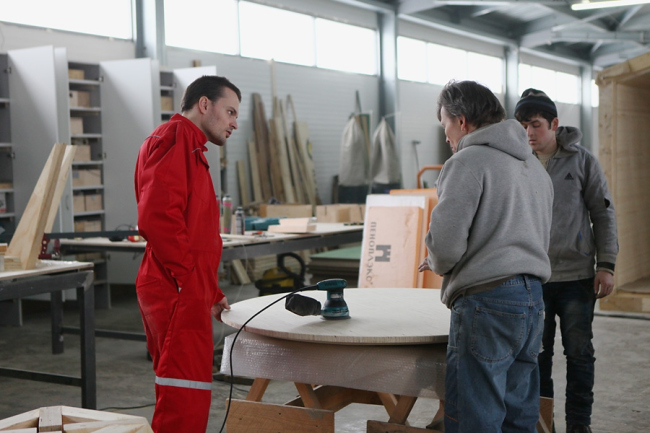 Production of furniture. Ivan Ovchinnikov is on the left. Photo courtesy by Ivan Ovchinnikov.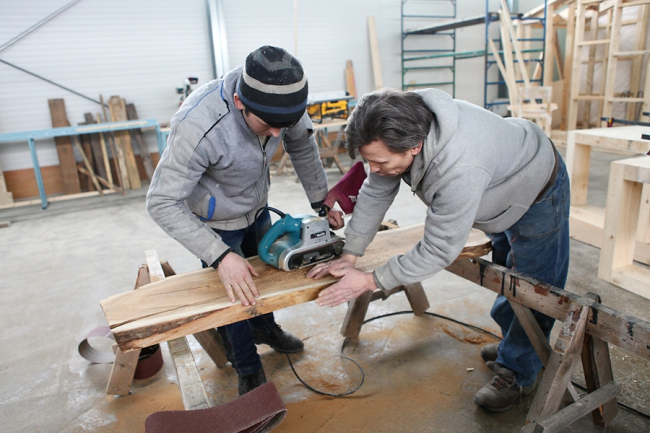 Production of furniture. Photo courtesy by Ivan Ovchinnikov.



- So, the festival period is over - what's next? Was MicroLoft your last festival project? (Where is it now, by the way?)

- I made a pause. Got some architectural "rehab". Nobody knows what's going to happen tomorrow. As for MicroLoft, it is now taken apart and lying in wait at my production facility near the city of Troitsk - I hope to assemble it there.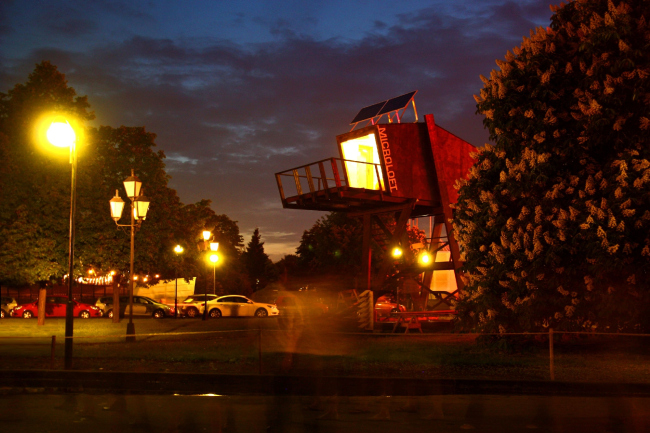 MicroLoft in Museon. Photo courtesy by Ivan Ovchinnikov.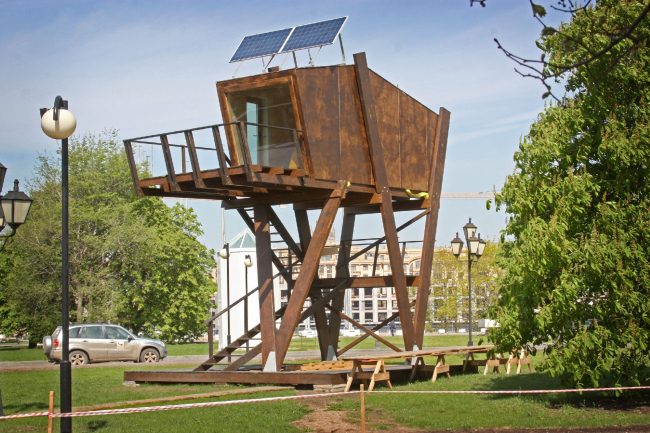 MicroLoft in Museon. Photo courtesy by Ivan Ovchinnikov.



- Why did you leave ArchFarm? Did you have any regrets about that?

- It's ArchFarm that left Tula Region, not the other way around. It did so for a number of reasons, first of all, because further steady development became impossible there. Do I regret it? Not in the least! How can you regret the experience that you got? I hope that all the friends of ArchFarm also do not regret the time that they spent there. And as for the concept of ArchFarm, it is still alive - in my heart, and in the hearts of my friends. With God's help, one day ArchFarm will find a new venue where it will be implemented with regard to the acquired experience.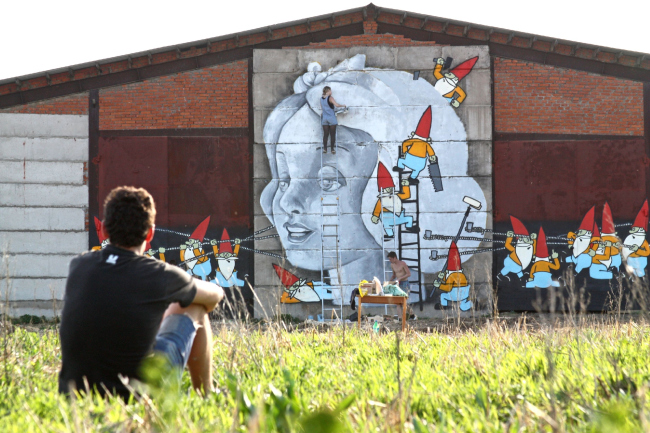 Graffiti at the ArchFarm. Photo courtesy by Ivan Ovchinnikov.