Sergey Estrin Architects is twelve years old: it is still too early to think of marking the end but one can already reflect on what has been achieved, sum up the results and make future forecasts. We asked Sergey Estrin and his partner and the co-founder of the company Konstantin Levin a few questions.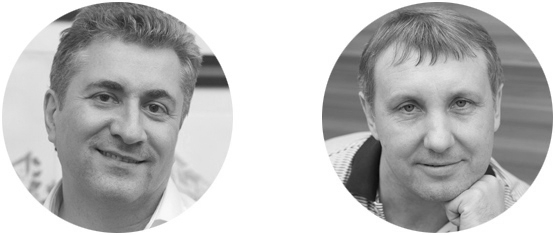 Sergey Estrin; Konstantin Levin © AMSE


Archi.ru:
- Twelve years of work for your studio is a long enough time to start dividing your history into phases. What phase are you going through now?

Sergey Estrin:
- The first phase was the time when we worked with the nouveau riche clients, each of them wanting to make a bold statement, to make a parade of his or her accomplishments, to show his or her unlimited financial possibilities and to live his or her architectural fantasies. And we readily got into the swing of things. From the professional standpoint, it was an unbelievably exciting time; in terms of creativity, sky was the limit.

Then there was a time of working with corporate clients and international customers - the phase of professional and organized work: steady commissions and steady revenue streams from them. Our studio "grew" its own Chief Project Architects and project managers. Their knowledge of the market, as well as their knowledge of manufactures of building materials, contractors and suppliers enables us to deal with practically any challenge and meet virtually any time constraints. A vivid example of that is our work for Russian Railways Group: 22000 square meters - from the schematic design that included almost 70 visualizations to the detailed project with all the engineering communications in five weeks!

Now we want to go even further: besides continuing doing the interior designs, we are also going to do more volumes keeping the vector aimed at the imagery and emotions that are inherent to our projects. And - such movement delivers results: right now a residential complex in the city of Novorossiysk is ready to be built, it already was awarded in London the prize "Best Architecture Multiple Residence Russia"; we also recently did a concept of a residential complex in Astana and a very unusual concept of a city district in Novorossiysk. The work on residential houses in Moscow area in the south of Russia is also underway.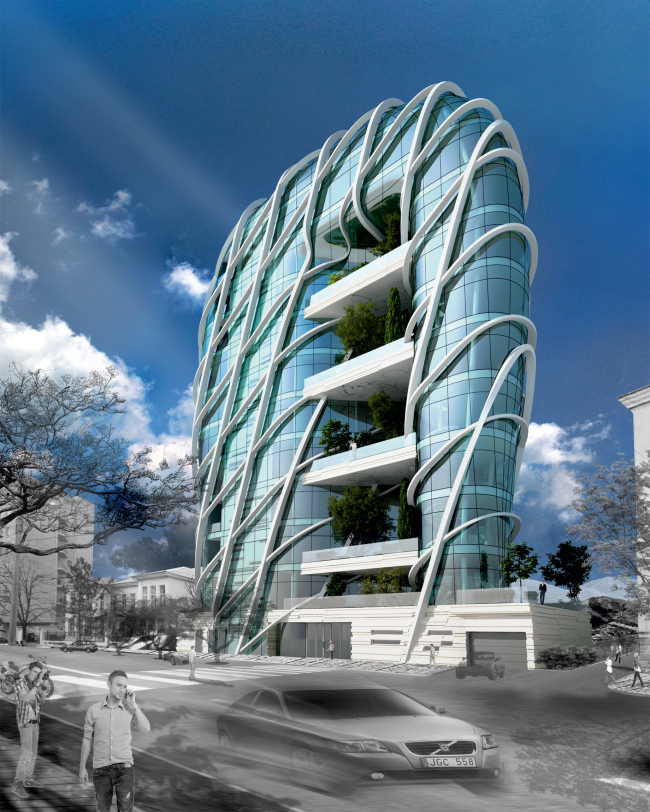 Residential complex in Novorossiysk, 2011 © Sergey Estrin Architecs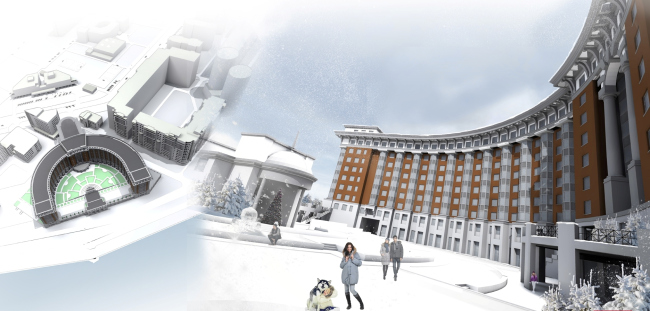 Multi-functional complex in Astana © Sergey Estrin Architecs

Private residence in the town of Gorky © Sergey Estrin Architecs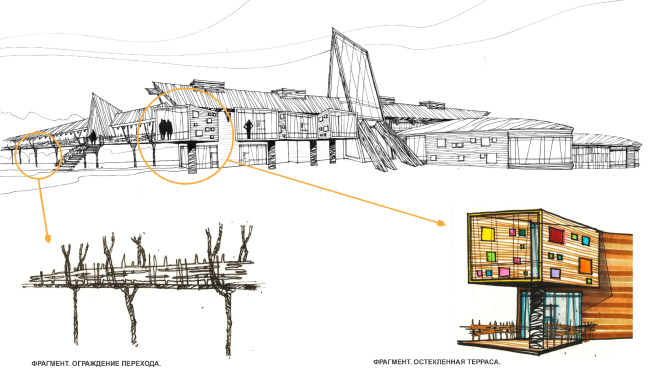 Town-plannung concept, Kaluga region; 2013. Administrative building ©
Sergey Estrin Architecs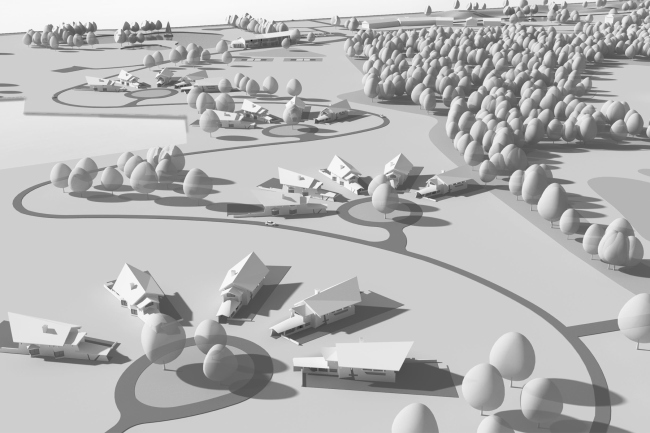 Town-plannung concept, Kaluga region; 2013. Top view ©

Sergey Estrin Architecs



Konstantin Levin:

- Over the twelve years, we made progress, the market became more professional, and the customer that grew with it became more experienced. On the one side, today's customer is hard to please because he has already seen a lot, on the other side, he is no longer afraid of unconventional solutions, he knows exactly what he wants but, curiously enough, he trusts his architect more. And, because of this trust, he gets a project that is tailored to precisely answer his personal needs.

- Your portfolio seems to include ever more large-scale projects - buildings, proposals, and concepts. Is this a result of your deliberate intention to expand your circle of competence or is it just happening by chance?

Sergey Estrin: This is our deliberate intention to keep up the customers' interest to the work of our studio. This is what makes us move forward. It has always been this way: we designed private houses, interiors, a synagogue, a research center, an eye clinic, an entertainment complex with a casino, and even the interior design of the cabin of a private jet. And practically each project had a lot of special details about it: from the mandatory certification of the project (this was the case with the eye clinic) or certification of the materials (this was the case with the jet) - to the physical impossibility to complete the project within the given budget and the time constraints (each of our penthouses, actually). And besides, we had to constantly keep in mind the most various factors, even such exotic ones, for example, as the effect from selling apartments in the city of Astana, Kazakhstan. Seemingly, it had no direct reference to our work but we still had to consider it, and it influenced our design. However, all these conditions and limitations only did us good... Over the years if our work, we could see many times that there are no unsolvable problems, and challenging tasks stimulate ingenious and unconventional solutions.

- Meanwhile, the number of large-scale corporate interiors that you do does not grow any smaller. Where do you find the time?

Sergey Estrin: Our ranks have grown, just as our ambitious chief architects of the project did... As for the time, we always wish we had more of it. You lack the time even when you have little work on your hands and you are actually looking for work, and all the more so when you have found work and you have to go ahead and do it.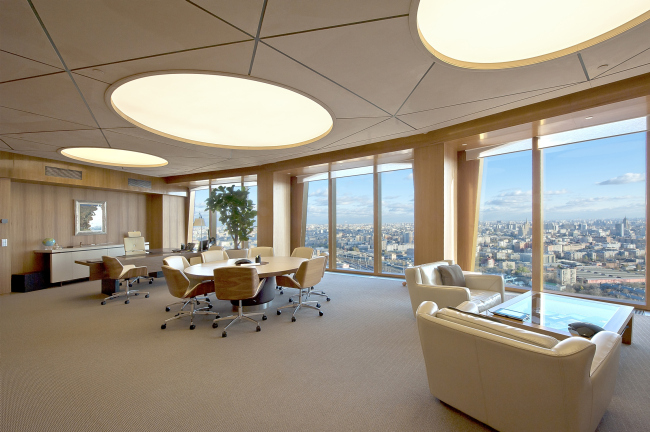 Offices of Nord Star Development © Sergey Estrin Architects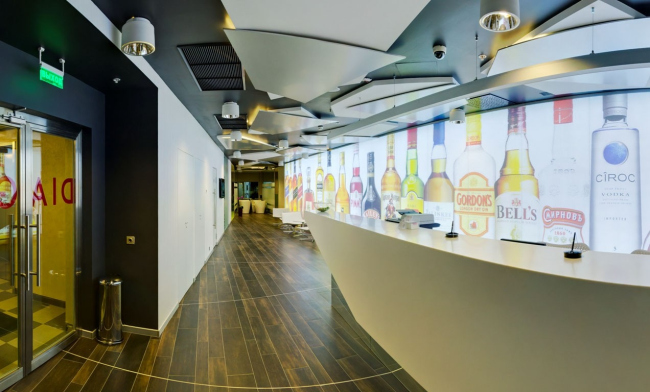 Representation office of Diageo Company © Sergey Estrin Architects



- Sergey, it it you who sets the main theme in each given project? Or do you already have co-authors, chief architects of the projects whom you can trust to "whistle a tune"? Just how "monophonic" is your studio?

Sergey Estrin: I take part in the development of ideas for each project. I often come up with an idea and make a detailed sketch of it myself.

Konstantin Levin: We have an "author studio", so it is Sergey who defines just what the project will be like. After that, I come into play. We have a set routine for the implementation of a project: each phase requires the work of some particular people and/or their interaction. All the members of our team that take part in the design process must get into the swing of things at this or that point. Any negligence can lead to financial losses. And we work with large-scale investments, that's why we cannot just operate on the principle of free trust: well, you have worked here for six years, we trust you, you can have it your way from now on.

Sergey Estrin: Nevertheless, I always give my architects an opportunity to come forward with their proposals. And, of course, every interesting idea gets implemented.

- In what phase is the construction of the residential complex in Novorossiysk? Have you been able to find the materials and technologies fit for its implementation?

Sergey Estrin: This is one of our favorite and most interesting projects over the last few years. We already got all the necessary approvals, we already have all the detailed designs and plans, and we are waiting for the construction to begin. I would not like to mention the political situation and the world crisis but they definitely influence our work - how can it be otherwise? We only hope that the complex, despite the situation, will still be built and will still be in demand. We are all entering the period of shifting the priorities. I could even predict that people are going to hide inside their shells and they will stop spending their money at all. On the other hand, I can easily envisage that this country will switch its attention back to its royal self, and we will be faced with the necessity to create the symbols of pride within Russia...

- You are definitely not afraid of complex and sophisticated shapes - suffice it to mention your "Vortex" in the atrium at the 1st Brestskaya Street or the wave-shaped aquarium in the apartment of your customer Sh; the reception desk executed in the shape of a human eye in Johnson&Johnson Visual Care Institute... What are you trying to get across by experimenting with the texture and shape?

Sergey Estrin: Our principle of working in the interiors is finding an image that is vivid and bright from the plastic and sculptural viewpoint, and at the same time is custom-designed for this particular client - like a gift for him or her. Getting something that is personalized, something that you will love for years to come, is something that the customer really values nowadays. Today's interior design is all about creating a space that is emotionally charged. We are not speaking about decoration work here - we are speaking about the interior solutions achieved by architectural means. And, if, creating our "wave", we used the modern form, asymmetric composition and today's technologies, then in the "Vortex" at the Brestskaya Street we employed a classical composition, columns of gothic section, and even the material that we used was very conservative - armored plaster.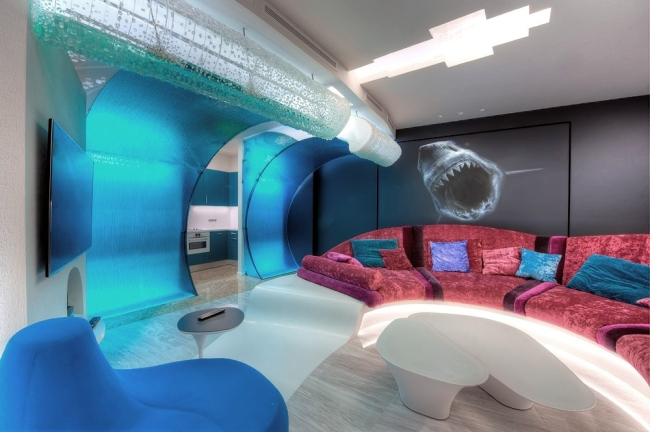 "Best design of private residence interior", penthouse of Mr.Sh in "Moscow City" © Sergey Estrin Architects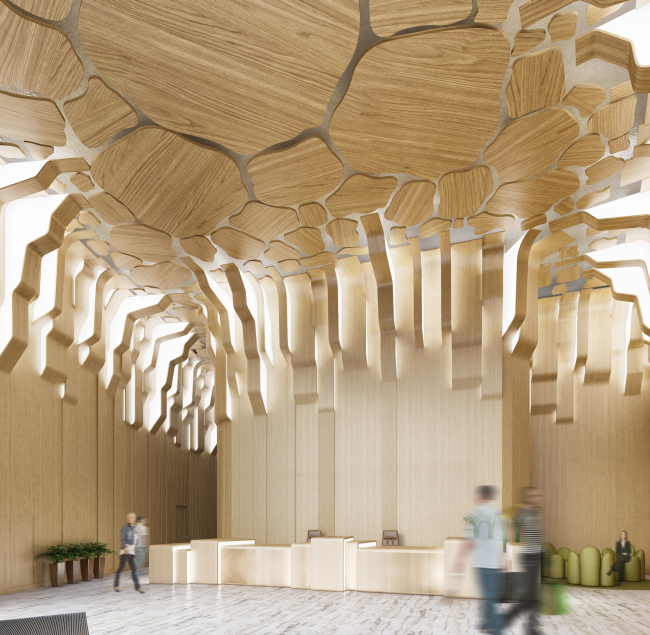 Public territories of a tower in Moscow City, Section 12. 2014 © Sergey Estrin Architects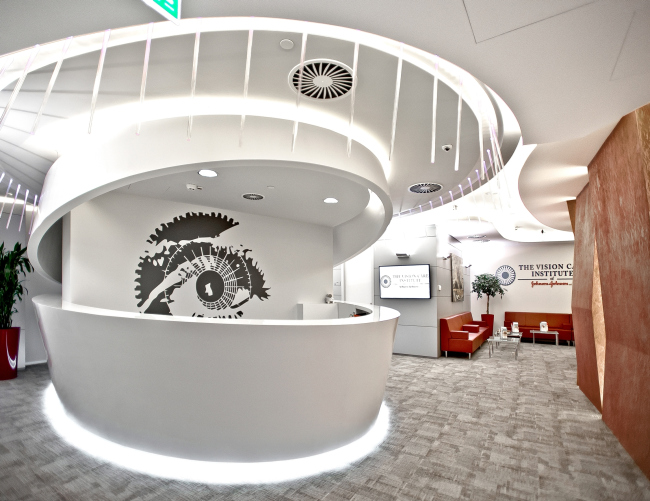 Johnson&Johnson Visual Care Institute 2. 2013 © Sergey Estrin Architects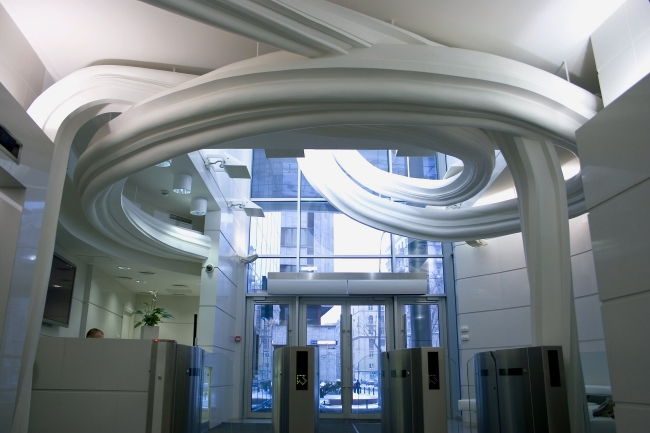 Interior of the entrance group of the office center of "Capital Tower" © Sergey Estrin Architects



- Your portfolio also has in it examples of projects designed in the spirit of the classic architecture: Zhukovka 2007, Krasnodar 2011. Later on, however, you did no develop in this direction - why?

Sergey Estrin: We deliberately refrain from designing in the spirit of classical architecture. All the classics that we did, we did at the customer's order that we just were in no position to turn down. What we really enjoy doing for our customers is the contemporary architecture. It is important that you keep your integrity with the customer. We lead him - sometimes to the place where we have never been. The utmost pleasure for us is working with the customer when the customer is himself is into the project, he cannot wait to see what we are about to show him, then he sees something that he did not expect to see and he says that he's got to think about it... And then he gets back to us looking as if he already crossed the line inside himself, looking as if he is ready to take the plunge. And then the drives sets in - the type that leads to great results. This was the case with Astana and Novorossiysk. When the customer, on the other hand, starts telling us that "he is used to classical style" (When DID he have the time to "get used" to it, for crying out loud? Did he grow up in a palace or something?), and we need to collect our architecture for our Majesty the Customer, we can hardly believe into his aristocratic roots and his very need in the classical surroundings. And coming up with the architecture for the "noble" customers and creating fake "family estates" is not the most exciting experience for me...

But then again, when I travel around the world, I enjoy seeing the fine pieces of old architecture. People have built so many things - wise and wonderful!

- You design a lot for the city of Novorossiysk: your portfolio includes a house of 2007, then this sophisticated volume encased in the curvilinear "grid", and a whole neighborhood of low-rise blocks. Why that city?

Sergey Estrin: All these projects go back to one customer. We just like his plans and ideas. And, I hope, we appeal to him because of our experience in business architecture and our creative method. That is exactly the case I shared about: the person has the drive in them, he lives on these projects, he gains the design momentum and comes up with new ideas, and we take our work to a new level. This is a certain chemistry: business calculations, ambitions, the passion to explore and discover, the technical interest, and, ultimately, the philosophical approach behind it all.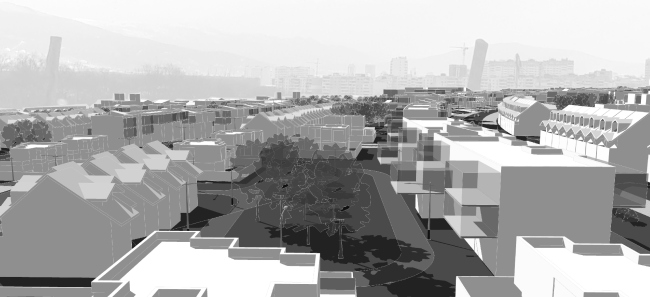 A city district in Novorossiysk © Sergey Estrin Architects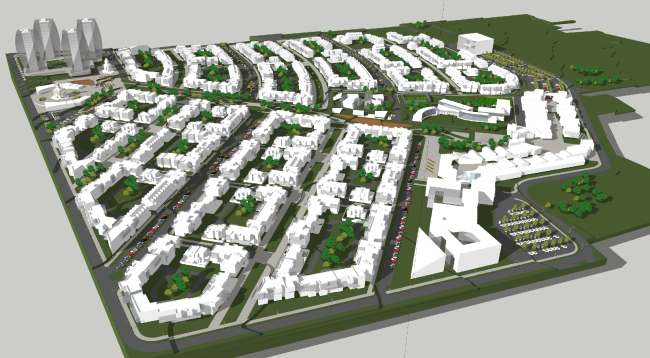 A city district in Novorossiysk ©

Sergey Estrin Architects



- Recently, it has become a popular trend to work with public territories, do the landscaping, facade-painting, and other "architectural molding". You had an experience of such work back in 2011 for Vedis-Group, where you drew a lightening on the facade of a panel house. And now you don't seem to do landscaping at all... Why?

Sergey Estrin: Landscaping is a self-sufficient and very interesting topic. Besides the work that we did for Vedis Group, we reconstructed facades for Lanit. We also worked on the facade "image sign" for the projects built by Capital Group. We will be happy to do the landscaping part in our Astana project. But we do not consider landscaping as a fully-fledged branch of our studio.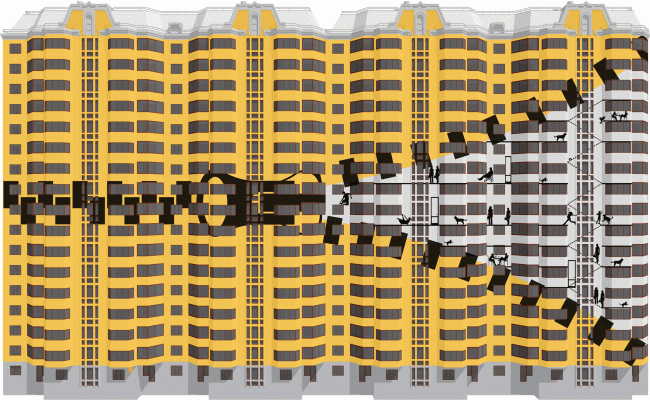 Facade proposal for a Vedis Group residential complex © Sergey Estrin Architects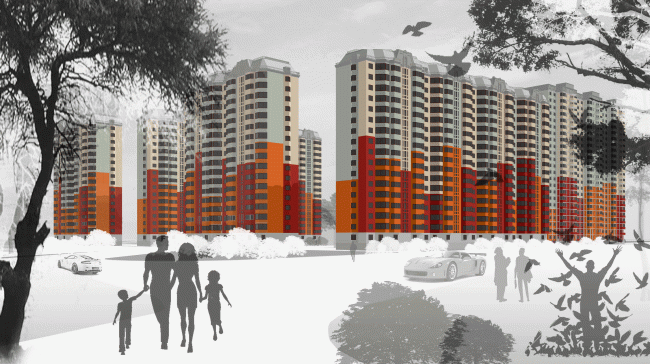 Facade proposal for a Vedis Group residential complex © Sergey Estrin Architects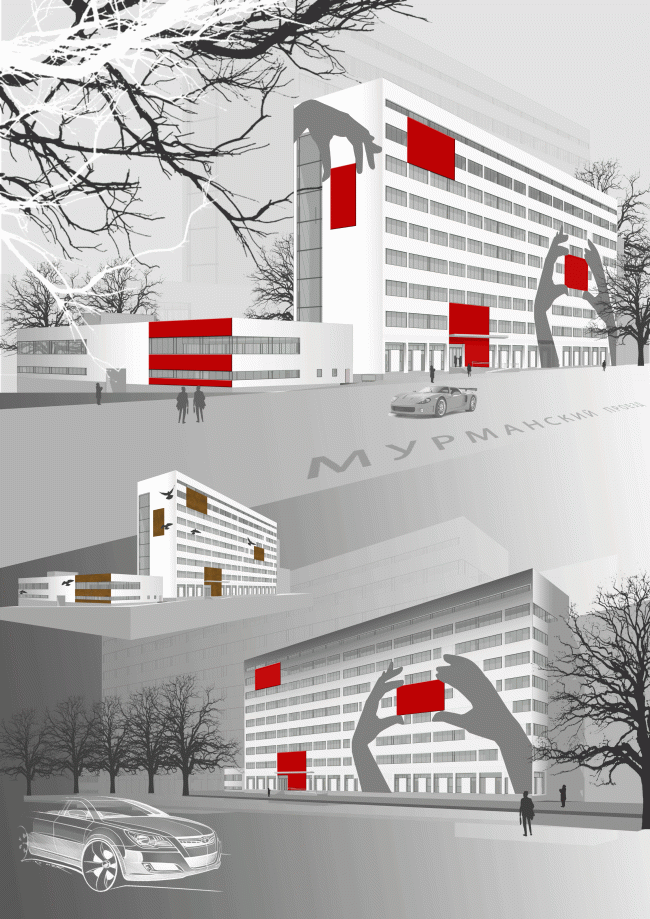 Lanit - facade proposal in the Murmansky Driveway 2011 © Sergey Estrin Architects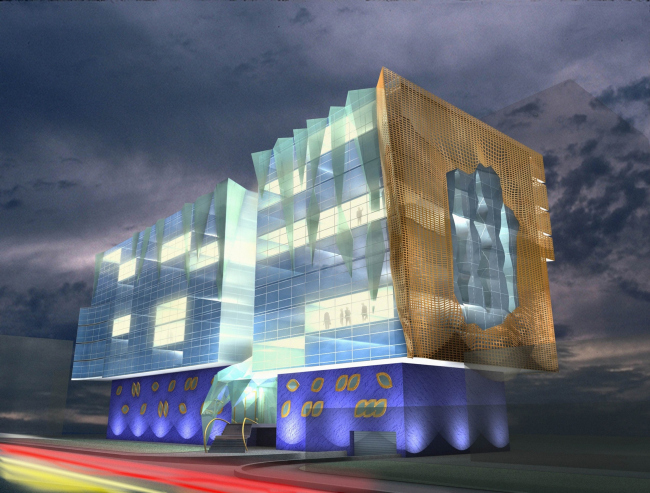 Residential building for Capital Group 2011 © Sergey Estrin Architects



- What are your impressions of taking part in National Center for Contemporary Arts contest? Do you plan on continuing with this practice? Because participating in contests, though interesting, is pretty expensive!

Sergey Estrin: Both expensive and emotionally draining. Doing a contest without a great and brilliant idea is a waste of time, and the development of such an idea is more often than not a painstaking process that takes you out of life for a certain period of time. You need the ultimate concentration. And you just cannot concentrate amidst your day-to-day work with its constant issues and challenges. But we will still do contests. It's just that you must have some big idea to take part in one. As far as our contest at

National Center for Contemporary Arts

is concerned, I am satisfied with the result. It was honest - that was our attitude to the stated theme of Russian modern art - a museum located next to the loading bay of a large shopping center. Both the image and the resulting surroundings were quite a success, to my mind.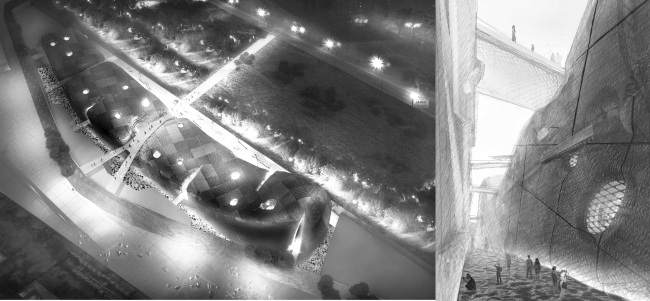 National Center for Contemporary Arts. Contest proposal © Sergey Estrin Architects