07.11.2011
By Right of the Nearest Neighbor
contemporary architecture
On Kulneva Street, Moscow, next to the Third Transport Ring, "SPEECH Choban&Kuznetsov" Studio is designing a new mixed-use development.
Information:
Architect:

Firm:

SPEECH

Address:

Russia. Moscow Kulneva str., 4

Design Team:

Authors of the project: Sergey Tchoban, Sergey Kuznetsov. Chief project architect: Nikolay Gordushin, Igor Chelnov. Chief project engineer: Sergey Serdukov. Architects: Tatyana Logunova, Marina Digileva, Evgeny Lyashkov
The architects had to design a building that was lengthy and wide at the same time:its dimensions, determined by the size of the site and the marks of the neighboring structures, were known in advance - 135 x 76 meters with a height of 68 meters. In search of the optimum solution that would give the maximum output of usable square meters and acceptable insolation figures, "SPEECH Choban&Kuznetsov" came up with four completely different construction layouts of the rectangular site that had different numbers of light-pockets and different options of their positioning. In the first solution, there were four pockets and they were placed on the two long sides (in this case, the layout looked like a double "H"). In the second solution, there were only two pockets, and they were placed either on one side (like a Cyrillic "Ø"), or from different sides ("S" lying on its side). In the third solution, the pockets were altogether substituted by inner open atriums. Eventually, the third option was selected as the basic one. The two bottom floors of the complex were reserved for public and commercial spaces, with the stores concentrated mainly on the ground floor and overlooking a small pedestrian street between the new building and "Mirax Plaza" shopping mall. On the second floor of the building, there are conference halls, meeting rooms, and a fitness center that both tenants and guests of the complex can benefit from. The offices, located on floors 3 to 17 are grouped into 4 independent open-plan units, each of which has its own elevator lobby.And at the ends of the building, there are two blocks of apartments that are designed as deluxe hotel rooms and have their own communication nodes with elevators, spacious lounges, winter gardens, and security-points located on each floor. Thanks to this solution, the entrance lobbies are available on all the four outer façades of the building - two for the office facilities, and two for the residential part. The architects alternate flat and textured facades uniting them with a common pattern that vaguely resembles a microchip or an electronic board. The "convex" decoration details are used on the outer façades of the building that overlook Kulneva Street and the "Mirax Plaza" skyscraper: the main structural fenestration is topped by a large-scale framework of wide horizontal and vertical imposts coated with metal composite panels. Interestingly, these imposts (formed by two surfaces meeting at 60 degrees) play not only an aesthetic but also an important practical part: the resulting bay windows provide a tangible addition to the office area.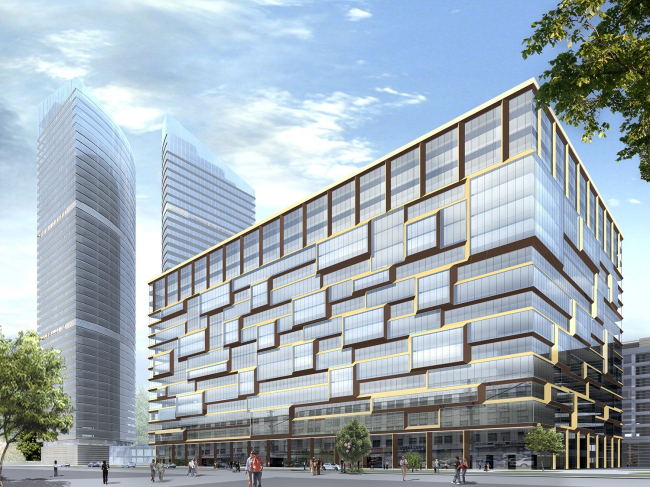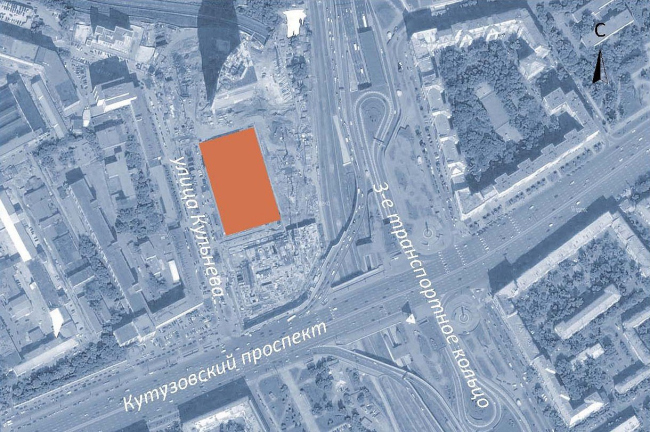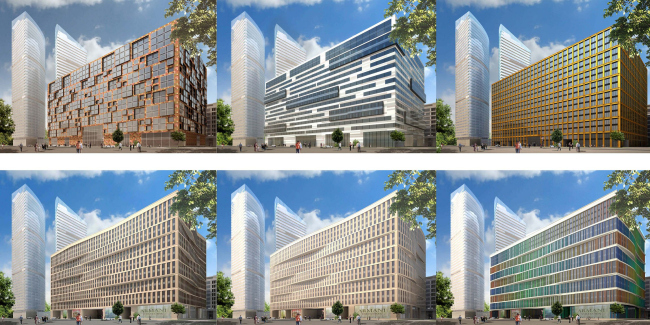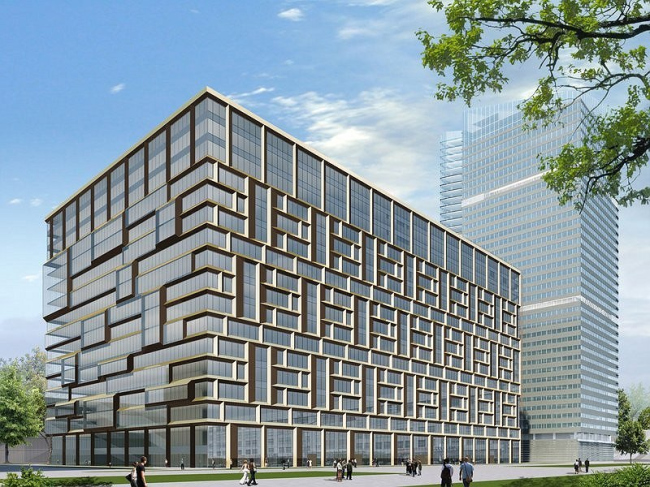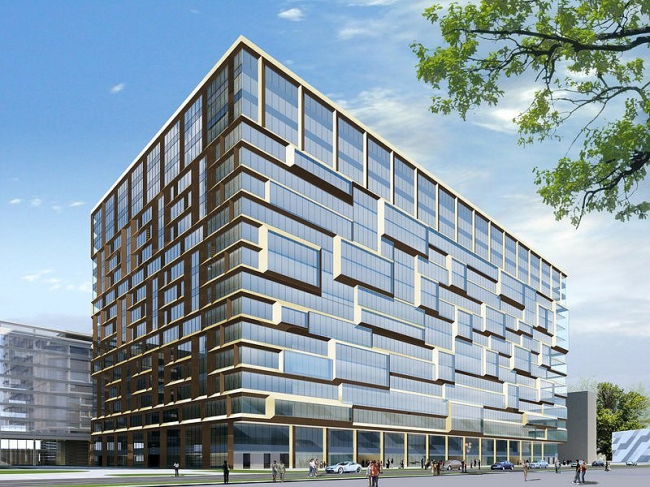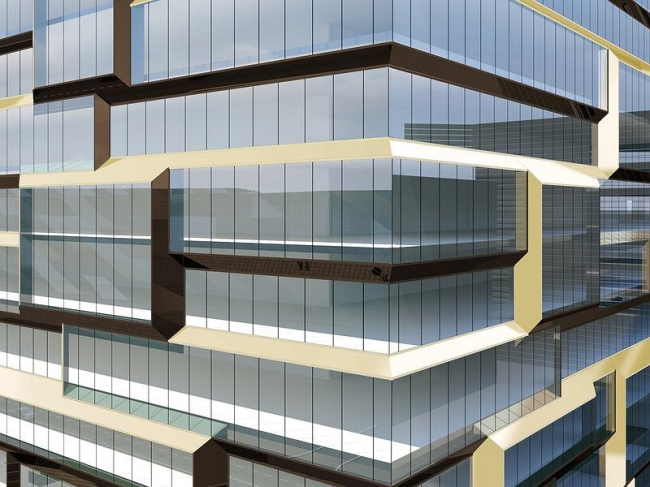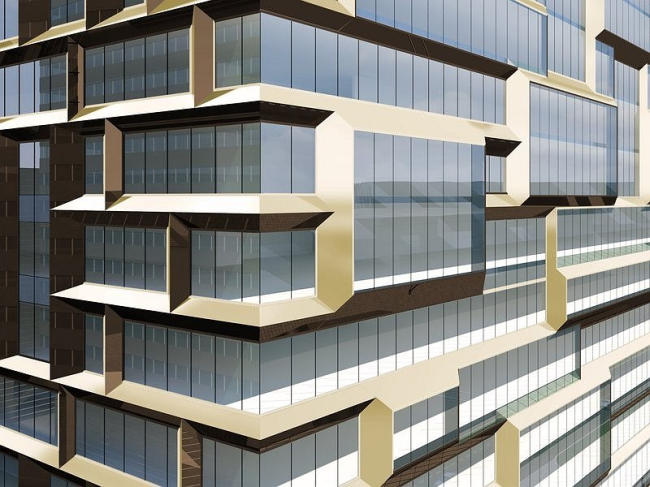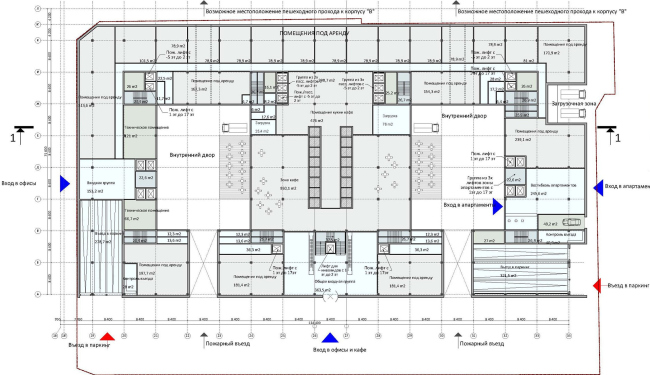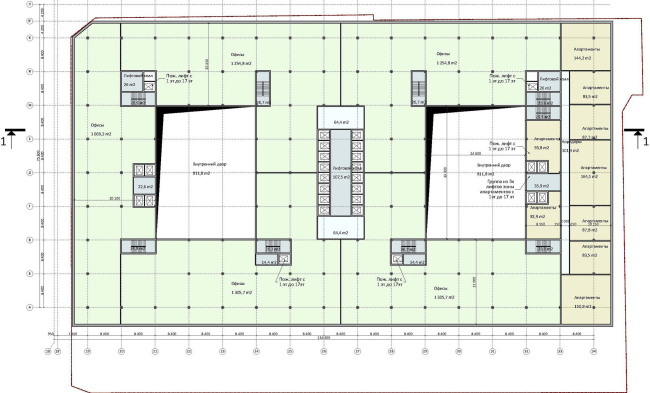 Most Recent Stories: