SPEECH
information:
address:
16, gate 5, Krasnoproletarskaya str., Moscow, Russia, 127473
Tel./Fax: +7 495 741-78-93; +7 495 741-78-94; +7 495 741-77-90
e-mail info@speech.su
About Firm:
The architectural studio «SPeeCH» was founded due to the union of Sergey Tchoba's architectural studio and «S.P.Proekt». It is headed by Sergey Kuznecov and is the result of their previous long-term collaboration, including work on the European projects of the «nps tTchoban voss» office (Berlin).
For the past few years the both companies have taken part in a number of successful architectural projects in Russia and abroad. Most remarkable and known are "Bashnya Federacia" [Tower Federation], a mutli-use complex on the territory of "Moskva-Citi" [Moscow-City], a Moscow International Business Center; "Akter Gelaksi" [Actor Galaxy], the largest European standard aparthotel in Sochi; "Kolonnady" [Colonnades], a multi-use centre in Moscow on Ozerkovaskaya embankment; Krasnoyarsk-City town-planning concept, and projects of large centers in St. Petersburg, Yalta, Nizhny Novgorod, Rostov-na-Donu, Erevan, Istanbul and other cities.
Due to great professionalism and experience of the both, companies have proved themselves as serious partners and highly knowledgeable specialists in the field of complex town-planning concepts, multi-use centers, high buildings and other constructions of international standard.
Many joint projects were presented at prestigious exhibitions, such as: "ArchMoscow"; Aedes, a Birlin gallery; State Museum of architecture in the name of A.V. Schuseva in Moscow; St. Petersburg Academy of Art; MIPIM 2007, XVII International exhibition of investment projects MIPIM 2007 in Cannes, etc.
A wide range of specialists of both companies has provided a productive exchange among expert Russian and European designers. It opens prospects for future progress of large projects development, use of most advanced technologies and materials, improvement of project standards.
For clients first of all this union implies high quality projects of expensive objects on international standards, optimization of execution periods, applying advanced foreign technologies, keen author's supervision of the projects. These principles have reflected in work with partners, investors and developers of large projects.
Buildings and Projects:
Buildings and Projects Shown: 11
Rank all Buildings and Projects / SPEECH (25):
Archi.ru Texts: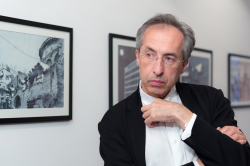 31.05.2021
Although originally we planned to speak in this interview with Sergey Tchoban about high-rise construction, the conversation turned out to be 70% about meditation on the ways of regenerating the historical city and about the role of the city fabric as the most objective and unbiased historical record. And, as for the towers, which manifest social contrasts and leave a lot of junk when torn down, the conversation was about the expected construction norms and regulations. We took this interview one day before the Lakhta-2 project was announced, and this is why this newsbreak is not commented upon in any way in this article.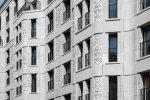 24.12.2020
Designed by Sergey Tchoban, the housing complex Veren Place in St. Petersburg is the perfect example of inserting a new building into a historical city, and one the cases of implementing the strategy that the architect presented a few years ago in the book, which he coauthored with Vladimir Sedov, called "30:70. Architecture as a Balance of Forces".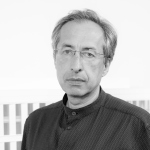 24.12.2020
In this issue, we are speaking to Sergey Tchoban about the principles of modern architecture in the light of his "30:70" theory.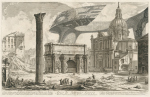 15.10.2020
The Istituto Centrale per la Grafica in Rome presents Sergei Tchoban's exhibition "Imprint of the future. Destiny of Piranesi's City". The exhibition includes four etchings, based on Roman architectural views of the XVIII century complemented by futuristic insertions, as well as a lot of drawings that investigate the same topic, at times quite expressively. The exhibition poses questions, but does not seem to give any answers. Since going to Rome is pretty problematic now, let's at least examine the pictures.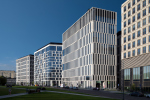 07.10.2020
Jointly designed by Sergey Tchoban and Vladimir Plotkin, the VTB Arena Park complex can arguably be considered the perfect experiment on solving the centuries-old controversy between traditional architecture and modernism. The framework of the design code, combined with the creative character of the plastique-based dialogue between the buildings, formed an all-but-perfect fragment of the city fabric.