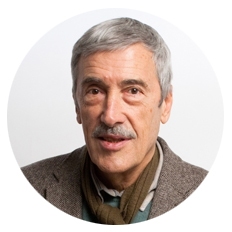 Alexander Skokan,
the leader and the main architect of Ostozhenka Bureau


Alexander Skokan and his architectural company Ostozhenka are long-recognized authorities in the area of delicate and careful work with the "city fabric". Their sense of scale, energy, and the needs of the city, essentially laid the groundwork for the methodology of working in the urban environment, and still serve as the benchmark for such work in many respects.
This year, Alexander Skokan got on of the most honorable awards of Moscow's architectural community – "For Honor and Dignity" of the "Golden Section" prize.

Below, we are publishing Alexander Skokan's answers to the main questions of our special project "Quality Benchmark":

- What does quality in architecture mean to you?
- What are your key criteria?
- What are the things that you pay most of your attention to in your own projects?
- How do you achieve architectural success in today's Russian realities?



Filming and editing: Sergey Kuzmin

Alexander Skokan,
the leader and the main architect of Ostozhenka Bureau:

"What is quality? Everything would be simple with quality if you could measure it. But how do you measure quality? The way I see it, when we speak about architecture, we need to subdivide it into two different substances: there is an architectural project, and there is a process of its creation. And, finally, there is the finished product – a building, a house, an ensemble, a complex, or something else – and this is also evaluated by a different set of criteria.

Let's start with the project. "Quality number one" is when the project is evaluated by the client. He's got his own criteria; especially if this is commercial or housing property – today, there is a whole new breed of these "smart gals", who know for sure what will sell, and what won't. So, it's them who set the quality criteria. Then there are the city authorities with their own idiosyncrasies. As a rule, they are afraid of allowing something they shouldn't, and they want to make sure that their bosses will not make their lives miserable after all. These people also evaluate the quality of our performance. Then there are our colleagues – the so-called reference group, whom we perceive as critics and subliminally have conversations with them, as if looking through their eyes, imagining what they would say. Then there is such a category as the quality of design. To a certain extent, the design process determines the success of the entire project. It must start from the needs analysis, talking to the local residents, studying the history of the place, specifying and adjusting the brief. After that, it's basically down to the interrelationships inside your team, and, if you've got the right team, everything falls into place, and everyone finishes each other's sentences. And everyone feels like he is part of this big thing. The best reward for this process is when everyone thinks that this is his project; that he actually came up with it.

And, finally, the building itself. It's very important that its quality of execution be so high that people actually wanted to touch it. Unfortunately, there are lots of buildings out there, from which one should keep at least a twenty meters' distance. Therefore, an architectural project must have a high quality of craftsmanship.

Then there is subjective evaluation. To me, architecture, in addition to all of the properties that I have just mentioned, must above all be appropriate. What is the difference between architecture and design, a well-designed, well-engineered thing? A well-designed thing is great always: in this room, outdoors, and virtually anywhere you can think of – because it is good in itself. Architecture, on the other hand, is designed for one specific place. And it possesses capabilities that are "read" from this place. And when a house is complete and everyone says "it looks as though it had stood here forever", this is the best praise for me. I have long since been sharing this story: when we built the International Moscow Bank – the first project of ours, for which we were awarded the state prize – I told many of my colleagues that we were able to build a bank on the waterfront, across from the House of Artists. And many of them said: "Oh, we didn't even notice it". And to me, it was the best reward. When the house is really high-quality, it fits into place, and people don't even notice it. This means that it was indeed designed for this place. And I know that many architects – I even think, most of the architects – will not agree with me. They will say that a work of architecture must be a statement, and that it must dominate its location. However, the way I see it, this approach is rather arrogant, and, most likely, such architects don't care much about the opinion of the others. They have some prime idea that they hold on to, and they basically don't care a thing about what the others will say, or how the building will fit in with the context, be that professional or any other kind of context. In Russia – I think it was Gogol who said that – all around we see the fruits of Russian labor, inherently careless. Seriously, that's the best way to describe it. We always leave things unfinished because we need to be moving on. We don't have the time to do our own room because we need to go out and change the world, and conquer new lands, even though we've got plenty of old land to take care of. Essentially, however, this is some sort of escaping from the realization of our inability to finish what we started. We know that this is in our nature to leave things unfinished – maybe our hands grow from the wrong place. And because of that, knowing that we will not get things properly finished anyway, we chuck everything and find some excuse for that, some beautiful idea: free the Crimea or something in that line.

Architects in this sense are no exception. On the one hand, there are great architects out there, real perfectionists. In Russia, such people are generally few and far between, but there are quite a few among the architects. And it must be said that a lot of them appeared after they tried their hand at designing interiors back in the 1990's. Because interior design still requires more attention to detail than a big house does. And when they came to "big" architecture, they brought this quality of execution with them.

In terms of professionalism, the quality of architecture is, of course, improving. However, when it comes to improvements of material quality, improvements are insignificant. Of course, new technology-friendly materials make screwing up nearly impossible. This is like assembling furniture with a screwdriver – you either get the final product or you don't. Of course, you can use the wrong end of the screwdriver, but it will probably get you nowhere. For example, the house is decorated with Germany-made tiles: the seams are still sloppy in the Russian way, but it's still better than if this house were stuccoed. Thus, the quality is improved simply because of sheer improvements in construction technologies. However, the client does not become more generous because of that. We have an example – Klenovy Dom ("Maple House") housing complex nearby, on the waterfront. The location is really prestigious, and the price for the property in that complex is sky-high. However, we know the quality of execution of that complex, and how many sloppy screw-ups are there in it. Even with the highest of prices, you are not guaranteed against this kind of "Russian labor, inherently careless".