Sergey Skuratov architects
information:
address:
115184, Moscow, Rounovsky lane
building 8/1 office 1, 2
phones:
(495) 951 07 35, (495) 951 03 09,
(495) 951 62 72, (495) 951 85 65
fax: (495) 951 06 35
e-mail: main@skuratov-arch.ru
About Firm:
Buildings and Projects:
Buildings and Projects Shown: 27
Rank all Buildings and Projects / Sergey Skuratov architects (41):
Archi.ru Texts: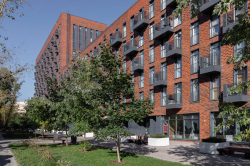 26.12.2022
The housing complex "Composers' Residences" has been built in accordance with the project by Sergey Skuratov, who won the international competition back in 2011. It all began from the image search and "cutting off all spare", and then implementing the recognizable Skuratov architecture. It all ended, however, in tearing down the buildings of the Schlichterman factory, whose conservation was stipulated by all the appropriate agencies prior to approving Skuratov's project. This story seems to be educational and important for understanding the history of all the eleven years, during which the complex was designed and built.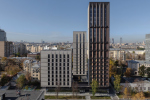 10.11.2021
The house named "Medny 3.14" ("Copper 3.14") is composed of two textures, each of which resembles in its own way some kind of precious fabric, and of three units, each of which is oriented towards one cardinal point. The architecture of the house absorbs the nuances of the context, summing them up and turning them into a single rhythmic structure. In this article, we are examining the new, just-completed, house designed by Sergey Skuratov in Donskaya Street.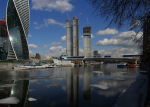 05.04.2021
In March, two buildings of the Capital Towers complex were built up to a 300-meter elevation mark. In this issue, we are speaking to the creator of Moscow's cutting-edge skyscrapers: about heights and proportions, technologies and economics, laconicism and beauty of superslim houses, and about the boldest architectural proposal of recent years – the Le Corbusier Tower above the Tsentrosoyuz building.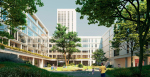 11.03.2021
The project of "Samara Arena Park", proposed by Sergey Skuratov, scored second place in the competition. The project is essentially based on experimenting with typology of residential buildings and gallery/corridor-type city blocks combined with towers – as well as on sensitive response to the context and the urge to turn the complex into a full-fledged urban space providing a wide range of functions and experiences.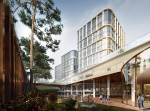 29.12.2020
In the project of a housing complex designed by Sergey Skuratov, which is now being built near the park of the Poklonnaya Hill, a multifunctional stylobate is turned into a compound city space with intriguing "access" slopes that also take on the role of mini-plazas. The architecture of the residential buildings responds to the proximity of the Pobedy Park, on the one hand, "dissolving in the air", and, on the other hand, supporting the memorial complex rhythmically and color-wise.