Sergey Skuratov architects
information:
address:
115184, Moscow, Rounovsky lane
building 8/1 office 1, 2
phones:
(495) 951 07 35, (495) 951 03 09,
(495) 951 62 72, (495) 951 85 65
fax: (495) 951 06 35
e-mail: main@skuratov-arch.ru
About Firm:
Buildings and Projects:
Buildings and Projects Shown: 27
Rank all Buildings and Projects / Sergey Skuratov architects (41):
Archi.ru Texts: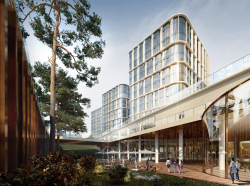 29.12.2020
In the project of a housing complex designed by Sergey Skuratov, which is now being built near the park of the Poklonnaya Hill, a multifunctional stylobate is turned into a compound city space with intriguing "access" slopes that also take on the role of mini-plazas. The architecture of the residential buildings responds to the proximity of the Pobedy Park, on the one hand, "dissolving in the air", and, on the other hand, supporting the memorial complex rhythmically and color-wise.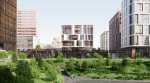 04.07.2020
In this issue, we are interviewing Sergey Skuratov about the results of the competition for the building in the center of the residential complex, on which the architect has been working since 2006. We are examining the project that never did win, making an attempt to study the case in detail.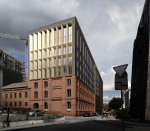 16.06.2020
The house that Sergey Skuratov designed in Nikolovorobinsky Alley is thought out down to the last detail. It adapts three historical facades, interprets a feeling of a complex city, is composed of many layers, and catches plenty of sunlight, from sunrises to sunsets. The architect himself believes that the main role of this house is creating a background for another nearby project of his, Art House in the Tessinsky Alley.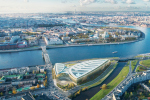 13.05.2020
In this issue, we are showing all the seven projects that participated in a closed-door competition to create a concept for the headquarters of Gazprom Neft, as well as provide expert opinions on those projects.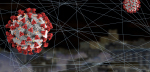 20.03.2020
In this article, we are speaking to the leaders of a few Moscow architectural companies about their plans for remote work caused by the #COVID19 pandemic.