ASADOV architects

ASADOV architects
information:
address:
97 Vavilova st. 117335 Moscow
Phone: +7 (495) 936-66-50
E-mail: info@asadov.ru
About Firm:
Moscow architectural studio was founded in 1989. It develops projects, different in their complexity and functions, from large and public, residential and sports complexes to private interiors.
Main constructions:
Building reconstruction of Russian Architects Union (Moscow)
Residential complex "Guliver" [Gulliver] (Mytische)
Entertainment center "Ibiza"
Cottage settlements "Bravikha-1" and "Bravikha-Club"
MERCEDES-BENZ center "Avilon"
Tennis centre "Olympic Star"
Building of Russian Bible society
Retail complex "Ruskoe bistro" [Russian bistro]
Building reconstruction of Centrizbirkom
Reconstruction of residential buildings on Vladimirovskaya street
Pedestrian bridges over Moscow Ring Road and the Third hoist Ring
Reconstruction of residential building on Arbat and Khlebny pereulok
Building reconstruction of Russobank
Reconstruction of Library in the name of Turgenev
Building reconstruction of Transreilservis (Moscow)
Main projects:
Congress-centre in Strelnya (St. Petersburg)
Musical theatre (Kaliningrad)
Concept of covering over Kiev railroad
Residential building, Nakhimovsky prospect
Retail-business complex with hotel, Vavilov street
Immunology centre (Moscow)
Golf-health resort (Gelendzhik)
Retail centre "Pushkin-Plaza"
Small buildings district (Pushkin)
"Pokrovskoe-Rubcovo" settlement
Buildings in Tverskaya Zastava of the Central yadro and business centre in Moscow International Business Center "Moscow-City"
Residential buildings on Tverskaya street and Tikhvinskaya street (Moscow)
School of Olympic reserve (Mytische)
Complex "Novo-City" (Novorossiysk )
Complex "Perekrestok" (Chelyabinsk)
Multifunctional complex "Meteor" on Kutuzovsky prospect
MERCEDES-BENZ center on Rublevskoe highway (Moscow)
SBERBANK residency (Rostov-na-Donu)
Central Post Office (khanty-Mansiysk)
Sweden Royal medical centre
Complex project of Moscow belt line railway
Retail complexes on 51km, 68km, 74km, 78km of Moscow Ring Road (Moscow)
The studio has creative vitality not only for impressive projects. Since 2005 Aleksandr Asadov's studio together with Architects Union has been organizing architectural festivals "Goroda" [Towns]. The key idea is a hand-made realization of ideas in a non-stop mode. Since 2005 five "Gorodov" [Towns] has been built, the last of them is "Shaman-Gorod", held on the Baikal lake, gathered more than 500 young architects from Baltics to Vladivostok.
Main publications:
2007
INTERNI ¹1, magazine
Putevoditel C:SA "Novaya Moskva-4. Arhitektura Moskvy i Moskovskoi oblasti 1987–2007" [Travel guide C:SA "New Moscow-4. Moscow Architecture and Moscow oblast 1987-2007"]
"Proekt Rossii" [Russian Project] magazine, ¹1 (43) "Kontekst". [Context] Moscow. Building reconstruction of Union of Architects of Russia
"Made in future", magazine, ¹1 "Naidite 10 otlichi. Souz arhitektorov v razreze" [Find 10 differences. Union of Architects, profile]
"Mir&Dom"[World and Home], magazine, ¹6 June. "Potrebnost v nacionalnoi arhitekture obogaschaet mirovoi process" [Demand in national architecture enriches the world process]
"Kachestvennaya arhitektura. 2007" [Quality Architecture. 2007], catalogue
2006
ARCH, magazine, ¹4 "Soedinenie bez sliyaniya". Rekonstrukcia administrativnogo zdaniya SAR" ["Union without fusion". Reconstruction of CAP, administrative building]
ARCH, magazine, ¹1 «Novyi socialnyi standart. Barviha-Club» [New social project. Bravikha-Club]
"Kachestvennaya arhitektura. 2006" [Quality Architecture. 2006], catalogue
2005
PROEKT ROSSIJA ¹4 (38). «Poselki». Objekty. Kottedzhny posjolok Barviha-2. Kottedzhny posjolok Barviha-Club. [Project Russia] ¹4 (38). "Settlements". Objects. Cottage settlement Barvikha-2. Cottage settlement Barvikha-Club ]
"Kachestvennaya arhitektura. 2005" [Quality Architecture. 2005], catalogue
2004
"Shtab-kvartira" [Headquarters], magazine. "Mister DeConstructor"
"Kachestvennaya arhitektura. 2004" [Quality Architecture. 2004], catalogue
Buildings and Projects:
Buildings and Projects Shown: 11
Rank all Buildings and Projects / ASADOV architects (59):
Archi.ru Texts: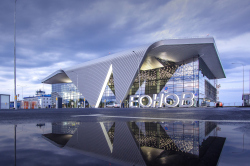 02.09.2021
The new terminal of the Leonov Airport in Kemerovo was built in record-breaking time, despite the pandemic. It became one of the important factors for the rapid development of the city, visually reflecting its dedication to the first spacewalk, both in the interiors and on the facades. Its main features are the "starry sky" effect and overall openness.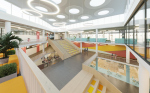 12.04.2021
The project of the educational complex within the second stage of "Spanish Quarters" was developed by ASADOV Architects. The project is all about creating a friendly and transparent environment that in itself educates and forms the personality of a child.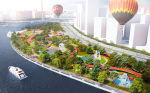 16.12.2020
In the nearest future, the Marc Chagall Embankment will be turned into Moscow's largest riverside park with green promenades, cycling and jogging trails, a spa center on water, a water garden, and sculptural pavilions designed in the spirit of the Russian avant-garde artists of the 1920, and, first of all, Chagall himself. In this issue, we are covering the second-stage project.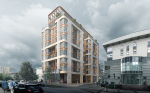 07.07.2020
The project of the boutique apartment complex in the 1st Truzhenikov Lane is the architects' attempt to squeeze a considerable volume into a tiny spot of land, at the same time making it look graceful and respectable. What came to their rescue was metal, stone, and curvilinear glass.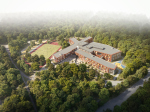 15.06.2020
On June 5, the winners of Moscow Architectural Award were announced. The winners list includes the project of a school in Troitsk for 2,100 students, with its own astronomy dome, IT testing ground, museum, and a greenhouse on the roof.