Arseny Leonovich
information:
Education:
• Moscow University of Architecture
• Institute for Housing and Urban Development Studies (Rotterdam, the Netherlands) Probation period: 1998-1999
Work experience:
• 1998-2001 'Architects ASK' (Moscow)
architect
• 2001 (to present time) – PANAKOM (Moscow)
architect, vice director
Main constructions:
• Interior design in the house 'Gruber' (Moscow, 1998)
• Office interior for 'Reemtsma' company (Moscow, 1998)
• Interior for 'Sedmoi Kontinent', clothing store (Moscow, 2000)
• Country houses, (Moscow oblast, 2000-2003)
• 'Kommersant' restaurant on Pokrovka street (Moscow, 2002)
• Traffik' restaurant on Sadovoya-Kudrinskaya street (Moscow, 2002)
• Country house Interior (Krasnodar, 2000-2003)
• Residentail buildings interiors (Moscow oblast, Pozdnyakovo, 2002-2003)
Main projects:
• reconstruction project of champagne factory 'Kornet' (Moscow, 1999)
•pojects of constructions on the square of Krestjanskaya Zastave (contest project, 1998)
•reconstruction project of DK Gornyakov (Kazakhstan, Rudny, 2002)
•concept of settlement and recreation zone 'Tihaja Buhta'
• 'DOMzagoroDOM', contest project, 2003
• project of Voronkovo settlement (Moscow oblast, 2004)
• 'Kitchen for Russia', contest by Toncelli (Italy, 2002)
• door handle S2 for Valli@Valli company contest (Italy, 2004)
• carpet 2x2, contest by Carpet House (2003)
Exhibitions:
• Palladio identification, ArchMoscow, 1999
•On the one side, ArtManezh, 2000
•Glass-Text, ArtManezh, 1999
•InforMaca, ArchMoscow, 2002
•100% design, Moscow, 2004
Awards:
• contest 'Kitchen for Russia', 2d place
• contest DOMzagoroDOM, 3d award
• diploma for best non-commercial exposition, ArchMoscow, 1999
• contest by Carpet House, 1st place
Publications:
• 'Reconciliation', Interior+Design, ¹ 3. 2003
• 'Town on a house scale', Shtab-kvartira, ¹ 3, 2004
• 'Harmony of contrasts', 100% country house, ¹ 4, 2004
• 'tertium non datur/ the law of the excluded middle', Project-Russia, ¹27, 2003
• 'Architectural Studio', Project-Russia, ¹ 30, 2004
Buildings and Projects:
Buildings and Projects Shown: 10
Rank all Buildings and Projects / Arseny Leonovich (15):
Archi.ru Texts: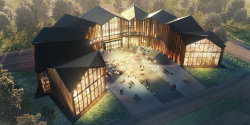 22.08.2018
PANACOM has designed a project of the pavilion of "Gastronomic Initiatives" at the All-Russia Exhibition Center. According to the authors' idea, the new space will host a farmers' market, a café, and a "gastronomic theater", as well as zones for master classes and culinary battles. All of this will be executed in tasty wooden architecture. The authors named their project "Croissant".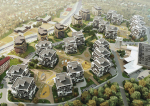 18.04.2018
In the project of the settlement with a telltale name of "Rafinad" (which literally translates as "Sugar Cubes"), located in the Khimki district of the Moscow area, PANACOM architects came up with the kind of housing that is versatile, human-friendly, and comfortable.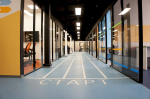 12.03.2018
The head of the architectural firm PANACOM shares about the Moscow area coworking spaces "Start" that were designed and built by his company over the last year and a half, as well as about how the world is changing, what spa-working is all about, and what the future of the development of business spaces looks like.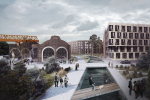 27.04.2016
Architectural bureau PANACOM has created a tender design concept for site development of the territory of former Tsarskoselsky railway-car repair plant "Sofia" near St. Petersburg.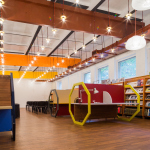 10.03.2016
The co-working space that PANACOM Bureau designed for the Blokhintsev Library in Dubna gave an impulse to its development as a modern community center.