SPEECH

SPEECH
information:
address:
16, gate 5, Krasnoproletarskaya str., Moscow, Russia, 127473
Tel./Fax: +7 495 741-78-93; +7 495 741-78-94; +7 495 741-77-90
e-mail info@speech.su
About Firm:
The architectural studio «SPeeCH» was founded due to the union of Sergey Tchoba's architectural studio and «S.P.Proekt». It is headed by Sergey Kuznecov and is the result of their previous long-term collaboration, including work on the European projects of the «nps tTchoban voss» office (Berlin).
For the past few years the both companies have taken part in a number of successful architectural projects in Russia and abroad. Most remarkable and known are "Bashnya Federacia" [Tower Federation], a mutli-use complex on the territory of "Moskva-Citi" [Moscow-City], a Moscow International Business Center; "Akter Gelaksi" [Actor Galaxy], the largest European standard aparthotel in Sochi; "Kolonnady" [Colonnades], a multi-use centre in Moscow on Ozerkovaskaya embankment; Krasnoyarsk-City town-planning concept, and projects of large centers in St. Petersburg, Yalta, Nizhny Novgorod, Rostov-na-Donu, Erevan, Istanbul and other cities.
Due to great professionalism and experience of the both, companies have proved themselves as serious partners and highly knowledgeable specialists in the field of complex town-planning concepts, multi-use centers, high buildings and other constructions of international standard.
Many joint projects were presented at prestigious exhibitions, such as: "ArchMoscow"; Aedes, a Birlin gallery; State Museum of architecture in the name of A.V. Schuseva in Moscow; St. Petersburg Academy of Art; MIPIM 2007, XVII International exhibition of investment projects MIPIM 2007 in Cannes, etc.
A wide range of specialists of both companies has provided a productive exchange among expert Russian and European designers. It opens prospects for future progress of large projects development, use of most advanced technologies and materials, improvement of project standards.
For clients first of all this union implies high quality projects of expensive objects on international standards, optimization of execution periods, applying advanced foreign technologies, keen author's supervision of the projects. These principles have reflected in work with partners, investors and developers of large projects.
Buildings and Projects:
Buildings and Projects Shown: 11
Rank all Buildings and Projects / SPEECH (25):
Archi.ru Texts: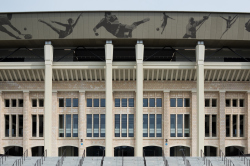 06.09.2018
After the completion of FIFA-2018, whose main venue was the reconstructed Luzhniki Stadium, we are speaking to Sergey Tchoban about the specifics of the reconstruction project, as well as about the architect's attitude towards sports and the subtleties of designing sports facilities.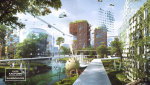 13.08.2018
How do the architects see the perfect cities of the future, and what must be done to achieve that ideal? Below is a report from the exhibition called "Ideal and Norm" and a conference that accompanied its opening with the participation of Scandinavian architects.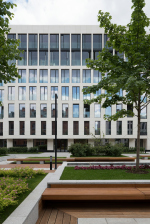 27.02.2018
The residential complex "Wine House" is one of the first real-life examples of cooperation between Vladimir Plotkin and Sergey Tchoban in one project – a thought-out, graphic and reserved dialogue between the new and the old in the center of the city, a play in a few "acts", from the XIX to the XXI century.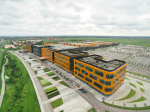 04.12.2017
Saint Petersburg's EXPOFORUM, a congress and exhibition center that has been long waited for and widely discussed, is finally complete, put into operation, and actively functioning.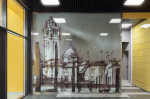 22.09.2016
Pristine lines of the façade grid on the outside and picturesque drawings by Sergey Tchoban on the inside: the housing project "Vodny" – designed by SPEECH.