ADM
information:
address:
127055, Moscow,
Soustchevskaya street, 27, bld. 2
phone:
+7(495) 665-03-71,
+7(495) 665-03-72,
+7(495) 665-03-73,
e-mail: adm@adm-arch.ru
Buildings and Projects:
Buildings and Projects Shown: 11
Rank all Buildings and Projects / ADM (17):
Archi.ru Texts: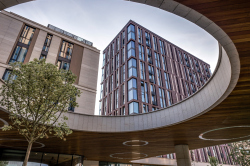 19.12.2018
Built by ADM on Moscow's Sparrow Hills, the new residential complex, although totally up-to-date, shows nobility in its every detail, being a rightful heir to the legacy of this legendary part of Moscow.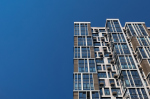 27.11.2018
Situated in the north of Moscow, the housing complex "Caramel" was to have one outboard balcony per each apartment. Such a composition inevitably creates a "thermometer look" – but ADM Architects were able to "kill" this undesirable effect by introducing a play of planks of every conceivable hue of the chocolate color.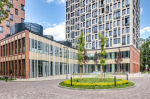 17.10.2018
The recently built housing complex designed by ADM architects vividly shows how to make a whole city block out of but three towers, how to turn something that's virtually flat into something volumetric, make houses of the same height look like something diverse, houses of odd height – like something uniformed, and integrate a maximum amount of sky and verdure into the environment that you create.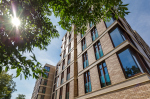 20.10.2016
The club house Gorokhovsky'12 is a vivid example of a laconic and integral, although by no means minimalist or scarce, architectural solution that its author considers to be slightly Berlin-ish. The injection was a success because there is a fair share of Moscow in this house as well.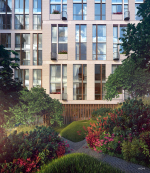 04.08.2016
A housing project on the Novoslobodskaya Street: a fragment of a historical brick façade, modern stone and glass... and a grand green semi-hill cascading down from the roofs of the stores into the yard.