DNK Architectural Group
DNK Architectural Group
information:
address:
Street address: 119072, 5, Building 4, Bersenevsky Side-street, Moscow, Russia Tel: +7 499 230 31 27 Fax: 8 (499) 230 31 27 E-mail : contact@dnk-ag.ru
Buildings and Projects:
Buildings and Projects Shown: 4
Archi.ru Texts: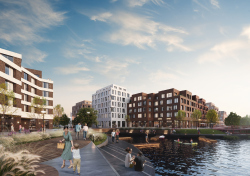 03.10.2023
The new neighborhood on an island in the center of Naro-Fominsk continues the ideas of developing the territory of the silk-weaving factory, around which the city actually formed. The authors skillfully mix different formats of mid-rise development and make the most of the island location, offering a variety of formats of interaction with water, available to all citizens. No wonder that the project is considered exemplary and worthy of duplication in the region. It is also an example of rare synergy between the client and the architects.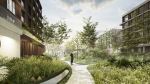 06.06.2023
Approvals came for the project of a housing complex that DNK ag designed in Kazan. The complex is low-rise; its sections are designed as separate volumes united by a common podium. Everything is very much like DNK: delicate and sometimes even lyrical, especially where the yard meets the lakeshore.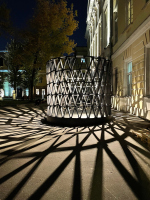 21.10.2021
The yard of the Architecture Museum on Moscow's Vozdvizhenka hosts an installation by DNK ag. It is timed to coincide with the 20th anniversary of the company, and was originally presented at Arch Moscow. The art object is expected to stay in the yard of the museum for one year and set a new tradition – a regularly renewed exhibition project called "Modern Architecture in the yard of MUAR".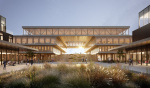 03.09.2021
A project by DNK ag won in a competition for the science campus of the National Center for Physics and Mathematics in the city of Sarov, conducted by ROSATOM corporation in collaboration with the Moscow State University, Russian Academy of Sciences, and the Kurchatov Institute.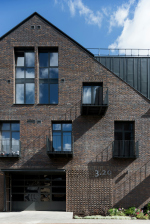 07.10.2019
These two buildings standing on the territory of the former Rassvet factory present an example of the architects' delicate work with the context, form, and, above all, the inner structure of the apartment building that has arguably become a unique one for the modern Moscow. The complex is already known to a certain extent in the professional community. Below we are examining it in detail.