Aleksandr Popov
information:
Archi.ru Texts: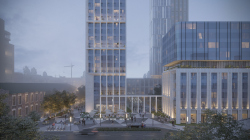 15.04.2019
The concept of the housing complex named LVIII is all about graceful inclusion of towers into the historical part of the city, as well as organizing an orderly and at the same time intriguing rhythm of volumes. Essentially, this is an image of a city growing upwards step by step.

13.12.2018
The architectural firm Archimatika is sharing about its experience of developing a new brand image – still recognizable yet fresh and reflecting the company's main values: humanistic character, versatility, and a systematic approach.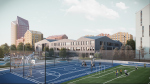 12.10.2018
Designed by Archimatika, the gymnasium A+ on the territory of Kiev's housing complex "Comfort Town" is remarkable not only for its architecture that can best be described as a "friendly fortress" but also for its openness: it is designed in such a way that both students and their parents can have a comfortable time here, and other children and adults as well.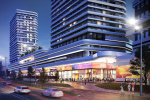 25.09.2018
ARCHIMATIKA architects, the authors of the housing complex in the south part of Kiev, found a brilliant solution that unites three visually different volumes into a single living organism.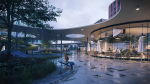 27.07.2018
The community center of Kiev's housing complex "Respublica" built upon the project of ARCHIMATIKA demonstrates a new format of territory organization, which includes landscape design elements, a playground, and a commercial function, inviting the residents of the complex to leave their homes and step outside.