Sergey Oreshkin
information:
An architect, a laureate of Vladimir Tatlin Prize, the international festival "Zodchestvo", festival of the Union of Architects of Saint-Petersburg "Architecton", the independent national architectural rating "Zolotaya Kapitel" ("Golden Capital"), the international festival of design and architecture "Eurasian Prize", and other prestigious architectural contests; author of numerous well-known buildings in Saint-Petersburg and other cities of the Russian Federation, specifically, the buildings of the sea passenger terminal at the Vasilyevsky Island, the buildings of the Finnish Visa Center at the intersection of the Marata and Stremyannaya streets, the Platonov Volleyball Academy at the Vyazovaya Street, 10, the complex "Olimp" at the Khersonskaya Street, 20, the water park "Waterville" at the Korablestroiteley Street, 14A, Vasilyevsky Island, the housing project "Egoist" at the intersection of the Vosstaniya and Ryleeva streets, the housing project "Aston Graftio" at the Graftio Street, 5, the housing project "Northern Palazzo" on Line 17 of the Vasilyevsky Island, 14A, the housing projects "Malakhit" and "Lazurit" at the Konstantinovsky Prospect, 20, and the Morskoy Prospect, 5, 7, 9 on the Krestovsky Island, the housing project "Olimpiyskaya Derevnya" ("Olympic Village") at the Vyazovaya Street, 10, a housing project at the Chapaeva Street, 16A, and many other buildings.
Buildings and Projects:
Buildings and Projects Shown: 10
Rank all Buildings and Projects / Sergey Oreshkin (14):
Archi.ru Texts: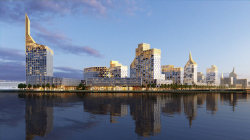 14.05.2018
The project of "Golden City" housing complex is unique in many respects: as an example of consequential implementation of the results of the competition, as an experience of joint work of a Russian and a Dutch team, and as an experiment of developing a high-profile construction on the basis of the city block technology.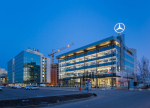 14.11.2017
In Saint Petersburg opened one of the largest Mercedes dealerships in the northwest region of Russia. "A.Len" was able to find new dramatic architectural and engineering solutions that match the company's image and the superb quality, dependability and elegance traditionally associated with it.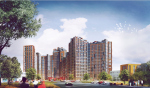 20.07.2017
The architects of A.Len have designed a housing complex named "Russian Avant-garde" – they did everything they could to make it look up to its name. All this in spite of the fact that their part of the work started at the point when the complex was already being built by a different project, and was seemingly doomed to become yet another rank-and-file sectional building.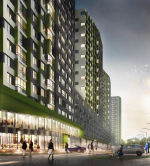 10.07.2017
A.Len has designed in Voronezh a residential complex named "Russia. Five Capitals" – creating a comfortable environment in spite of a rather high building density.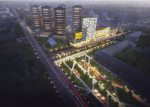 15.05.2017
Boasting a unique set of features interconnected in a sophisticated way, this complex consists of ten different units. The Saint Petersburg architectural company A.Len designed it for Voronezh on the basis of the soviet sports center "Energiya".