Sergey Oreshkin
information:
An architect, a laureate of Vladimir Tatlin Prize, the international festival "Zodchestvo", festival of the Union of Architects of Saint-Petersburg "Architecton", the independent national architectural rating "Zolotaya Kapitel" ("Golden Capital"), the international festival of design and architecture "Eurasian Prize", and other prestigious architectural contests; author of numerous well-known buildings in Saint-Petersburg and other cities of the Russian Federation, specifically, the buildings of the sea passenger terminal at the Vasilyevsky Island, the buildings of the Finnish Visa Center at the intersection of the Marata and Stremyannaya streets, the Platonov Volleyball Academy at the Vyazovaya Street, 10, the complex "Olimp" at the Khersonskaya Street, 20, the water park "Waterville" at the Korablestroiteley Street, 14A, Vasilyevsky Island, the housing project "Egoist" at the intersection of the Vosstaniya and Ryleeva streets, the housing project "Aston Graftio" at the Graftio Street, 5, the housing project "Northern Palazzo" on Line 17 of the Vasilyevsky Island, 14A, the housing projects "Malakhit" and "Lazurit" at the Konstantinovsky Prospect, 20, and the Morskoy Prospect, 5, 7, 9 on the Krestovsky Island, the housing project "Olimpiyskaya Derevnya" ("Olympic Village") at the Vyazovaya Street, 10, a housing project at the Chapaeva Street, 16A, and many other buildings.
Buildings and Projects:
Buildings and Projects Shown: 10
Rank all Buildings and Projects / Sergey Oreshkin (14):
Archi.ru Texts: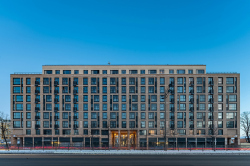 21.05.2021
In this issue, we are examining the second major block of the "city within a city" Ligovsky City complex, designed and built by A-Len, and combining several trends characteristic of modern urban architecture.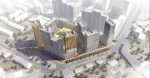 11.12.2020
A-Len has developed and patented the "Perfect Apartments" program, which totally eliminates "bad" apartment layouts. In this article, we are sharing how this program came around, what it is about, who can benefit from it, and how.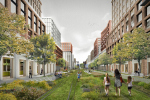 02.10.2020
In their project of the third stage of "Ligovsky City" housing complex, located in the industrial "gray" belt of Saint Petersburg, the KCAP & Orange Architects & A-Len consortium set before themselves a task of keeping up the genius loci by preserving the contours of the railroad and likening the volumes of residential buildings to railroad containers, stacked up at the goods unloading station.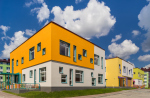 06.07.2020
The new successful techniques developed by A.Len for designing a kindergarten under budget constraints: the mosaic of irregular windows and working with color.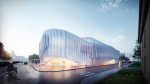 23.04.2020
The conceptual design of a music school: proximity to an Alvar Aalto building, expressive organics, and an attempt to draw public attention to a "low-profile" competition.