Evgeny Gerasimov
information:
Evgeny Gerasimov was born in Biisk, Altaysky krai, in 1960
1983 – Graduated from Leningrad Engineering and Construction Institute
1983-1990 – Worked for the Institute "LenNIIProekt", head of the group of architectures
1991 – Founded architectural studio "Evgeny Gerasimov and partners"
Laureate of the International architecture biennale, Sofia, Bulgaria, 1987
Main award at "Arhitekton" contest, the Union of Architects, St. Petersburg, 2004 and 2006
Many diplomas from the international review competition "Zodchestvo"
Medal of the Russian Union of Architects "Za vasokoe zodcheskoe masterstvo" [For great architectural proficiency]
Gold Medal from of the International Association of Union of Architects
Buildings and Projects:
Buildings and Projects Shown: 10
Rank all Buildings and Projects / Evgeny Gerasimov (16):
Archi.ru Texts: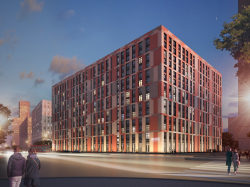 16.06.2017
"Eugene Gerasimov and Partners" has designed one of the lots of the first stage of "ZilArt" residential complex. The residential building with a confined space of the inner yard turned out to be quite cheerful-looking but against the background of its neighbors it looks pretty traditional – living exactly up to its function.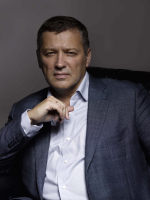 26.12.2016
In this article, we are speaking to the architect on the occasion of the 25th anniversary of the bureau "Evgeny Gerasimov and Partners": about the lineup of his studio, about the diversity of tasks that his company handles, about the specifics of its working processes, about partnership with Sergey Tchoban, and about the soviet and post-soviet architecture.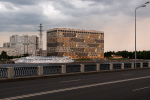 03.08.2016
The multifunctional housing project "Megalit" in Saint Petersburg's Nevsky District - designed by "Eugene Gerasimov and Partners".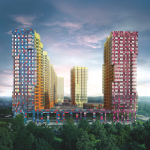 11.04.2016
For "Evgeny Gerasimov and Partners", the residential complex "LEGENDA on Komendantsky, 58" has become an ideological research project.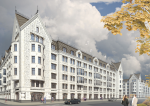 08.10.2015
This is something new. Admittedly, only church architects are not frightened by the neo-Russian style. But Engeny Gerasimov has taken up the challenge and proposed a modern version of a housing estate à la russe to the center of St. Petersburg, combining "pseudo" and "neo" modern techniques.