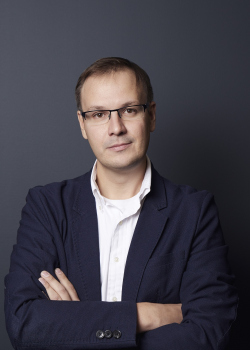 Sergey Senkevich

Leader of an architectural firm
Sergey Senkevich
information:
Sergey was born in 1981 in Moscow. In 2004, he graduated from Moscow Institute of Architecture, (Residential and Public Buildings Department). Sergey's teachers were Sergey Skuratov and Ilia Utkin. In 2004-2016, the architect worked for Vladimir Plotkin's "Creative Union Reserve", where he contributed to the following projects:

– "Avenue 77" housing complex;

– "Fusion Park" multifunctional complex;

– "Novogorsk Park" housing complex;

– "Gorod na Reke Tushino" ("City on the Tushino River") housing complex.

Since 2016, Sergey has worked for "APEX Project Bureau" in the position of the leader of the architectural studio; he is the author of the following projects:

– "Akademichesky" housing complex;

– "Izmailovsky" housing complex;

– Studio floor and the storage facility at Mosfilm Studio;

– "Dolgorukovskaya 25" hotel complex;

– "Khavskaya 24" housing complex;

Sergey also took part in the following projects:

– "Architectural Descent" project seminar in Kazan under the guidance of Josep A. Acebillo;

– International competition for the project of the Taipei Center for Popular Music;

– The competition project of a housing complex on the Rublyovo Highway – 2nd place;

– The housing project on the Savvinskaya Waterfront;

– The housing project in Saint Petersburg to be built in the stead of the former "Petmol" milk factory.
Archi.ru Texts: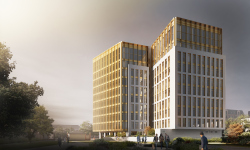 25.01.2019
In their project of MITTE club house, the architects proposed a model for developing the territory adjacent to the main land site, proceeding from the method of working with the urban environment in the namesake district of Berlin and the characteristic features of Moscow architecture of the brink of the XX–XXI centuries.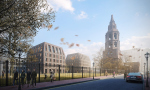 21.11.2018
The two units of the house on the Dolgorukovskaya Street look like Russian treasure chests, while the brickwork of their walls echoes the belfry of the Saint Nicolas Church in Novaya Sloboda. The project, although small, became the result of thorough analysis of the architectural environment and was selected out of many other options.