Katerina Gren

Katerina Gren
information:
In 2008, Ekaterina graduated from the Architectural Department of the Belarusian National Technical University as an architect.

Ekaterina has worked in Moscow's top architectural firms: "Architectural Dialogue with a Megalopolis" (ADM), "Homeland". She contributed to implementing the following projects:

• Residential complex «Tribeca Apartments»;
• Residential complex «Art Residence»;
• Business center «Atmosphere»;
• Residential complex «Loft Park» on the Mikhailovskaya Street, and several housing projects in Minsk.

Ekaterina has been working in OLIMPROJECT since 2015 as the chief architects; she is the author of the projects:

• Residential complex at the Mikhailova Street, 31,
• Residential complex at the Parkovaya Street, 11-ÿ,
• Residential complex at the Kashirskoe Highway, 74, and others.

Since April 2016, Ekaterina is the chief architect of the company.

Archi.ru Texts: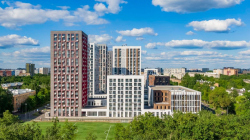 12.07.2021
Last week, the housing complex "Ty i Ya" ("You and Me") was presented, built in the northwest of Moscow. By a number of parameters, it exceeds the originally stated comfort-class format, and, on the other hand, fully meeting the city block construction paradigm, popular in Moscow, demonstrates a few interesting features, such as a new kind of public spaces for the residents, and high-ceilinged apartments on the first floors.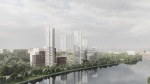 19.08.2019
A strict hierarchy of the arrangement of residential buildings and an abundance of interesting details of façade decoration are the two main features of the RiverSky housing project situated at the bend of the Moskva River – designed by GREN.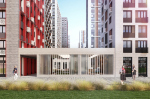 20.06.2019
The housing complex "You and Me" develops the aesthetic features of the previous high-rise complexes designed by Bureau of Architecture GREN., the architects placing their bets on two recreational scenarios: sports and nature.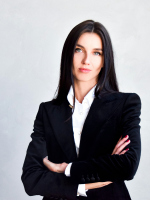 17.07.2018
Ekaterina Gren, the chief architect of GC «OLIMPROEKT» Ltd., speaks about the formative years of her division, the importance of a dialogue with the developers, and about the architect's mission.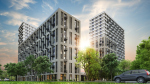 12.12.2017
The housing project at the Mikhailova Street skillfully uses the benefits of its surroundings to the advantage of its future residents, exploring numerous fashionable trends of today: the façades are meticulously elaborate, and the public spaces are well thought out from the standpoint of both city people and the residents of the complex.