Alexey Goryainov
information:
Born 10 November 1976

Education
Stroganov Moscow State University of Arts and Industry (1996 – 2002)

Alexey Goryainov is a co-founder of Arch group architecture bureau in Moscow. In 2009 Forward Media Group rating included Arch group into Moscow's top-10 young architecture companies. In 2009, Forward Media Group voted "Arch group" as one of Moscow's Top 10 Young Architecture Firms. The bureau's projects have garnered many accolades from world architecture community and have appeared in a number of Russian and foreign publications. Arch group's project is the winner of international architectural competition for Russian Orthodox Cultural Centre on Quay Branly in Paris (2011). Mikhail is co-creator of Sleepbox project. The Sleepbox has been recognized as one of the TOP-10 best ideas according to the world's most influential architecture and design website Dezeen. Sleepbox project has been marked by professional awards and numerous publications in Russian and foreign press. Sleepbox Hotel Tverskaya was opened in Moscow in the beginning of 2013.


Professional experience
… – 2004 Private architecture practice
2004 – 2008 Lead Project Architect at Timur Bashkaev's Architecture Bureau
2005 Lead Project Architect of Moscow Yaroslavsky Railway Station Reconstruction
2008 Arch group was founded

Awards
- Top-10 young Moscow architects. Forward media group award, 2009
- XIV International competition for the best project of the year (International Association of Unions of Architects)
- First prize for best public interior of the year. IX Moscow International Architecture Contest, 2009
- Prize winner of Quality Architecture-2010 Contest
- Russian Orthodox Cultural Centre in Paris International competition winner, 2011
- The best public interior of the year. XII Moscow International Architecture Contest. 2012
- Golden Section Award, 2013
- Archnovation Award, 2013
- World Interiors News Annual Awards, 2013
Buildings and Projects:
Buildings and Projects Shown: 4
Archi.ru Texts: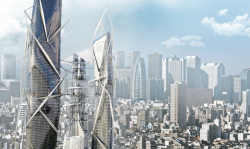 15.07.2016
For Evolo Contest, the architects of Arch Group came up with a skyscraper that generates power at the expense of people that fill it.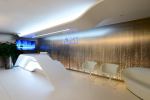 08.06.2016
A concept of nature and technology combined in the interior of company MRTS, performing construction of major subsea pipelines.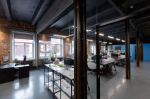 30.12.2015
Arch Group has moved to a new office - a classic open space designed in the industrial style with authentic artifacts of the nineteenth century.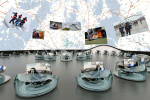 25.12.2015
A gigantic display cupola, mobile glass capsules and the most innovational technologies in the project of the National Crisis Management Center EMERCOM of Russia.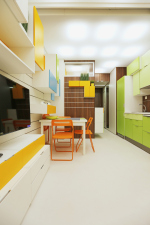 02.12.2015
A concept of modular transforming interiors for small apartments.