Evgeny Gerasimov
information:
Evgeny Gerasimov was born in Biisk, Altaysky krai, in 1960
1983 – Graduated from Leningrad Engineering and Construction Institute
1983-1990 – Worked for the Institute "LenNIIProekt", head of the group of architectures
1991 – Founded architectural studio "Evgeny Gerasimov and partners"
Laureate of the International architecture biennale, Sofia, Bulgaria, 1987
Main award at "Arhitekton" contest, the Union of Architects, St. Petersburg, 2004 and 2006
Many diplomas from the international review competition "Zodchestvo"
Medal of the Russian Union of Architects "Za vasokoe zodcheskoe masterstvo" [For great architectural proficiency]
Gold Medal from of the International Association of Union of Architects
Buildings and Projects:
Buildings and Projects Shown: 10
Rank all Buildings and Projects / Evgeny Gerasimov (16):
Archi.ru Texts: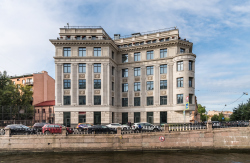 09.10.2019
The Art View House, standing on a "postcard" location next to the Moika River and the Kryukov Channel is yet another neoclassical experiment made by "Evgeny Gerasimov and Partners", as well as a neat completion of the architectural panorama in the center of the city.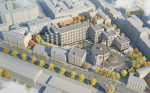 27.12.2018
Neatly inscribed into the respectable housing environment of the Petrogradskaya Side, the residential complex "Futurist" teeters on the brink of postconstructivism and Art Deco. Its main task, however, was to breathe new life into the building of the Levashovsky bread factory and make it flourish once again.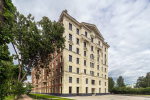 11.09.2018
Saint Petersburg's Krestovsky Island has seen the completion of "Verona" house designed by Evgeny Gerasimov architects. In this issue, we are speaking to the architect about why he likes building in historical styles and how he manages to do that on such a high quality level.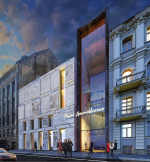 26.04.2018
There is an argument going on in Saint Petersburg: will it be OK to add a new wing (of modern architecture) to the Dostoyevsky Literary Memorial Museum or is it only allowed to recreate the lost tenement house nearby? In this article, we are covering the preliminary concept of the museum building.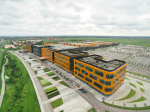 04.12.2017
Saint Petersburg's EXPOFORUM, a congress and exhibition center that has been long waited for and widely discussed, is finally complete, put into operation, and actively functioning.