Evgeny Gerasimov
information:
Evgeny Gerasimov was born in Biisk, Altaysky krai, in 1960
1983 – Graduated from Leningrad Engineering and Construction Institute
1983-1990 – Worked for the Institute "LenNIIProekt", head of the group of architectures
1991 – Founded architectural studio "Evgeny Gerasimov and partners"
Laureate of the International architecture biennale, Sofia, Bulgaria, 1987
Main award at "Arhitekton" contest, the Union of Architects, St. Petersburg, 2004 and 2006
Many diplomas from the international review competition "Zodchestvo"
Medal of the Russian Union of Architects "Za vasokoe zodcheskoe masterstvo" [For great architectural proficiency]
Gold Medal from of the International Association of Union of Architects
Buildings and Projects:
Buildings and Projects Shown: 10
Rank all Buildings and Projects / Evgeny Gerasimov (16):
Archi.ru Texts: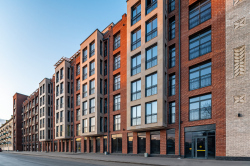 30.08.2022
The house on Telezhnaya Street, designed by Evgeny Gerasimov and Partners, located just a couple of steps away from the Nevsky Prospect, can be visually divided into three independent entities. By doing this, the architects keep up the scale of the historical street and overcome the challenges posed by a stretching land site.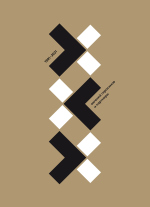 19.08.2022
In this article, we are speaking to Evgeny Gerasimov about the book released to mark the 30th anniversary of his architectural company, about his activities as the chairman of the Union of Architectural Companies, and his plans for the future.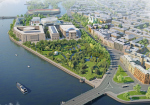 18.01.2022
The news about cancellation of the Tuchkov Buyan park has been stirring the minds of people of St. Petersburg for a week already. In the absence of any verified specific information, we discussed the situation with the architects of the park and the Court Quarter: Nikita Yavein and Evgeny Gerasimov.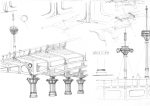 11.06.2021
For the 100th anniversary of Vladimir Vasilkovsky, the architectural office of Evgeny Gerasimov is reflecting on the Ushakov Flyover, which was designed with input from this artist and architect. In this article, we are showing its watercolors and sketches, including the preliminary ones that were not included in the final project, as well as speaking about the importance of architectural drawing.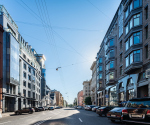 22.03.2021
In this article, we are examining a rather rare and interesting case – two projects by Evgeny Gerasimov situated on one street and completed with a five years' difference, presenting the perfect example of example for analyzing the overall trends and approaches practiced by the architectural company.