Nikolay Pereslegin
information:
Nikolai Pereslegin was born on Moscow in 1985.
Nikolai graduated from Moscow Institute of Architecture in 2008.
Nikolai Pereslegin took classes from the professors Andrew Nekrasov and Alexander Tsybaikin, Yuri Grigoryan and Alexandra Pavlova.
Since 2005, Nikolai has been a member of the Union of Russian Architects.
Since 2009, a member of the All-Russian Society for the Preservation of Historical and Cultural Monuments.
From 2009 to 2013, Nikolai Pereslegin was the councilor of the Moscow Government Minister, head of the Department of the Cultural Heritage of Moscow.
Since 2014, the councilor of the President of Moscow Institute of Architecture on a pro-bono basis.

Nikolai Pereslegin is a Candidate of Sciences in architecture. In 2005, in Moscow Institute of Architecture, he passed Ph.D. defense on the topic "History of establishment and development of agencies for protecting the architectural heritage of Moscow in the context of their interacting with society in the Soviet period (1917-1991)", research advisor – the academician Dmitry Shvidkovsky.

In 2013, together with his partners Sergey Pereslegin and Georgy Trofimov, Nikolai Pereslegin founded the architectural company Kleinewelt Architekten. The company's portfolio includes the Winery House in Gai-Kodzor (Armenia), the Movie Theater in the Gorky Park, reconstruction of the former "communal kitchen" on the Novokuznetskaya Street in Moscow, Mercedes and Audi dealerships on the ZIL peninsula in Moscow, "Park of the Future" at Moscow's VDNKh, and others.

Nikolai is the laureate of Venice Architecture Biennale, as well as Russian and international architectural awards.
Nikolai is also the laureate of the "New Intelligentsia" prize 2012 in the nomination "Authority Power with a Human Face".
Archi.ru Texts: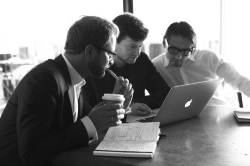 02.02.2017
In this issue, we are speaking to Nikolai and Sergey Pereslegins and George Trofimov, partners and founders of Kleinewelt Architekten, about their outlook on what matters most in the profession of an architect.