Anatoly Stolyarchuk
information:
Anatoly Stolyarchuk was born on December 14, 1949 in Kamenets-Podolsk (Ukraine).
In 1973, he graduated from the architectural department of the Repin Institute of Painting, Sculpture, and Architecture (Sergey Speransky school) in Saint Petersburg.
From 1973 to 1974, Anatoly worked in the Lenpromstroiproject as an architect.
After his army service, from 1975 to 1989 he worked in LenNIIproject, working his way up from an architect to the deputy head of the architecture and design studio.
From 1989 to 1998, Anatoly worked as the head of architecture and planning studio in the LenZNIIEP Institute.
Since 1998 to the present day he is the General Director of "Anatoly Stolyarchuk Architectural Studio"
Anatoly is a member of the Architects Union of Russia since 1978.

Parallel to his architecture practice, Anatoly Stolyarchuk teaches at the Saint Petersburg Repin Institute of Painting, Sculpture, and Architecture (the Academy of Arts) at the department of architecture as assistant professor.

Titles:
– Honored Architect of the Russian Federation
– Adviser of the Russian Academy of Architecture and Construction Sciences
– Corresponding member of the International Academy of Architecture (Moscow branch)
– Member of the Board of the Saint Petersburg Union of Architects
– Chairman of the non-profit partnership "Association of Architectural Studios"
Archi.ru Texts: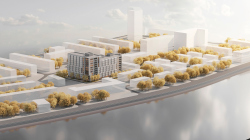 30.03.2020
Anatoly Stolyarchuk Architectural Studio is designing a house that inadvertently prevails over the surrounding buildings, yet still tries to peacefully coexist with the surrounding environment, taking it to a next level.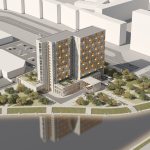 22.07.2019
Neatly inscribed into a "sleeping belt" residential area of Saint Petersburg, this riverside hotel at the same time claims the status of a landmark that gives this place a taste of reserved yet nonetheless sophisticated architecture.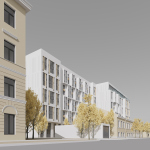 04.02.2019
The project of a residential complex situated behind the Bypass Channel in Saint Petersburg is based on the architects' search for the optimum balance between the construction regulations, the surrounding context, and their belief in the relevance of pure modernist architecture, free of any signs of stylization.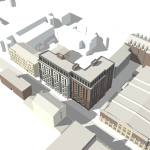 21.11.2017
In the historical part of Saint Petersburg, Anatoly Stolyarchuk has designed a residential building with an attitude, yet still friendly towards its neighbors.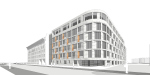 13.07.2017
Made of stone yet transparent, boasting columns yet of modern design – Anatoly Stolyarchuk designed this unusual house for Saint Petersburg's Krestovsky Island.