Buildings and Projects:
Buildings and Projects Shown: 7
Archi.ru Texts: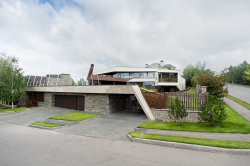 23.05.2019
There is a house in one of the Moscow area villa communities that is strikingly different from its neighbors; the architects lovingly call this house a "spring", and for a good reason: it is indeed "coiled" and "twisted" in such an interesting volumetric knot that it is fun to be both inside and outside of it.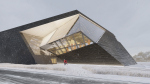 14.05.2019
A new project that is now being built next to the Chernyakhovsk cognac distillery falls in with the method proposed by TOTEMENT / PAPER in its project of the Cognac Museum, and continues its narrative. Meet and greet a new character in the compelling distillery saga.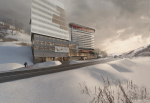 26.12.2018
The Hotel complex designed by TOTEMENT / PAPER for Kamchatka, reinterprets the nature and the culture of the peninsula, at the same time challenging the cataclysms of the earthquake endangered zone, using the modern technologies to create pure, open, and beautiful architecture.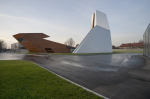 25.09.2017
In the context of Russian architecture, the building of repository museum of cognac in the city of Chernyakhovsk is a rare example of a situation when the building's obliging function and the architects' creative thinking do not conflict with each other but work together to create well-thought and well-balanced architecture, interesting to all human senses.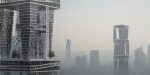 10.07.2014
Designed for Hong-Kong by Levon Airapetov and Valeria Preobrazhenskaya, the contest project of a skyscraper continues the search for a fresh view of the architectural matter characteristic of these authors, and at the sane time proposes a new look at the grammar of the high-rise architecture.