Kleinewelt Architekten
Kleinewelt Architekten
information:
About Firm:
Kleinewelt Àrchitekten is an architectural and research company.
Our method is based on the analytical approach to designing things. Every time when we start a new project we do a cross-discipline survey that helps us to come up with adequate and at the same time interesting and unconventional solutions.

Our portfolio includes strategies for developing whole cities (Krasnoturyinsk and Michurinsk), unusual public buildings (the Winery House in Gai-Kodzor (Armenia), the Movie Theater in the Gorky Park); reconstruction of the former "communal kitchen" on the Novokuznetskaya Street in Moscow, pavilions in the Tagansky Park and at the VDNKh exhibition, a residential building on the Sivtsev Vrazhek, and a housing project in the Olsufyevsky Side-street.

We see our projects from beginning to end – starting with the preliminary survey and the first sketches and ending with author supervision of the construction. This is why we stand by our performance.

We create a cozy atmosphere and human-friendly environments regardless of the scale of our project – be that a housing project or a single office building. Each of our projects is a microcosm – a small world in, die kleine Welt.

Archi.ru Texts: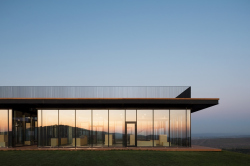 01.02.2018
The austere, full of light and shade, air and greenery, and, of course, impressions, the winery building in the city of Haykadzor in the Krasnodar Territory is one of the main architectural events of last year.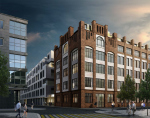 11.12.2017
The winner of the competition for the best renovation project for the complex of buildings of the "First Exemplary Printing Works" became Kleinewelt Architekten with a project that can arguably be considered a breakthrough to a whole new level of material and emotional comfort.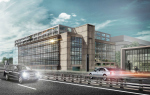 14.09.2017
The project of reconstructing the model-making workshop of the ZIL plant into a Mercedes-Benz and Audi dealership is unique even by the standards of the legendary complex. It is planned that the workshop will be restored using the elements of the dismantled building that was erected back in the 1930's. It will become a part of the "ZIL's Gate", viewable from the Third Ring Road. In addition, this building will be the only one that will keep the "automotive" function – at least to some extent.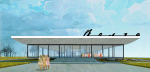 17.07.2017
The visitors of the park of Moscow North Riverside Terminal, whose renovation project was developed by Kleinewelt Architekten and Citizenstudio, will get an opportunity to take a trip both in time and space.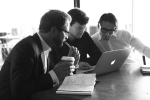 02.02.2017
In this issue, we are speaking to Nikolai and Sergey Pereslegins and George Trofimov, partners and founders of Kleinewelt Architekten, about their outlook on what matters most in the profession of an architect.