Genpro
information:
About Firm:
Genpro

An international company providing a full range of services for the general design of housing projects and commercial facilities. Founded in 2007.
We create efficient housing and civil engineering projects that will stay relevant for years to come. The geography of our projects covers Moscow, Russia, and New York, USA.

Our key projects include: "Lumin" housing complex (Moscow, Russia); SPA-hotel Palmira Garden (Vidnoe, Moscow region, Russia); House of the clergyman of the Cathedral of Christ the Savior (Moscow, Russia); Biotechnological R&D laboratory and innovative clinic (Skolkovo, Moscow region, Russia); "I Love" housing complex (Moscow, Russia); "Mikhalkovskaya Street" housing complex (Moscow, Russia); the gem of world architecture, "The Crown Building" (New York, USA).

Another direction of our company is the development of Genpro proprietary digital technologies. Our proprietary IT technologies allow us to systematize and automate our workflows, increasing the speed of design and improving the overall quality of the project. The Genpro developments in the area of BIM and generative design eliminate collisions at the project stage, streamline costs, and provide the client with a board range of project options.

Genpro's architecture branch is headed by Andy Snow, which allows the company to create world-class concepts.

Archi.ru Texts: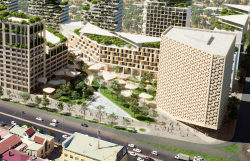 30.10.2021
Designing a residential complex for Tashkent, GENPRO is turning to traditional architecture and modern trends, aiming at emotionality and efficiency: the panjar window lattices and mishrabias are neighboring on vertical greenery and parametric ornaments, while the theme buildings do on a cotton alley and an oriental bazaar.
30.04.2021
Created by Genpro, this software allows you to generate within half an hour dozens of development and construction options in accordance with the set parameters. At the same time, however, being more focused on the technical aspects, the program does not exclude creative work, and can be used by architects for preparing projects with a subsequent data export to AutoCAD, Revit, and ArchiCAD.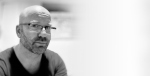 07.04.2021
The British architect Andy Snow has recently become the chief architect at GENPRO Architects & Engineers. Projects, which Andy Snow did in the UK in collaboration with world-famous architectural firms, scored numerous international awards. In Russia, the architect took part in designing Moscow's Stanislavsky Factory business center, iLove housing complex, and AFI2B business center on the 2nd Brestskaya Street. In our interview, Andy Snow compared the construction realities in Russia and the UK, and also shared his vision of architectural prospects in Russia.