A-Len
information:
About Firm:
The architectural bureau "A.Len" headed by Sergey Oreshkin (founded in 1991) provides a complete range of services on architectural design and obtaining the appropriate permissions and approvals for housing projects, public buildings, industrial facilities, reconstruction of the interiors of public and private buildings, and performing the author supervision over the construction. The company is notable for a high percentage of implemented projects, both in Saint-Petersburg and in other regions of the Russian Federation.

A.Len has a vast experience of working with the leading design and architectural companies from Austria, Great Britain, Germany, and Sweden.

Many of the company's projects were awarded prizes and diplomas.

Currently, the company includes more than eighty employees.

The company management:

Sergey Oreshkin - founder and C.E.O
Renata Andreeva - head of the architectural department, chief architect of the project
Alexander Weiner - chief engineer of the project
Buildings and Projects:
Buildings and Projects Shown: 14
Rank all Buildings and Projects / A-Len (14):
Archi.ru Texts: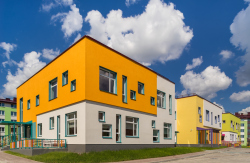 06.07.2020
The new successful techniques developed by A.Len for designing a kindergarten under budget constraints: the mosaic of irregular windows and working with color.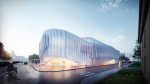 23.04.2020
The conceptual design of a music school: proximity to an Alvar Aalto building, expressive organics, and an attempt to draw public attention to a "low-profile" competition.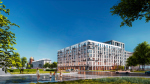 02.04.2020
This housing complex on the Dvinskaya Street is the first case of modern architecture on the Gutuevsky Island. The architectural bureau "A-Len" thoroughly explores the context and creates a landmark for further transformations of this area of Saint Petersburg.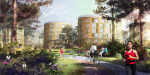 14.11.2019
The apartment complex built in the city of Sestroretsk boasts curvilinear forms and highly developed infrastructure, which makes it possible to describe this place as a "health park" or a dacha of a new type.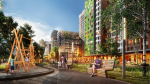 22.10.2019
A-Len and KCAP Architects&Planners designed for Voronezh a housing complex, inspired by Ivan Bunin and the landscapes of the central part of Russia. The result looks modern and fresh.