Evgeniy Gerasimov & partners
information:
address:
195009, Russia, St. Petersburg,
Lesnoy proezd, 19 bld 4
Phone: +7 (812) 600-90-60 Fax: +7 (812) 600-90-61
e-mail: public@egp.spb.ru
About Firm:
Evgeny Gerasimov established company in 1991 in St. Petersburg. The key focus area is design of elite residential space, public constructions and complexes. Among the already constructed and those under construction in St. Petersburg is the first in Russia condominium on Buharestskaya street, overpass of Ushakovskaya interchange, low-rise residential complexes on Krestovsky and Kamenny islands and also residential complex "U moraya" [By the sea], hotel "Emerald" on Suvorovsky avenue, hotel, "Severnaya Palmira" hotel on Petrogradskaya side, residential buildings on Nevsky and Suvorovsy avenues, Tverskaya street, Pesochnaya embankement, Jewish Community House on Petrogradskaya side, large complexes of residential and public buildings "U Rostralnyh kolonn" [By the rostral column], "Financier", "Sea facade" on Vasilevsky island, administrative and retail complex "Electric city" on Petrogradskaya side and public-business complex "Nevskaya retush". Almost all large construction corporations of the city are our clients. Projects and constructions have many times been awarded with Goldenen and silver diplomas at "Zodchestvo", Russian architectural festival. Today the company has over 60 staff working. High professional level and advanced technical equipment make the company one of the most in-demand architectural studios in St. Petersburg.
Buildings and Projects:
Buildings and Projects Shown: 11
Rank all Buildings and Projects / Evgeniy Gerasimov & partners (16):
Archi.ru Texts: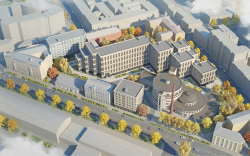 27.12.2018
Neatly inscribed into the respectable housing environment of the Petrogradskaya Side, the residential complex "Futurist" teeters on the brink of postconstructivism and Art Deco. Its main task, however, was to breathe new life into the building of the Levashovsky bread factory and make it flourish once again.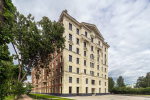 11.09.2018
Saint Petersburg's Krestovsky Island has seen the completion of "Verona" house designed by Evgeny Gerasimov architects. In this issue, we are speaking to the architect about why he likes building in historical styles and how he manages to do that on such a high quality level.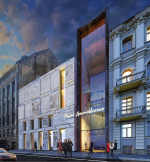 26.04.2018
There is an argument going on in Saint Petersburg: will it be OK to add a new wing (of modern architecture) to the Dostoyevsky Literary Memorial Museum or is it only allowed to recreate the lost tenement house nearby? In this article, we are covering the preliminary concept of the museum building.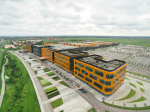 04.12.2017
Saint Petersburg's EXPOFORUM, a congress and exhibition center that has been long waited for and widely discussed, is finally complete, put into operation, and actively functioning.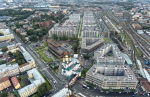 04.10.2017
The housing complex "Tsarskaya Stolitsa" ("Czar's Capital") is one of the largest projects of redeveloping former industrial territories in the center of Saint Petersburg. "Evgeny Gerasimov and Partners" was not only able to turn a derelict industrial park into a residential area full of life but also create a thought-out town-planning unit.
awards:
Residential complex, Buharestskaya str., 59
1996 Bronze diploma, "Zodchestvo" contest

Residential complex "Zeleny ostrov" [Green island], Krestovsky island, Konstantinovsky avenue, 26
2000 Silver diploma, "Zodchestvo" contest

Residential building with car-parking and store, Kamennoostrovsky avenue, 56
1997 Bronze diploma, "Zodchestvo" contest
2001 Silver diploma, "Zodchestvo" contest
2001 Diploma of International Association of Unions of Architects (IAUA)

Overpass of Ushakovskaya interchange
2001 Silver diploma, "Zodchestvo" contest
2006 Diploma of honor "Znak sootvetsviya" [certification mark], posting in the "White book" of the World Wide club of St. Petersburg residents

"Emerald" hotel, Suvorovsky avenue, 18
1999 Silver diploma, "Zodchestvo" contest

Administrative additional building to ABDT in the name of G.A. Tovstonogov
2004 Diploma of honor for "The best building in St.Petersburg"

Aparthotel "the Fifth Element", Juzhnaya alley, 2
2004 Golden diploma, "Zodchestvo" contest

Residential building, Tverskaya str., 6
2000 Bronze diploma, "Zodchestvo" contest
2004 Silver diploma, "Zodchestvo" contest
2004 Diploma at "Architekton", the Union of Architects of Russia contest in St. Petersburg
2007 Diploma "Kachestvennaya architectura" [Highquality architecture]

Residential building, Nevsky avenue, 133-137
2001 Golden diploma, "Zodchestvo" contest
2004 Winner of the contest "The best building in St.Petersburg"
2005 Diploma of honor, Legislative assembly of St.Petersburg
2005 Golden diploma, "Zodchestvo" contest
2005 Diploma and Golden medal, the International Association of Unions of Architects (IAUA)
2007 Diploma "Kachestvennaya architectura" [Highquality architecture]

"Jewish Community House in St. Petersburg", Bolshaya Raznochinnaya str., 25
2006 Golden diploma, "Zodchestvo" contest
2006 Golden diploma and Grand prize at "Architekton", the Union of Architects of Russia contest in St. Petersburg
2006 ARX AWARDS award nomination
2006 Diploma and Golden medal from award of St. Petersburg's government in literature, art and architecture for architectural artwork
2007 Russian Federation government award in art
2008 Diploma of honor "Znak sootvetsviya" [certification mark] and posting in the "White book" of the World Wide club of St. Petersburg residents

Residential building "Novaya zvezda", Pesochnaya embankment, 14
2002 Golden diploma, "Zodchestvo" contest 2005 Silver diploma, "Zodchestvo" contest

Residential complex, Kamenny island, 2d Berezovaya alley, 13/15
2006 Silver diploma, "Zodchestvo" contest

Residential building "Stella Maris", Dinamo avenue, 4
2007 Silver diploma, "Zodchestvo" contest

Residential complex "Dom u moraya" [House by the sea], Martynova embankment, 62-74
2004 Grand prize at "Architekton", the Union of Architects of Russia contest in St. Petersburg
2004 Silver diploma, "Zodchestvo" contest
2008 Silver diploma at "Architekton", the Union of Architects of Russia contest in St. Petersburg
2008 Golden diploma, "Zodchestvo" contest
2008 International Association of Unions of Architects (IAUA)

Hotel, Ostrovskogo sq., 2a
2004 Diploma at "Architekton", the Union of Architects of Russia contest in St. Petersburg

Residential building, Nevsky avenue, 152
2008 Golden diploma at "Architekton", the Union of Architects of Russia contest in St. Petersburg
2008 Diploma at "Zodchestvo" contest