U-Studio
information:
address:
Moscow Pokrovka St, 28, bld 1, office 4b
e-mail: ilyautkin28@gmail.com
Phone: +7 495 917-22-38, phone/fax: +7 495 917-90-12
About Firm:
Studio was founded in 1995
The staff:
Utkin Ilja Valentinovich - art-director
Egorova Ljudmila Sergeevna - architect
Markovskaja Elena Mihajlovna - architect, decorator
Nikolaeva Darja Valentinovna - architect, computer modeling
Peresvetova Ekaterina Evgenevna - architect
Sorokina Nadezhda Vladimirovna - commercial director
Fenogenov Valerij Ivanovich - architect, computer design
Buildings and Projects:
Buildings and Projects Shown: 7
Archi.ru Texts: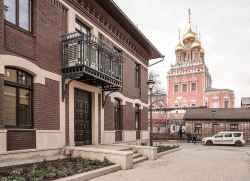 26.12.2019
The housing project "Metsenat", which occupies the area next to the Resurrection Church in Moscow's Kadashi, has a long and complicated history, full of protests, victories, and hopes. Now the project is complete: the architects were able to keep the views, the scale, and a few historical buildings; we can examine the end result now. The project was developed by Ilia Utkin.

05.08.2013
Ilya Utkin, one of the three winners of "Tsarev Sad" ("Tsar's Garden") contest, talks about his project and the contest itself.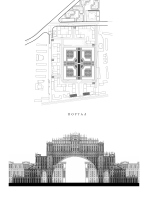 12.01.2010
The project is not new, it is more than two years old, but is unknown. There would be a new city-block in Moscow, similar to the building along Levshinsky lane so popular among tourists.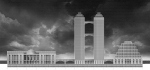 06.07.2009
Administration building of Perm city has developed into a complex of the urban center in Ilya Utkin's project. It combines the three themes: administrative building, office towers and a new traffic interchange, into a single austere Art Deco ensemble.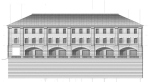 30.12.2008
Ilya Utkin chose urban regeneration for the reconstruction project of rough modernist building of "Mir" cinema built right opposite to Troitse-Sergieva Lavra in 1970. The building will be entirely transformed and become more like a Central Russian bazaar. Though the building will change, the aim is different. It would transform a part of Zagorsk town back into Sergiev Pasad. But the project will not be realized.