The leader of "Studio 44" shares about tenders, new objects, and styles in which the architects will no longer be able to work.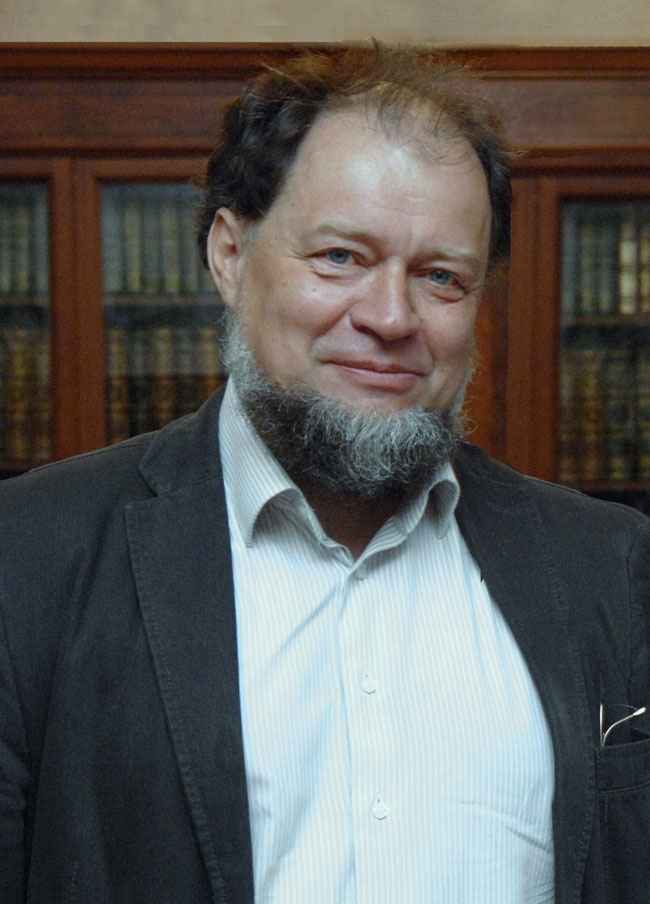 Nikita Yavein ßâåéí © "Studio 44"
Archi.ru:
Nikita, the last time we talked to you was two years ago, and one of the central subjects of that conversation became the much talked-of recently completed contests for the reconstruction projects of the New Holland and the Polytechnic Museum, the results of which, to put it mildly, amazed you. How vital is the subject of contests for "Studio 44" now?
Nikita Yavein:
- We still actively participate in contests because we consider this way of obtaining commissions to be one of the most interesting from the professional standpoint. This year, in particular, we took place in a few large-scale contests for projects in the city of Astana (Kazakhstan) - for "EXPO", for the building of the defense ministry (we are now the finalists, but the results have not been announced yet), and for the Youth Palace (we won it). We also took part in a few high-profile contests in Saint Petersburg, for example, for the residential complex on the embankment of the Karpovka River, and for the concept of developing the area of the Oktyabrskaya Embankment that we won, and for the "Sudyebny Kvartal" that we also won. Generally, we have chosen the following tactic: when working on a concept, we try to take it to the limit, at the same time staying true to our basic values. In particular, we never count on the "wow-effect" and we do not work in "styles".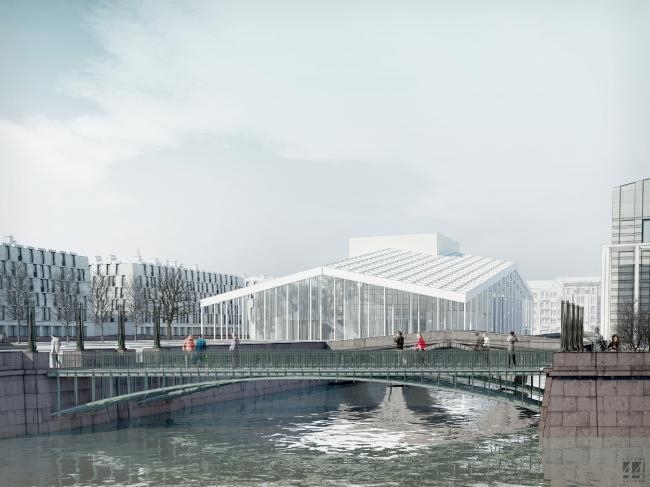 Architectural concept "Regular City" © "Studio 44"
- It seems to me, you have just named the two sure-fire strategies of winning any contest.
- It generally seems to me that today there are more and more contests whose results are very easy to predict well in advance. And this is what worries and extremely depresses me. Our cities continue getting filled with pseudo-architecture, unconcealed kitsch, in spite of the fact that only recently there was a growing hope that this nightmare forever remained in the 2000's... No, I cannot blame the Americans who sincerely believe that their Venice in Las Vegas is even better than the real thing - it is cleaner, neater and cheaper, it smells better, and the gondoliers are more polite - but why should WE turn a multi-layer historical city into Las-Vegas?
- It is common knowledge that for many people, at least in Russia, designing in this or that particular "style" still remains the synonym of keeping the city's historical legacy.
- This is unconcealed mendacity! According to my observations, it is these projects that do the number one damage to the city. And it is not just an issue of distorting the authentic historical context - I assure you that such high-brow questions worry but a handful of people - it's about the fact that under the disguise of "classicism" one can easier and sooner demolish the environmentally-valuable objects to "untie" the architect's and the developer's hands, like, hey, it's no big deal, we can build the same thing instead of what we've just torn down, even better! And, as for the contemporary architecture, it enters the city more carefully and more responsibly, which, in my opinion, says a good deal in its favor.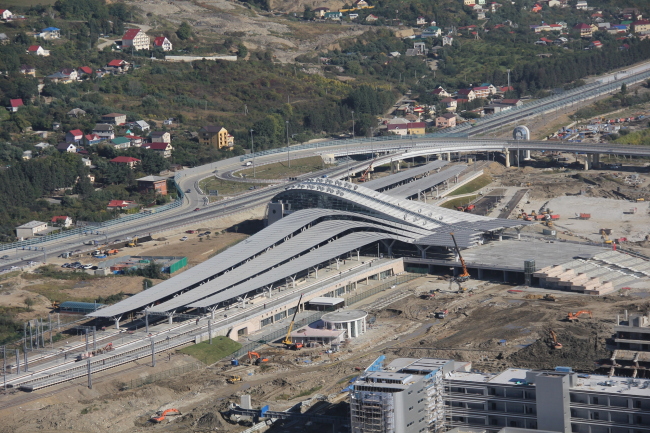 Olympian Railway Station in Sochi © "Studio 44"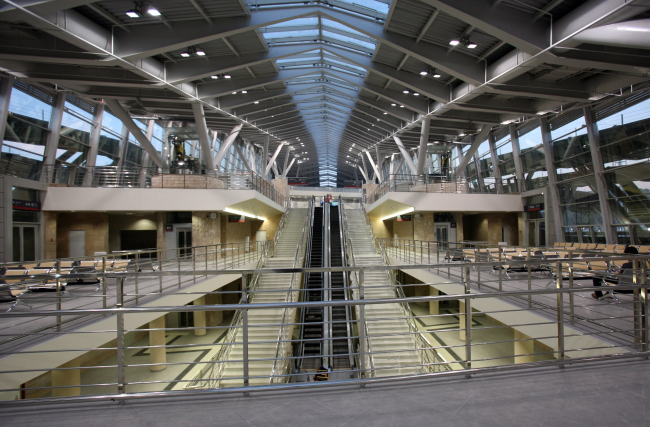 Olympian Railway Station in Sochi. Interior. © "Studio 44"
Only in some of the contests it is the architectural solution that ultimately wins; most of the time the architects are forced to compete by just lowering the costs of their services, the way it was with the Apraksin Dvor - the last tender was won by Timur Bashkaev Bureau who proposed a ridiculously low price. What do you think the future of this venue will look like?
- If my memory serves me well, there have been almost a dozen projects of reconstructing Apraksin Dvor, including the projects by foreign companies. These proposals can be divided into two types: the former completely ignore the monument-protective legislation, the latter - considerations of compensability. These were very beautiful-looking concepts, but I could not get rid of a feeling that their authors were certain that their budgets were unlimited, and ultimately this would become a gift to someone high and mighty. As far as Timur Bashkaev's work is concerned, I have a deep respect for him as an architect but I still di not quite understand just how he is going to handle this project - as far as I know, his studio does not have the license for working with monuments. The work that has already been done there can hardly be considered to be a fully-fledged project, rather, it is a functional zone layout, and it misses the economic aspect altogether. And, taking into account the housing pattern, the cost of one square meter will cost not less than 100-120 thousand rubles, or maybe even 170 thousand. Who ever will buy an apartment for this kind of money - in a house with no parking garage and with a restaurant on the first floor? Alright, maybe in Moscow miracles do happen but this just cannot sell in Saint Petersburg - people just do not have that kind of money! So, it seems to me that it is still too early to draw the line in the history of Apraksin Dvor. I think that if ultimately this or that project does get implemented it will be the one that will combine the regard for the conservation legislation of the return-on-investments considerations. All the other projects will die "from natural causes".
- And as for direct orders, ones when the developer goes directly to your studio - do you get many of them?
- Yes, I'd say we do. I think, this comes as a consequence of our experience and our reputation - we are capable from implementing our project from beginning to end, and then our customers come to us again and again. And, because in this country, business is still to a large extent based on trust, we highly value our steady customers, and frankly speaking, we give our preferences to those clients that are "combat-tested".
Presently, we have a number of large-scale restoration projects going on Aleksandrovsky Palace,"Mikhailovskaya Dacha", adaptation of the building of the First Military School for the needs of Saint Petersburg University. There are also large-scale construction projects - "Galaxy" neighborhood behind the Warsaw Railway Station, the office complex next to Sytny Market, and the Railway Museum. The "Olympian" Railway Station in Sochi has already been completed. Presently, we are starting the work on the third phase of Eifmann Academy.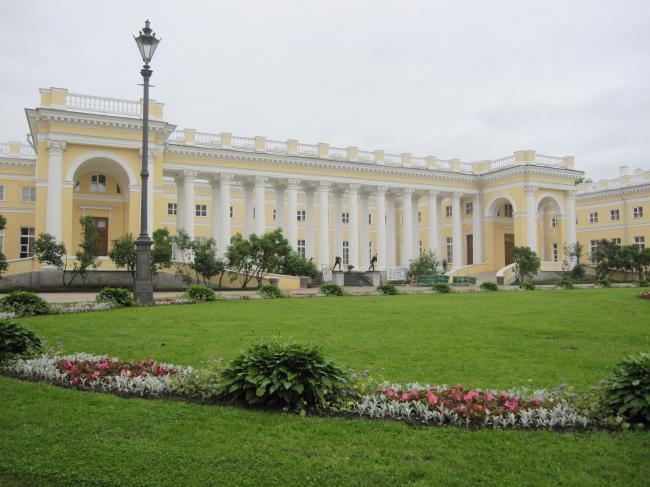 Alexander Palace © "Studio 44"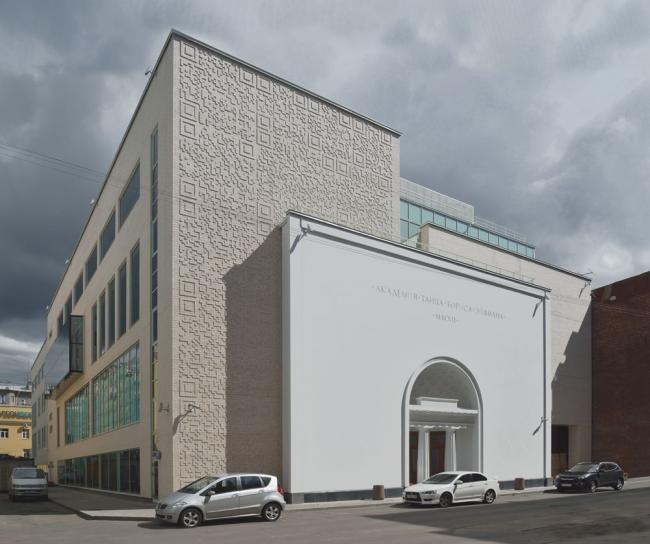 Alexander Palace © "Studio 44"
- In one of your recent interviews you said that you consider the Ballet Academy to be one of the best buildings in your entire career.
- I take great pride in that project, seriously. At a very cramped construction site, and under very challenging town-planning circumstances, we were able not only to build a complex whose functions completely answered the task that was set before us but also create a whole world the architectural and interior decoration elements of which, I hope, will be conductive of the students' creative growth. The third phase of the academy will be located in the nearby school building of the 1930's. What we do is we keep its external dimensions and the facade, while on the inside we completely rebuild it, continuing the "children's world" theme that we came up with - the systems of stone terraces, atriums, and the like. And, inside the school yard, we will build an auditorium connected wit the main building with an overpass.
- This project really wins you over with its elegance and the meticulousness of working with the tiniest details. Quite a different character was given by "Studio 44" to the residential complex on the Karpovka Embankment - a project that caused a storm of criticism for its "brutal monumentality".
- I think that no matter what we would do there, it would have caused a great deal of controversy because that is s too "high-profile" venue. But, yes, what we have there now - I mean, the corner break - this is awful, and this needs to be corrected. We continue to finish our project, and, possibly, we slightly hurried to publish our rough sketches - now the silhouette, the plastic, and facades are wrought much deeper, and we hope that this complex will become the worthy part "of the facade" of embankment. This, of course, greatly depends also on the quality of the implementation, which now, alas, too frequently leaves much to be desired… Perhaps, this is the only thing that I envy my Moscow colleagues for: here the construction costs are a lot lower than they are in Moscow - but this tells on the quality of the end product, and not in a good way. The customer simply cannot afford the expensive materials and experienced contractors. What especially "sags" in this respect is the comfort class, of course. We try to make up for this by town-planning means, creating an environment that is thought-out and comfortable to live in, like in the "Perfect City", for instance. Generally, now I am more interested in the town planning projects - it is my opinion that drawing facades is now history, and one can only make a fundamental positive difference in the environment by employing the urban-planning strategies on a grand scale.
- Is working in Astana an example of such work for you?
- Yes, you name the project that is being done there, and it will be an experimental one! Now we are working on the Youth Palace, and it is such a grand-scale project that it is difficult even for me to grasp its entire magnitude. And it continues grow! Now, for example, is has been augmented by the Wedding Palace. I think it's the world's only object that combines in one volume so many commercial and non-commercial functions. And, seriously, I would like to take a look at the company that will take the job of managing it. But then again, I had similar misgivings about the Schoolchildren's Palace - but I was there recently, everything is alive and working there, even though it was a surprise visit, and they simply did not have the time to stage a show for me.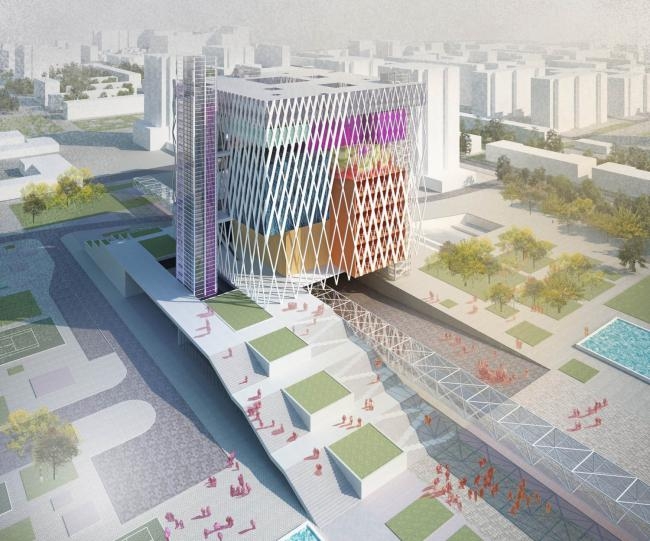 Youth Palace in the city of Astana © "Studio 44"
- Do you, by any chance, plan to open a subsidiary office in Kazakhstan, since you have so many commissions there?
- I do not think that it is necessary. That place is ruled by the company named "Basis" - it is a developer/construction company, they are a reliable partner and ally of ours, and we do our projects together. "Studio 44" is not going to take over the Kazakhstan market single-handed.
- Generally, have you taken in many new employees over the recent years?
- Strictly speaking, over these years, we have grown to the size of a bureau that consists of as much as three separate studios. One is occupied by the restoration and the adaptation of monuments, the second conducts major housing projects, and the third, which I personally manage, answers for the experimental, foreign and public objects. From the creative standpoint, today's structure of "Studio 44"is even a little bit on the bulky side - we are getting more and more projects running parallel to one another. I think soon there will come a day when some of my employees will think of starting a business of their own - and I will give them every assistance in that, even though I will not let my former colleagues strand too far away.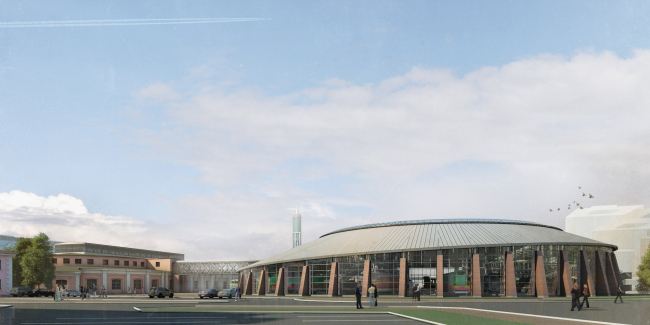 Railway Museum © "Studio 44"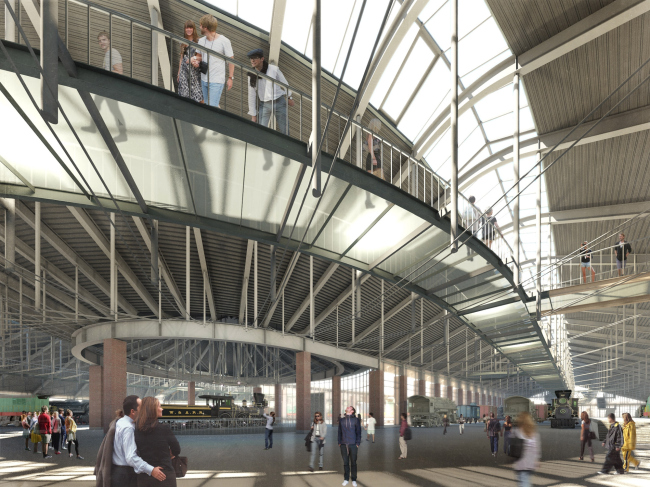 Railway Museum. Interior. © "Studio 44"