IPROMASHPROM
IPROMASHPROM
information:
address:
Correspondence address:
Suvorovskaya sq., 1
Moscow 127473
Phone: (499) 978-15-59
Fax: (499) 978-15-40
E-mail: ipmp@ipromash.ru
About Firm:
The IPROMASHPROM institute of engineering design of machine-building enterprises is one of the largest engineering companies in the market.
The Institute establishes complex design and specification documentation for a new construction, reconstruction, technical re-equipment of enterprises of space industry, buildings and constructions of industrial, civil housing, administrative and public services. It also provides designer supervision of construction.
As the general design engineer IPROMASHPROM company was involved in construction of a number of large enterprises; experimental, testing and production facilities for optimization and manufacturing of innovated products of rocket-and-space machinery, machinery of special and double-purpose; institutes for scientific research: Instrument engineering plants in Kostroma, Novopolotsk and Sosensky, Branch of the scientific development and production center in the name of S.A. Lavochkin in Kaluga, Scientific development and production center "Komposit" in Korolev, Research and Development Establishment of control units(Leningrad), Engine test base in NIIKHIMMASH in the town of Peresvet, Laboratory and engineering buildings of KBTHM, NIIPM, Industrial buildings at GKNPTS in the name of M.V. Khrunichev, Scientific development and production center in the name of S.A. Lavochkin, facilities at the Baikonur spaceport, including integration and testing facilities and display stand of dynamic testings of the "Energiya-Buran" system, and many other objects of space industry enterprises.
Buildings and Projects:
Buildings and Projects Shown: 3
Archi.ru Texts: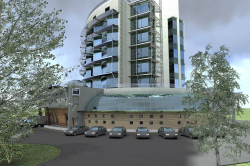 13.10.2011
This year, on the territory of the future "Vostochny" ("East") space port, OAO "IPROMASHPROM" begins to build the first administration and office building.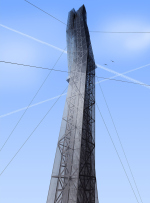 01.07.2011
This summer there will be started construction of a new Russian spaceport in the Russian Far East. The IPROMASHPROM design institute is commissioned to design all of the objects of this gigantic complex.