«GC «OLIMPROEKT» Ltd.

«GC «OLIMPROEKT» Ltd.
information:
address:
115054, 4, Zhukov Proezd, Moscow, Russia Tel: +7 (495) 795-24-46 E-mail: office@olimproekt.ru
About Firm:
«GC «OLIMPROEKT» Ltd was founded in November 2006. Initially, the company's activity was focused on building structural survey, geo-technical design, and, still later on, engineering survey.

The company launched its career as an architectural bureau in 2012.

Working on each of our projects, we first of all pay attention to creating a comfortable environment for people to live in. We observe modern trends in architecture and urban planning, at the same time listening to our customers' needs and requirements. This is why our projects, on the one hand, are commercially profitable, and, on the other hand, are aesthetic, up-to-date, and harmonious with the architectural context.

Our services:
• Architectural proposals and concepts;
• Master plan development;
• Engineering survey;
• Geo-technical design and monitoring;
• Technical survey;
• Author supervision.
Archi.ru Texts: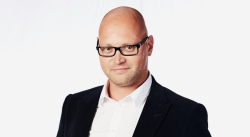 12.09.2017
An interview with the founder and president of "Olimpproekt" Vladimir Kovalev about his company being a "smart machine", its main asset a team of like-minded people.