Buildings and Projects:
Buildings and Projects Shown: 6
Archi.ru Texts: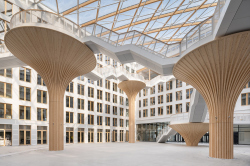 22.08.2022
On August 22, Berlin saw an official opening of the new HQ of the energy company Vattenfall, the office complex named EDGE. One of its buildings is Germany's biggest wood hybrid building. The term means that its supporting frame is made of glued timber, but in certain places wood cooperates with metal, reinforced concrete and fiberglass. Below, we are sharing about the inner design of this structure, not just environmentally friendly but energy efficient as well.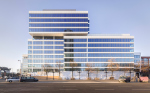 14.07.2021
In this article, we are publishing eight projects of reconstructing postwar Modernist buildings that have been implemented by Tchoban Voss Architekten and showcased in the AEDES gallery at the recent Re-Use exhibition. Parallel to that, we are meditating on the demonstrated approaches and the preservation of things that architectural legislation does not require to preserve.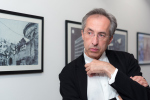 31.05.2021
Although originally we planned to speak in this interview with Sergey Tchoban about high-rise construction, the conversation turned out to be 70% about meditation on the ways of regenerating the historical city and about the role of the city fabric as the most objective and unbiased historical record. And, as for the towers, which manifest social contrasts and leave a lot of junk when torn down, the conversation was about the expected construction norms and regulations. We took this interview one day before the Lakhta-2 project was announced, and this is why this newsbreak is not commented upon in any way in this article.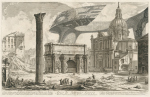 15.10.2020
The Istituto Centrale per la Grafica in Rome presents Sergei Tchoban's exhibition "Imprint of the future. Destiny of Piranesi's City". The exhibition includes four etchings, based on Roman architectural views of the XVIII century complemented by futuristic insertions, as well as a lot of drawings that investigate the same topic, at times quite expressively. The exhibition poses questions, but does not seem to give any answers. Since going to Rome is pretty problematic now, let's at least examine the pictures.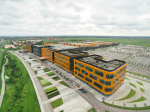 04.12.2017
Saint Petersburg's EXPOFORUM, a congress and exhibition center that has been long waited for and widely discussed, is finally complete, put into operation, and actively functioning.