iCube Architectura
information:
address:
105 120, Moscow, the 4th Syromjatnicheski pereulok, 1, stroenie 6, VINZAVOD
Phone: +7 (495) 232 42 24
Fax: +7 (495) 727 02 44
Ñàéò: www.icube-a.ru
About Firm:
iCube Architectura was founded in 2003.
We have completed a lot of projects – specific object-and-space, as well as solely conceptual ones, which represent our ideas of modern life and architecture. As conceptual projects we are interested in public interiors as well as large projects of centers, territory development, country houses and business centers.
The creative credo of iCube Architectura – a team of young and gifted professionals – has always been adherence to functional principles, correct social integration of a project, working on conceptual tasks.
We do not see architecture as a set of images, but an effective volume-and-space concept. It is not only an elaborated functional structure, but aesthetically adjusted harmonious construction. Each project is exclusive, every single one worth putting in it a part of our creative potential.
There is nothing beyond our capability as long as practicability is respected. We do not copy or look back, we are guided by our creative insights, intrinsic logic, reality and functionality.
We are dynamic and go with times. But conservatism takes place in our work. Basic principles of architecture and our profession are as important for us as novelty and being abreast of the times.
Buildings and Projects:
Buildings and Projects Shown: 3
Archi.ru Texts: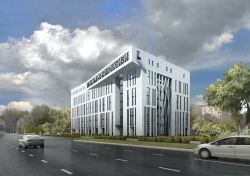 07.11.2013
Office building in Mozhaiskoye Road's project is once again approved by Moscow officials – now as a reworked design by Alexey Bavykin.

01.07.2008
It is easy to see, few projects of Russian architects developed the theme of large scale accommodation set by curator of the recently closed Moscow biennial –much more than beautiful elite city blocks. The project presented by ICube bureau as part of "Kvartalny vopros" [City block problem] is one of the exceptions. Architects suggested a witty variant of reconstruction of panel microdistrict by building up the urban space between 1storeyed infrastructure houses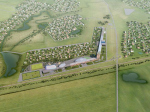 28.02.2008
This business park concept for Ufa is like an element of some huge compound wall, that includes various volumes united with a long atrium.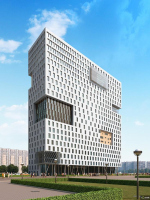 22.01.2008
The office-building project on Nametkin street combines a plain rectangular volume with the remarkable idea of "collection" of different office facades fragments, gathered in the architecture of a single building like in a "museum".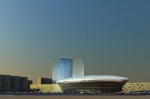 28.12.2007
One of the peculiarities of the modern Russian architecture is the so-called investment construction. A client finances construction of a cultural object – a theatre, concert hall or school, and in return he is allowed to add to - as they say 'practical for the city' - something profitable, like shops or office centers. As a rule, spaces of the commercial part, growing around 'cultural' core, are larger and that is a challenge for the architects how to arrange appropriately the complex of such different, even conflicting, buildings.
awards:
Interior Capital Awards contest - 1st award for design project of country living space of "Barviha Hills" residence.
Evrazijskya premiya [the Eurasian Award] - 2st award in 'public interior design' nomination