Alexandrov and partners
information:
address:
Moscow, ïåð. Sivtsev Vrazhek ä. 44\28, 3 floor, îô.5 +7(095) 241-3854, +7(095) 241-8268
alexarch@inbox.ru
About Firm:
Open Company " Architectural workshop " Alexanders and partners " is based in 2000 and up to 2002 was called "ASKOM-K" as a symbol of creative cooperation of architects Dmitry Aleksandrov, Arcady Sigachev and Grigory Kochetkov. After leaving Arcady Sigacheva the workshop has been reorganized.
The based design activity - objects of inhabited and civil purpose, reconstruction of existing buildings, including under the program of reconstruction of the historical center of Moscow.

At the moment in the structure of a workshop there are 30 employees, including:
Architects: Aleksandrov D.V., Antonovich A.G., Kochetkov G.F., Vantskul O.A., Eremeeva V.A., Kalitina I.B., Korina O.B., Kornacheva M.S., Mitrofanova L.P., Stadler R.P., Usanova N.B., Matusevich M.P., Grushin R.A., Grushin A.A., Rakov E.V., Aleksandrova E.I.
Designers: Fomichev V.N., Aseeva E.E., Sokolskij M.V., Zagrebin A.A., Lopatkina N.V.
Engineers: Klenov V.G., Ðàêîâà etc., Klenov O.V.
Buildings and Projects:
Buildings and Projects Shown: 11
Rank all Buildings and Projects / Alexandrov and partners (18):
Archi.ru Texts: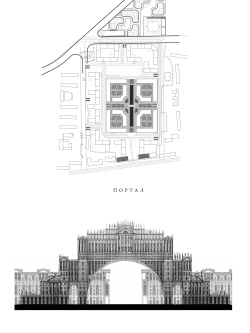 12.01.2010
The project is not new, it is more than two years old, but is unknown. There would be a new city-block in Moscow, similar to the building along Levshinsky lane so popular among tourists.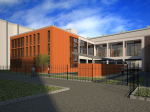 09.08.2008
This year, in the spring, a few famous Moscow architects were invited to participate in projects of new nursery schools in the center of capital. Dmitry Aleksandrov's studio presents three projects on this order, on Novokuznetskaya street, in Kotelniki and in Bolshaya Gruzinskaya. Design ideas of the projects are alike but buildings are different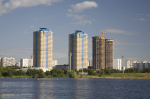 23.07.2008
This spring in Strogino there was completed construction of the two towers of "Yantarny gorod" [Amber City] by Dmitry Aleksandrov, the other two are under construction. After the first part of construction was completed it appeared that the houses have not only unique inner structure of multileveled atriums but peculiar for our times very physical texture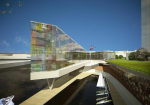 14.04.2008
The contest project of a mixed-use complex on the embankment of the Moscow-river, in front of the City, in the variant suggested by Dmitry Aleksandrov looks like a reflection on the idea of "main elements": he makes accent on water surface in the river, lifts the ground onto the roofs of the buildings and manipulates with the space enlarging it twice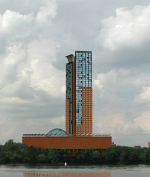 24.03.2008
The mixed-use complex on Leningradskoye highway is the architectural concept designed by the studio of Dmitry Aleksandrov in 2005 but how it often happens it remained uncertain whether the work would be continued or not. This is the reason why there have never been any articles on the project, though if consider it thoroughly, there appears an interesting combination of size and laconism in it, and this refers the audience to the works of Leonid Pavlov, one of the best architects of modernism of Brezhnev period, or to the projects of Ivan Leonidov, the famous avant-gardist, or to Ledoux
awards:
The gold diploma of XI International festival " Architecture 2003 "
The diploma of XI International festival " Architecture 2003 "
Winners of review - competition ÑÌÀ 2004, nominees of the premium " Gold section 2005 "
The winner of XII international review ÌÀÑÀ in Bishkek 2004
Gold diploma Architecture-2005 in a nomination " Creative architectural collectives and workshops "
Gold diploma Architecture -2005 in a nomination " the Architectural debut "