Archi.ru Texts: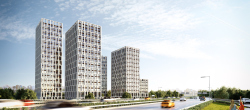 14.07.2016
Designed by "Arkhimatika" Bureau for a remote area on the left bank of the Dnipro River, the residential complex "Slavutich" affirms a new, by the Ukraine's capital standards, type of a city "resort" housing project.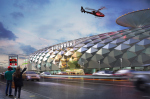 04.04.2016
Kiev's bureau "ARCHIMATIKA" has developed a project of a shopping center in Novosibirsk. The source of the architects' inspiration was a cedar cone.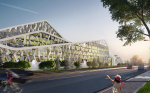 12.02.2016
For Kazakhstan's capital, the architects of "ARKHIMATIKA" Bureau designed a new building of the national bank in the shape of a snowy mountain range.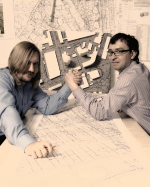 08.12.2015
The founders of the Kiev bureau "ARCHIMATIKA" try to change the living environment of the cities on the post-soviet territories by introducing inexpensive but very bright and positive-looking buildings. They shared with Archi.ru about their search for a real alternative to the bleak heritage of the soviet sleeping belt neighborhoods.