Archi.ru Texts: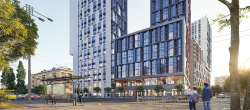 09.11.2017
The architecture of Kiev's housing complex "Time" is based on a combination which is popular nowadays: an eight-story podium plus towers –this volumetric intrigue is enhanced with the play of the components of a multilevel yard. In addition, the apartment plans are thought out really well.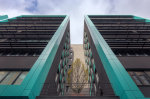 16.08.2017
In the Ukrainian city of Lviv, the firm "Archimatika" built the city's first business center with a BREEAM certificate. Thanks to their ingenious solutions, the architects were able to make the building both aesthetic-looking and energy-efficient and cut down the energy consumption by almost 40%.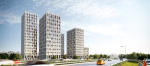 14.07.2016
Designed by "Arkhimatika" Bureau for a remote area on the left bank of the Dnipro River, the residential complex "Slavutich" affirms a new, by the Ukraine's capital standards, type of a city "resort" housing project.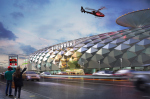 04.04.2016
Kiev's bureau "ARCHIMATIKA" has developed a project of a shopping center in Novosibirsk. The source of the architects' inspiration was a cedar cone.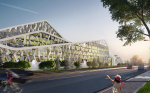 12.02.2016
For Kazakhstan's capital, the architects of "ARKHIMATIKA" Bureau designed a new building of the national bank in the shape of a snowy mountain range.