Archi.ru Texts: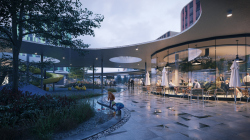 27.07.2018
The community center of Kiev's housing complex "Respublica" built upon the project of ARCHIMATIKA demonstrates a new format of territory organization, which includes landscape design elements, a playground, and a commercial function, inviting the residents of the complex to leave their homes and step outside.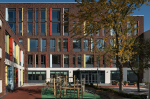 20.06.2018
Upon the project of ARCHIMATIKA, Kiev has built a new building of the Pechersk School International, the image and structure of which answer the needs of the latest trends in pedagogy.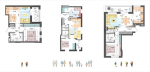 11.05.2018
The Kiev-based architectural company ARKHIMATIKA has developed a new standard for the apartment floor plans used in housing projects: their "PRO-apartments" make every square meter of the floor space useful and become one of the prerequisites for comfortable housing construction.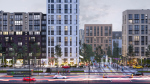 14.02.2018
Kiev's "Fayna Town" is yet another step for ARKHIMATIKA in the direction of perfecting their housing complexes, from low-rise planning, open city blocks, and thought-out promenades to such seemingly insignificant details as barbecue spots and charging slots for smartphones.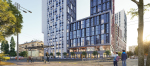 09.11.2017
The architecture of Kiev's housing complex "Time" is based on a combination which is popular nowadays: an eight-story podium plus towers –this volumetric intrigue is enhanced with the play of the components of a multilevel yard. In addition, the apartment plans are thought out really well.